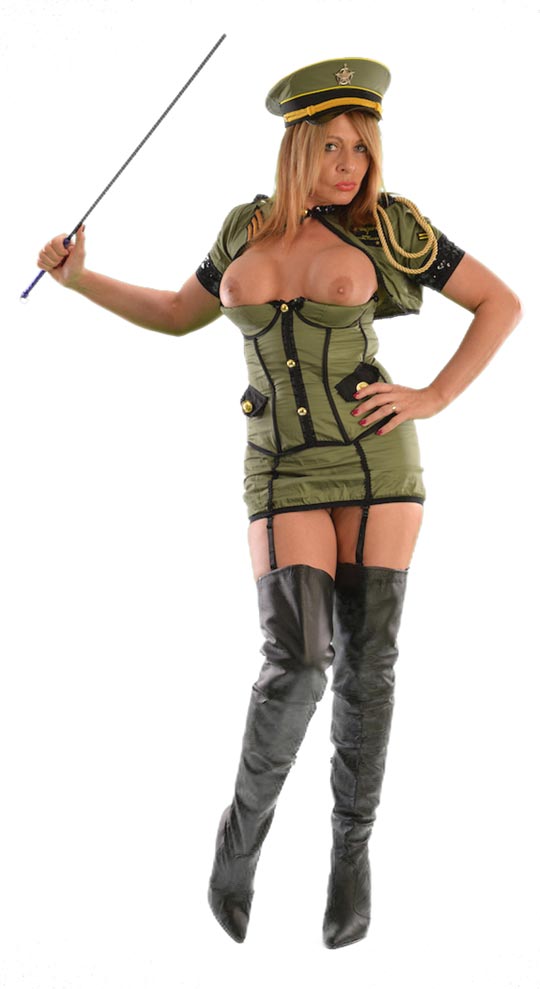 Do you offer outcall appointments?
No, I do not offer outcall appointments.
Can I travel to see you by train?
Yes, I am situated ten minutes drive from my local station (Ashford International in Kent) which is on the high-speed line from St Pancras station in London (journey time @37 minutes). Taxis can easily be found right outside the station entrance and the fare for the ten minute journey to my location is around £10.
I have a particular scenario in mind – Can you help me realize my fantasy?
I am open to all suggestions that fit with My personas of Execu-Domme, Sex-Therapist, Head-Mistress or Interrogator, so you are welcome to e-mail Me outlining (briefly) any specific scenarios for My consideration. You should note that I will not work to set scripts or complicated scenarios but am happy to embrace the overall concept of a specific situation – if I find it to be stimulating & interesting.
Can I discuss my requirements in detail with you on the phone?
No, I do not discuss the details of what 'activities' may take place during a session on the telephone. All the details you need to know are clearly set-out here on My website but if you have any specific requests or queries that are not covered then you may e-mail Me with details for My due consideration.
Can you send me your number so that I can call you to arrange a booking?
No, I do not divulge My number to anyone I haven't already met. To arrange a consutation, send Me an appointment request using the form provided for your convenience on my Contact page with all the relevant details and I will then telephone you to confirm.
It's difficult for me to answer my phone/I do not answer calls from Withheld numbers/Can you text or e-mail me to confirm an appointment?
No, if it is not possible for me to speak to you in person then it will not be possible to confirm an appointment.
Can I book provisionally & confirm it later/on the day?
No, I only accept 100% definite confirmed bookings. Any 'no shows' will not be offered any future appointments – no exceptions!
Do you have discreet access and parking facilities?
Yes, I am situated in a discreet area with private off-road parking right outside my door.
Are your rates negotiable?
Absolutely! You are welcome to increase my listed consultation rates to whatever level you deem worthy!
Do You accept payment by credit card?
I will accept payment in cash (GBP) upon your arrival, which should be handed to Me in an envelope with all banknotes neatly face-up and in 'as new' condition. I am also able to accept (part) payment by Mastercard/VISA by prior arrangement only as long as you have photo' ID in the same name as the card (ie: a photocard driving licence). You should note that there is a 10% surcharge for all card payments to cover administration costs.
Do you offer same-day appointments?
Advance booking is highly recommended but occasionally My schedule may permit same-day appointments to be arranged. you should of course e-mail Me prior to submitting an appointment request to ascertain My availability – especially when seeking a consultation at short-notice.
May I bring you a gift when visiting?
Yes. Good quality Champagne is always well received or you are welcome to e-mail Me once an appointment has been made to ascertain My favourite perfumes, as these do change from time-to-time. Chocolates & flowers are not My preferred gifts. If purchasing clothing I take a UK dress size 10 and shoe size 8.
Do you enjoy CFNM sessions?
Yes, I particularly enjoy CFNM (Clothed Female/Nude Male) scenarios during which you will be order to strip absolutely naked immediately upon your arrival and your clothes will be taken from you and locked away by Me until I permit you to leave. I will remain fully clothed in figure-hugging attire and you will be ordered to attend me in whatever way I may desire, such as carrying out household chores or other duties whilst I subject you to verbal humiliation about the derisory size of your (undoubtedly erect) penis. My secluded garden means that in the summer months such scenarios can take place outside and I can also arrange for one of my very sexy girlfriends to attend so that you can suffer the humiliation of being abused by two sexy Domineering females who will delight in ridiculing and embarrassing you.
If it pleases Me/us to do so, I/we may decide to tease you with My/our body(s) and order you to masturbate yourself to full completion in front of Me/us whilst watching you bring yourself to the point of ejaculation – and beyond! If you wish for Me to arrange for one of My sexy lady-friends to be in attendance for a CFNM scenario, then there will be an additional charge of£100 per hour for this privilege.
It is also possible for Me to arrange for a second Dominant female to be in attendance for CFNM sessions at an additional cost of £100ph.
I am pleased to entertain both novice and experienced submissives
As long as you are a genuine believer in female superiority, and adhere strictly to My rules of engagement, our meeting will be harmonious and satisfying for us both.