Clothed Female, naked male with Miss DeLaVere
Become fully naked in front of your Mistress with a Clothed Female naked male session and have her mock and taunt your pathetic sized manhood.
What Does Clothed Female naked male Mean?
The term CFNM (Clothed Female, naked male) comes from the scenario, sexual in nature more often than not, where the Female wears clothes and the male is naked. Clothed Female, naked male is a common form of Female Domination, otherwise known as FemDom, scenarios. When a male is placed in front of a Dominant Female, completely naked, it helps to emphasize how vulnerable and submissive that the male is while also showing the Female's complete control.
The Female in question is free to then act out any number of sexual scenarios on the naked male. This can include forms of erotic teasing, humiliation, cock-and-ball torture, pegging and bondage. You can find many CFNM scenario's portrayed in erotic novels and pornographic movies as well. This scenario lends itself particularly well to forms of Ball-Busting and other types of FemDom activities.
A Typical CFNM Scenario
CFNM scenario's are something I particularly enjoy, during so I will often order My submissive to strip completely naked immediately upon arrival. Your belongings will be taken away from you and will not be given back until I decide that it is your time to leave. Obviously I will always remain clothed and of course, very sexy.
Normally I will wear figure-hugging attire which will certainly grab your attention. You will certainly be ordered to attend to My every desire. This can include duties such as household chores or other duties that I feel are below Me. This will be carried out if you being completely naked of course and you will endure verbal humiliation about your tiny, and most definitely erect, penis.
CFNM Outdoors
I have a secluded garden which means that in the Summer months certain CFNM scenario's may take place outside if I decide. There is also a chance of one of My many lady-friends decide to pay Me a visit. If that takes place then you will be instructed on how to service us both. This may be with Tea, Champagne or other treats, whatever We decide. Of course you will be ridiculed about your pathetic penis at the same time, woe betide you if that pathetic thing becomes erect in My / our presence. If you cannot control yourself then you can expect a swift and severe punishment.
DOUBLE CFNM
To take your CFNM experience to the next level, I can arrange for a good friend to attend, so that you can be naked in front of us both whilst we humiliate you and inspect & ridicule your penis.
Amelia is blonde, statuesque and is an ex-Page 3 girl who (like me) enjoys power-dressing in tight skirts & blouse teamed with black lingerie, stockings, suspenders & stilettos. You may be ordered to carry-out domestic duties or serve us drinks whilst we openly talk about you in a disparaging manner – perhaps even ordering you to kneel & polish our Louboutins?
The final humiliation may involve you being told to stand in front of us and masturbate whilst we watch and shriek with laughter at your efforts to coax your cock to anything more than a derisory size until you ejaculate in front of us!
The cost of a double CFNM session is an extra £200 per hour on top of My normal rate and you should e-mail me in advance, so that I can confirm Amelia's availability to attend on your preferred date.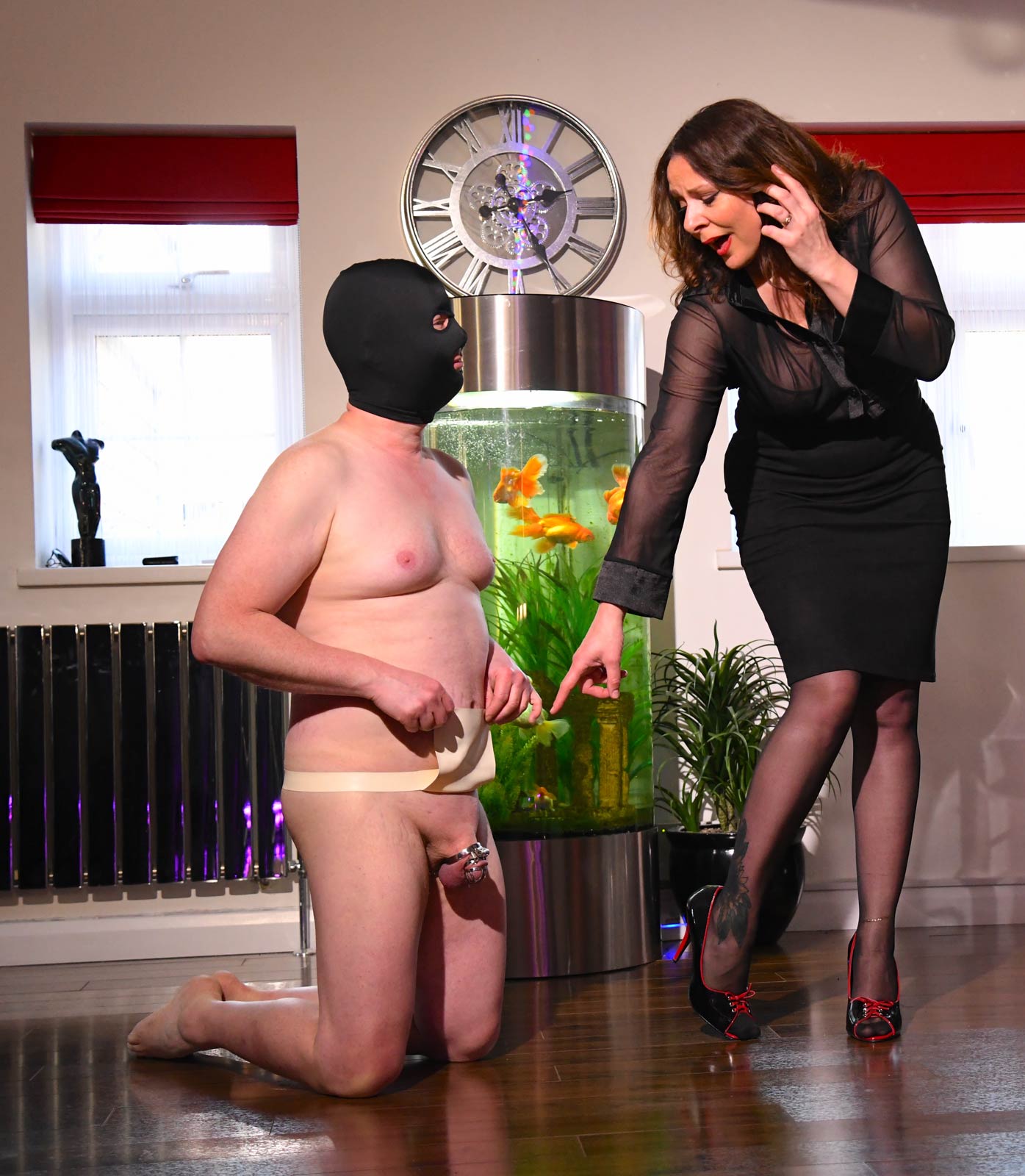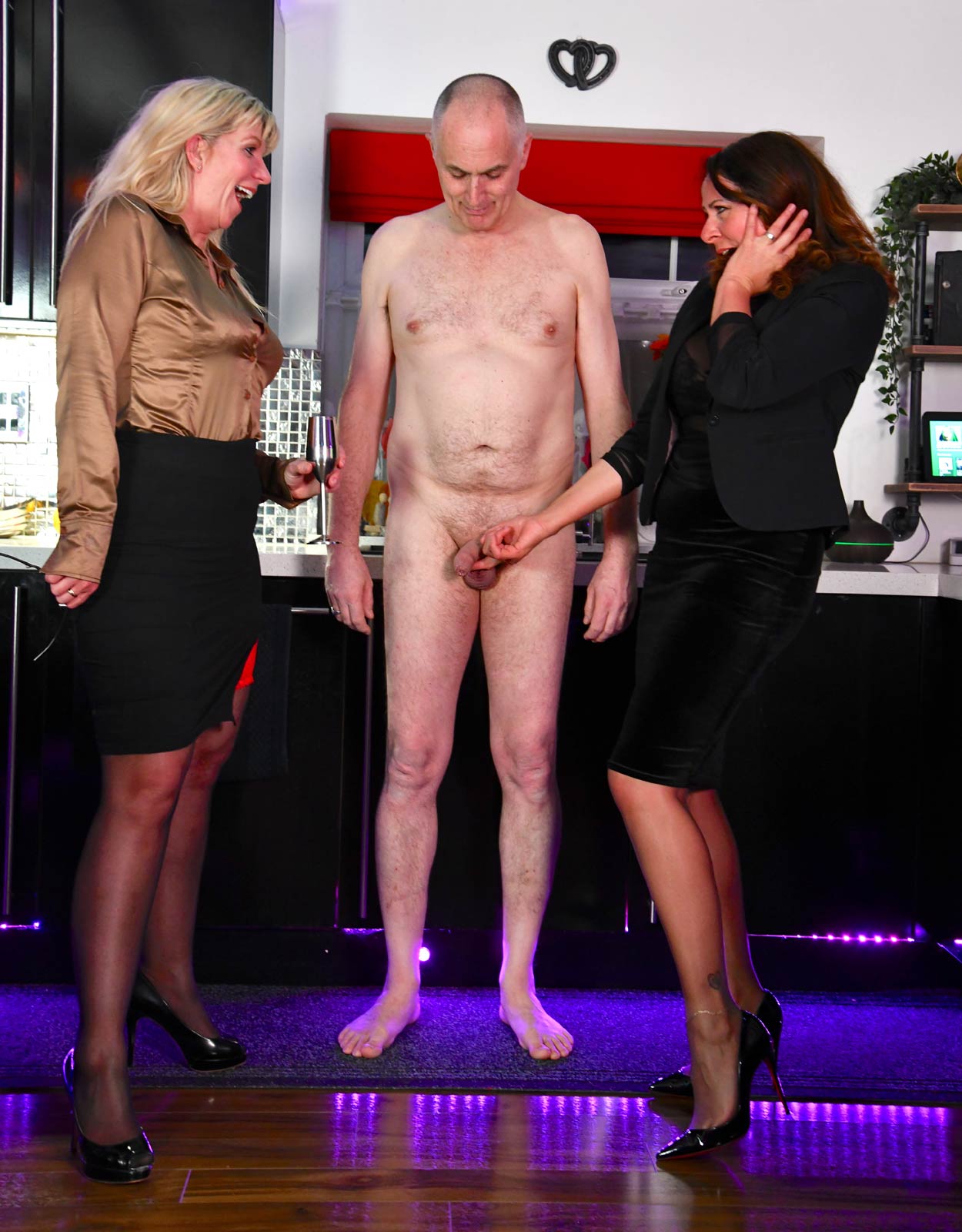 Of course, these scenarios are merely suggestions and can be adapted to suit any particular fantasy situation. However, it will always be Me who is fully in control and dictates proceedings – it would hardly be Female Domination otherwise, would it?! Such scenarios also lend themselves particularly well to CFNM situations.
My Facilities
In addition to My private study, I also have a fully-equipped. spacious, mirrored playroom (with secluded outdoor play-space) at My disposal, along with a sumptuous boudoir with red satin sheets on a super-king-size bed under a mirrored ceiling (and restraints fitted to the bed for 'Tie & Tease' scenarios).
My Wardrobe
Is extensive to cater for all tastes & occasions and includes everything from skin-tight latex & leather to uniforms, corsets & classy lingerie. I have a penchant for seamed stockings & suspenders teamed with spike-heeled stilettos or thigh-boots and of course I am always immaculately groomed & with an all-over tan.