Trampling With Miss DeLaVere
I will put you under My stiletto heels and Trampling you into the floor!
What Is Trampling?
When it comes to the kinky world of Female Domination, Trampling fetish is one of the kinkiest of them all. Trampling is a simple fetish and involves a Dominant female standing over her prone slave and then applying pressure all over his body using Her weight, focusing on the sub's face, back, chest and even his genitals (My favourite area).
Your Body Becomes My Carpet
Certainly the worst option for My slave's though is to have the Face and / or Genital area trampled on as it's a small surface with a lot of pressure being applied. Things can get a little more interesting, especially for Myself, when the Dominant Female slips into a pear of spike-heeled shoes or boots. The red marks and bruises are highly visible after the trampling torture session ends and makes it even more painful and humiliating for the sub… perfection. You may be surprised at the word "torture" but for some the pain and suffering caused by being trampled is almost unbearable.
Introducing some Trampling into a Fem-Dom session in My Playroom is something I thoroughly enjoy and in My opinion (which is never wrong), it's a perfect extension for any Foot Worshipping session. As I walk all over My slave's face and body with My spiked high heels or bare feet, I can begin to force them to suck and lick My delicate, petite toes and at the same time introduce an uncomfortable amount of pressure to his face with My full weight.
My Playroom Is Equipped For Trampling
My playroom comes fully equipped with handy beams, enabling Me to support Myself comfortably and control the amount of weight and pressure that I apply to My slave. Depending on how cruel I feel on the day, I will instruct My slave to worship the very stiletto heels that are causing him so much discomfort and pain as I stand over him, laughing.
It's not all bad news for a slave being put through a Trampling session though. They get to enjoy the perfect view of My firm body and buttocks as I tower over them, watching him lick and suck at my shoes, heels and feet – lucky chap!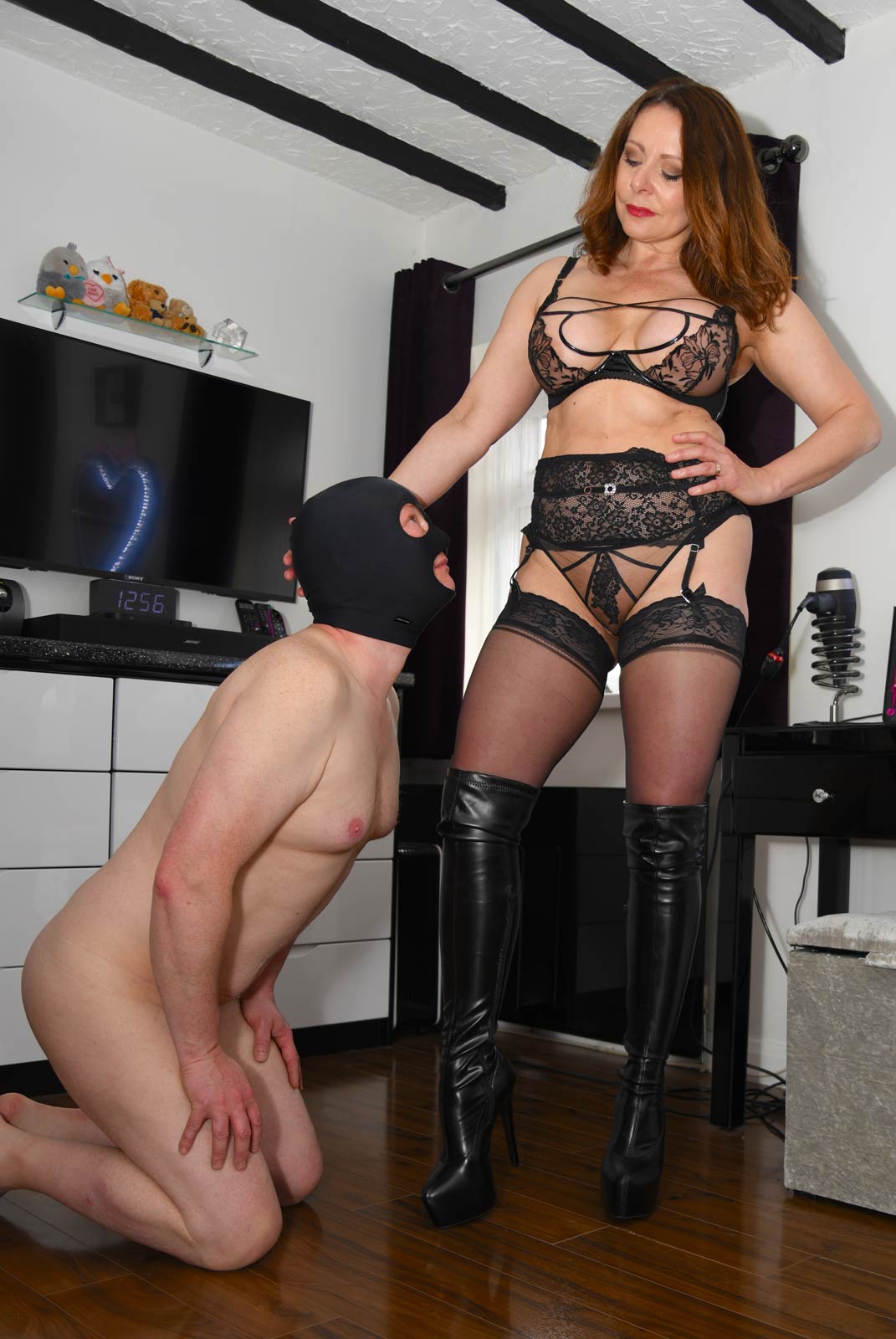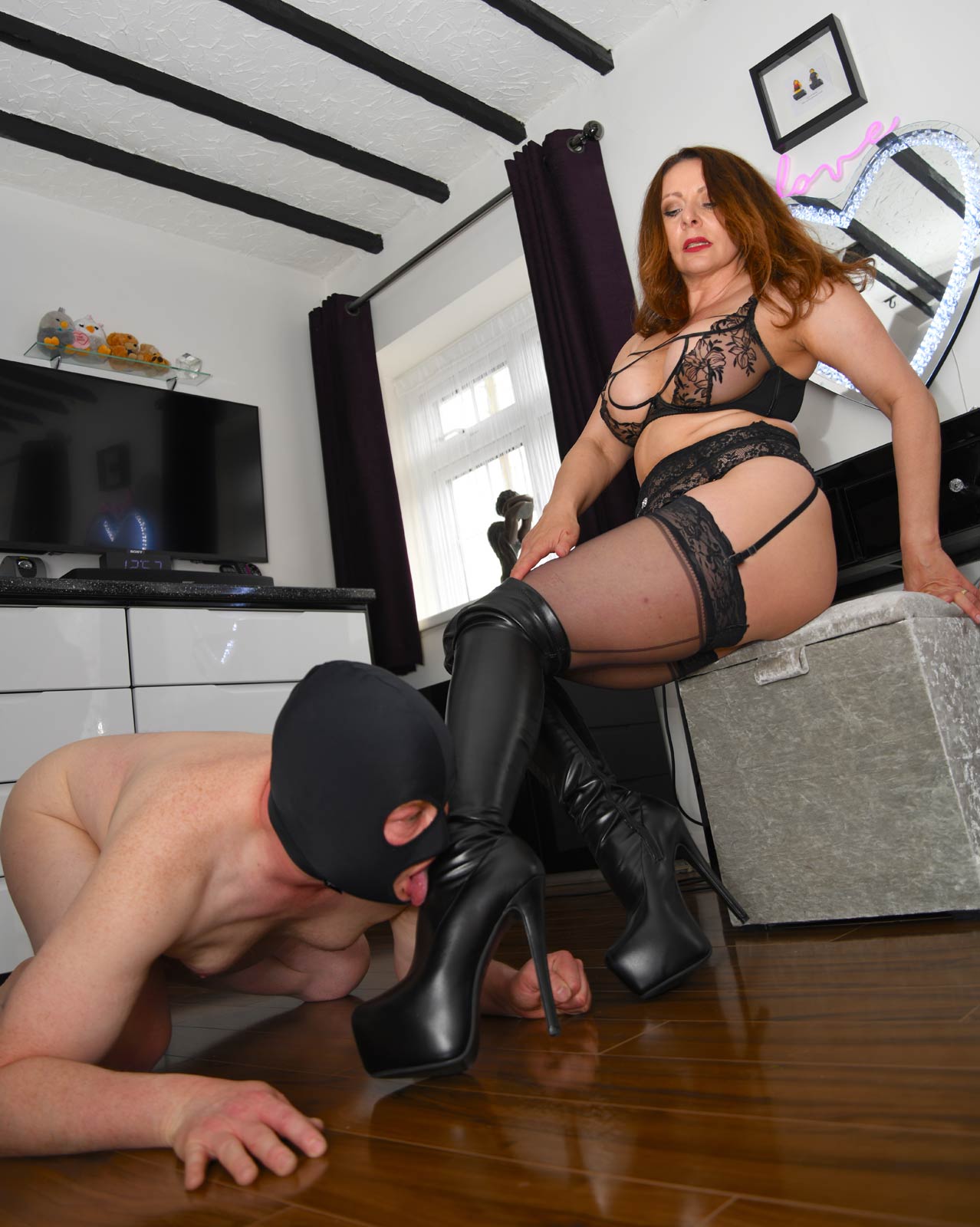 Of course, these scenarios are merely suggestions and can be adapted to suit any particular fantasy situation. However, it will always be Me who is fully in control and dictates proceedings – it would hardly be Female Domination otherwise, would it?! Such scenarios also lend themselves particularly well to CFNM situations.
My Facilities
In addition to My private study, I also have a fully-equipped. spacious, mirrored playroom (with secluded outdoor play-space) at My disposal, along with a sumptuous boudoir with red satin sheets on a super-king-size bed under a mirrored ceiling (and restraints fitted to the bed for 'Tie & Tease' scenarios).
My Wardrobe
Is extensive to cater for all tastes & occasions and includes everything from skin-tight latex & leather to uniforms, corsets & classy lingerie. I have a penchant for seamed stockings & suspenders teamed with spike-heeled stilettos or thigh-boots and of course I am always immaculately groomed & with an all-over tan.