Strap-On / Pegging session with Miss DeLaVere
Feel the ultimate humiliation as Miss DeLaVere slips into her Strap-On and punishes your tight little arsehole for her enjoyment.
What Happens In A Strap-On Session?
A Strap-On session, which is also referred to as 'Pegging', involves a submissive male having their anus penetrated by a Woman wearing a phallus, usually in the form of a rubber dildo. This phallus will be fitted into a harness which is then worn around the Woman's hips. This will allow her to use the phallus on the male in the same way you would use an erect penis.
The idea of having their ass fucked by a Woman, in regards to a Domme / sub relation, is one of the ultimate forms of utter humiliation for a man. For them it is seen as a loss of control, something that many of the 'straight' men that visit My Playroom are not used too. This challenges their masculinity that they have been raised to embrace.
Strap-On Humiliation
The humiliation itself often gets compounded as the Strap-On session continues, this is due to the males prostate becoming frequently stimulated by the Strap-On. This often leads to an intense feeling of what I call a 'pleasurable discomfort' and leads to the male 'suffering' involuntary ejaculation and orgasm. Despite the apparent discomfort and the feeling of utter humiliation, this experience will be extremely arousing for My submissive, allowing him to truly demonstrate his complete and utter submission to Myself, his Mistress.
I don't try to hide the fact that I simply love using My extensive collection of Strap-Ons and I find the act of fucking My male slave's to be an incredibly powerful form of aphrodisiac. Finding Myself climaxing while I energetically pump away and My sub's arse if not uncommon as I see his arse stretched by My thick rubber 'cock'!
Female Empowerment With A Strap-On
Pegging is the ultimate display of the power the I hold over My slave's as I secure them on My special punishment bench, with My Strap-On of choice of rubber phallus dangling in front and describe exactly how I going to enjoy fucking his, at the moment, tight arsehole. Shoving My enormous tool inside My sub's mouth, making him suck it deep inside his throat as he worships the rubber phallus in front of him, is all a prelude for what is too become as I slowly make My way around the back and press My Strap-On against his puckered up hole. I'll then grip his buttocks and begin to slowly push My hips forward as I look down on the sight in front of Me, ready to be fucked hard. I enjoy a slow build up and then unleash the speed and intensity as My thrusts begin to punish him like the little bitch that his is! Knowing that My sub has been fantasising about fucking Me, even knowing himself that he would have no chance of ever pleasuring Me, spurs Me on to show him how to really fuck properly!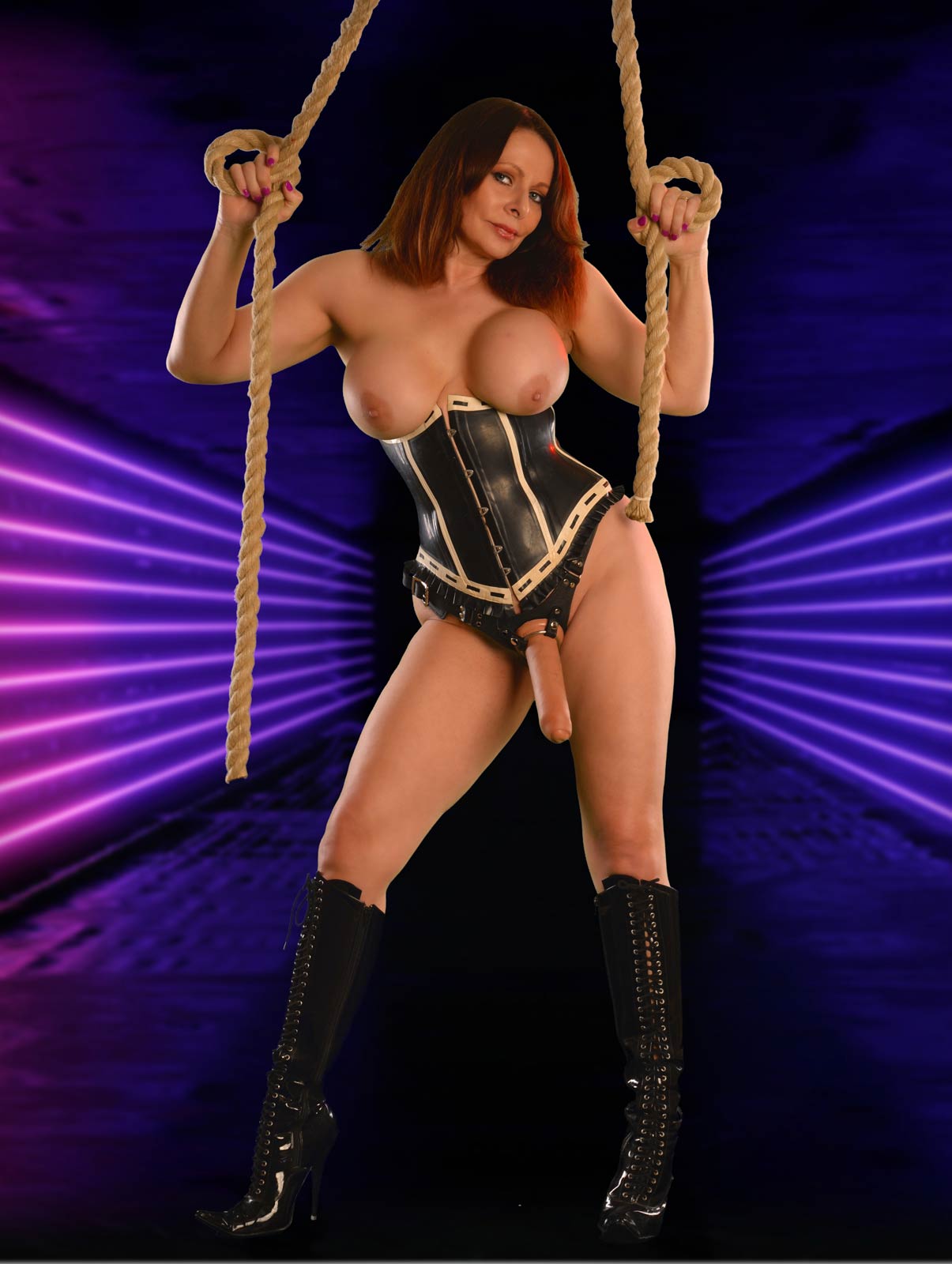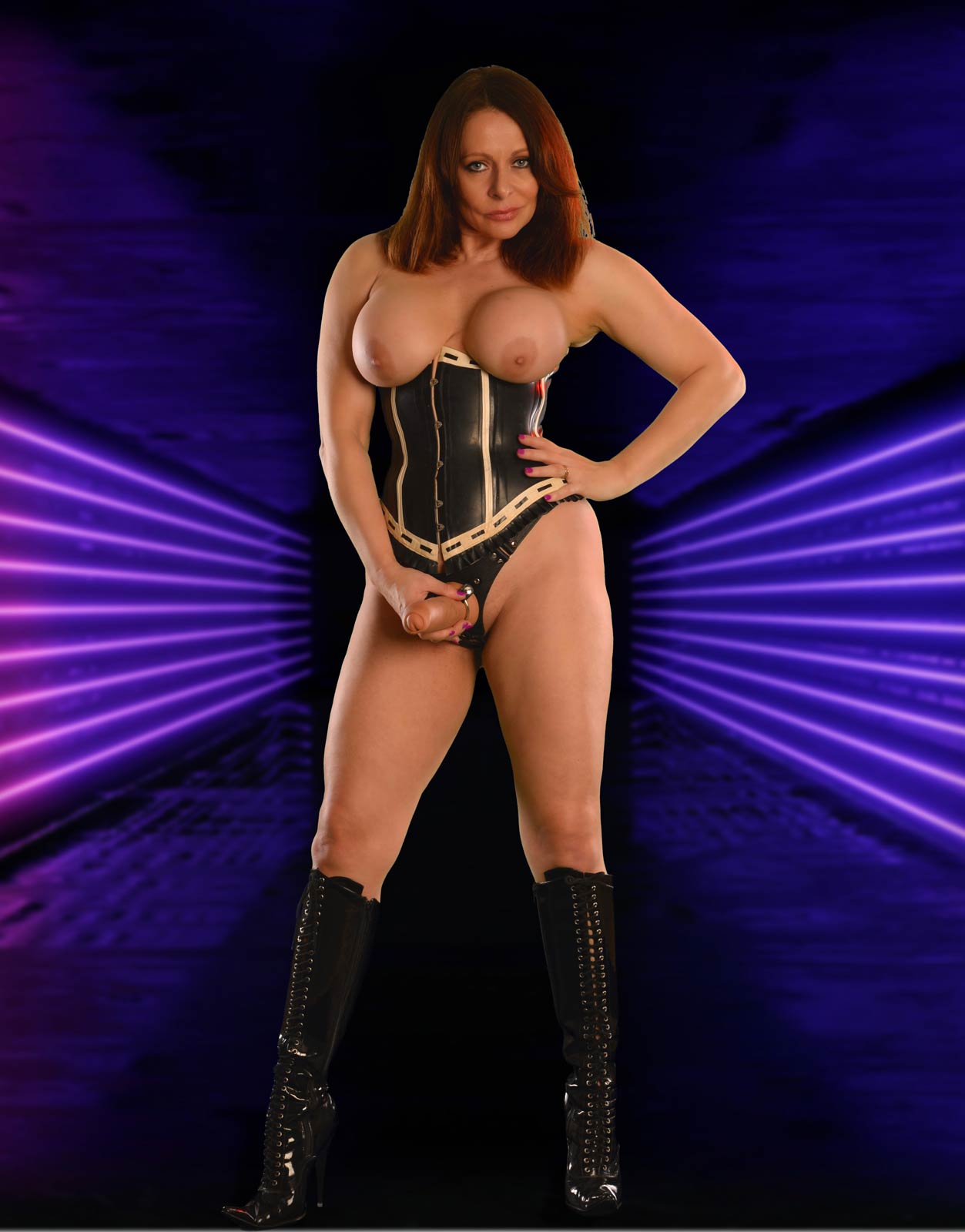 Of course, these scenarios are merely suggestions and can be adapted to suit any particular fantasy situation. However, it will always be Me who is fully in control and dictates proceedings – it would hardly be Female Domination otherwise, would it?! Such scenarios also lend themselves particularly well to CFNM situations.
My Facilities
In addition to My private study, I also have a fully-equipped. spacious, mirrored playroom (with secluded outdoor play-space) at My disposal, along with a sumptuous boudoir with red satin sheets on a super-king-size bed under a mirrored ceiling (and restraints fitted to the bed for 'Tie & Tease' scenarios).
My Wardrobe
Is extensive to cater for all tastes & occasions and includes everything from skin-tight latex & leather to uniforms, corsets & classy lingerie. I have a penchant for seamed stockings & suspenders teamed with spike-heeled stilettos or thigh-boots and of course I am always immaculately groomed & with an all-over tan.