Spanking With Miss DeLaVere
Have your bare buttocks spanked and punished with a Spanking session.
You've Always Wanted To Be Spanked By The Boss
The act of Erotic Spanking entails a dominant partner striking the, more often than not, bare buttocks of a submissive person using an open / flat hand, providing sexual gratification to either or both parties involved. The duration and severity of this act controls how intense the situation is and often involves the use of implements (such as a cane or a wooden spoon).
Erotic Spanking comes under the umbrella of BDSM but the activity itself is not exclusive to it. A person on the receiving end of the spanking is normally referred to as a "Spankee".
Mature Gentlemen Deserve A Good Spanking
Gentlemen of a certain age who might of previously experienced, and enjoyed, some sort of public school discipline in their youth seem to very much enjoy this aspect of Fem-Dom. Having their rear spanked, caned and punished will often bring back feelings of first time sexual awakenings that have become inextricably linked to their psyche.
I find that many mature gentlemen who have previously experienced public school discipline in their youth, enjoy this aspect of Fem-Dom, as being spanked or caned at school often coincided with their first sexual awakenings and the two have become inextricably linked in their psyche.
Spanking Tools Are A Lot Of Fun
My St Andrews Cross is the perfect place to have My slave secured to as I spank and punish their arse and I find that it's a great place to warm up their derriere so it's well prepared for when I use My implements such as My Whip, Tawse, Paddle, Crop etc. If I feel that they have not earned those specific tools, I'll simply grab something light and easy such as a hairbrush, slipper or even a wooden spoon.
Spanking is a fantastic activity to include with various role-playing scenario's, such as Myself adopting the role of a very strict Headmistress, or even a Dom Female Boss. In both scenario's My wish will be to chastise my errant pupil or useless employee, simply for some minor misdemeanour, but certainly in a very humiliating way. Giving a naked male 'six of the best' as they are laid across My knee is something I find to be a highly erotic way to administer punishment.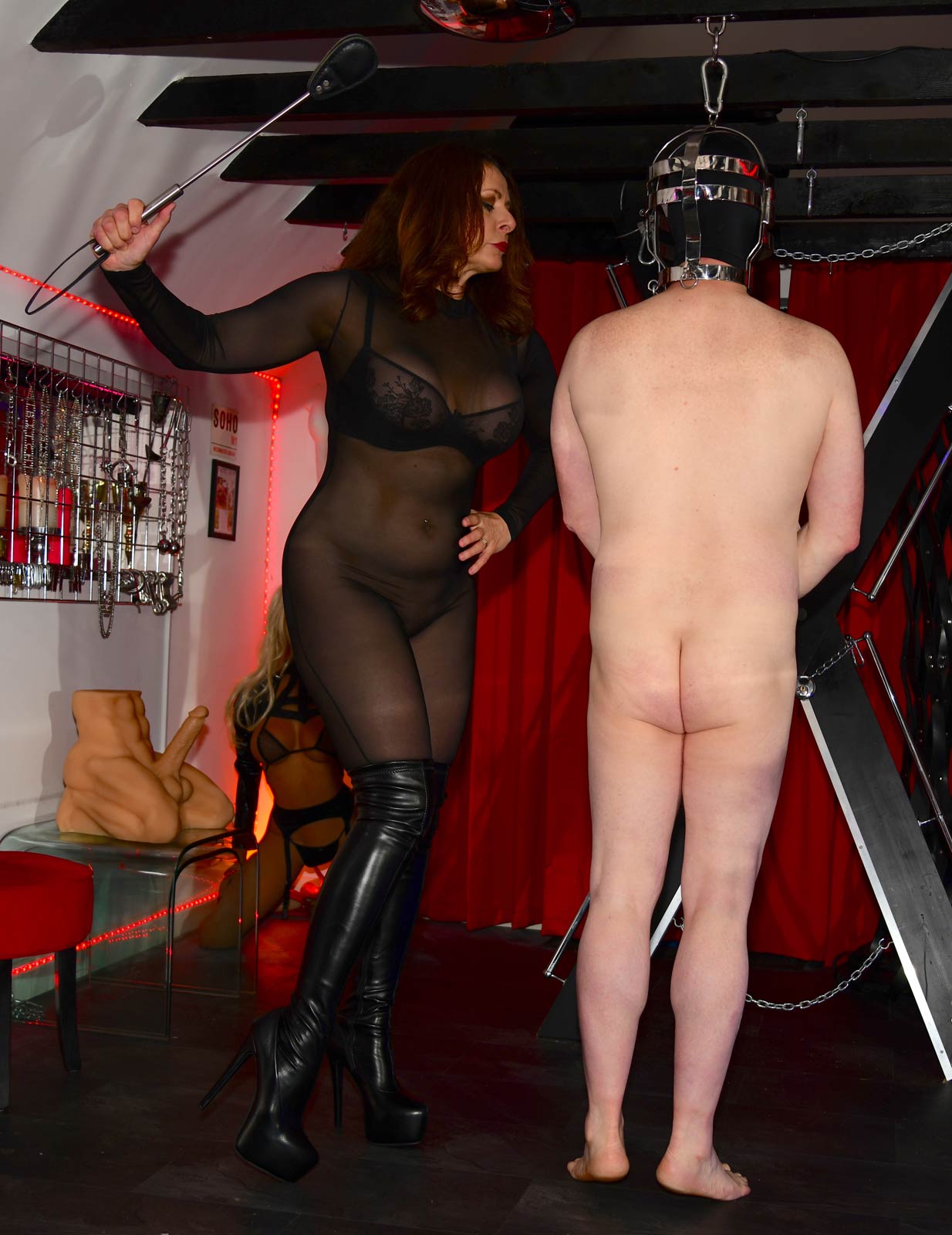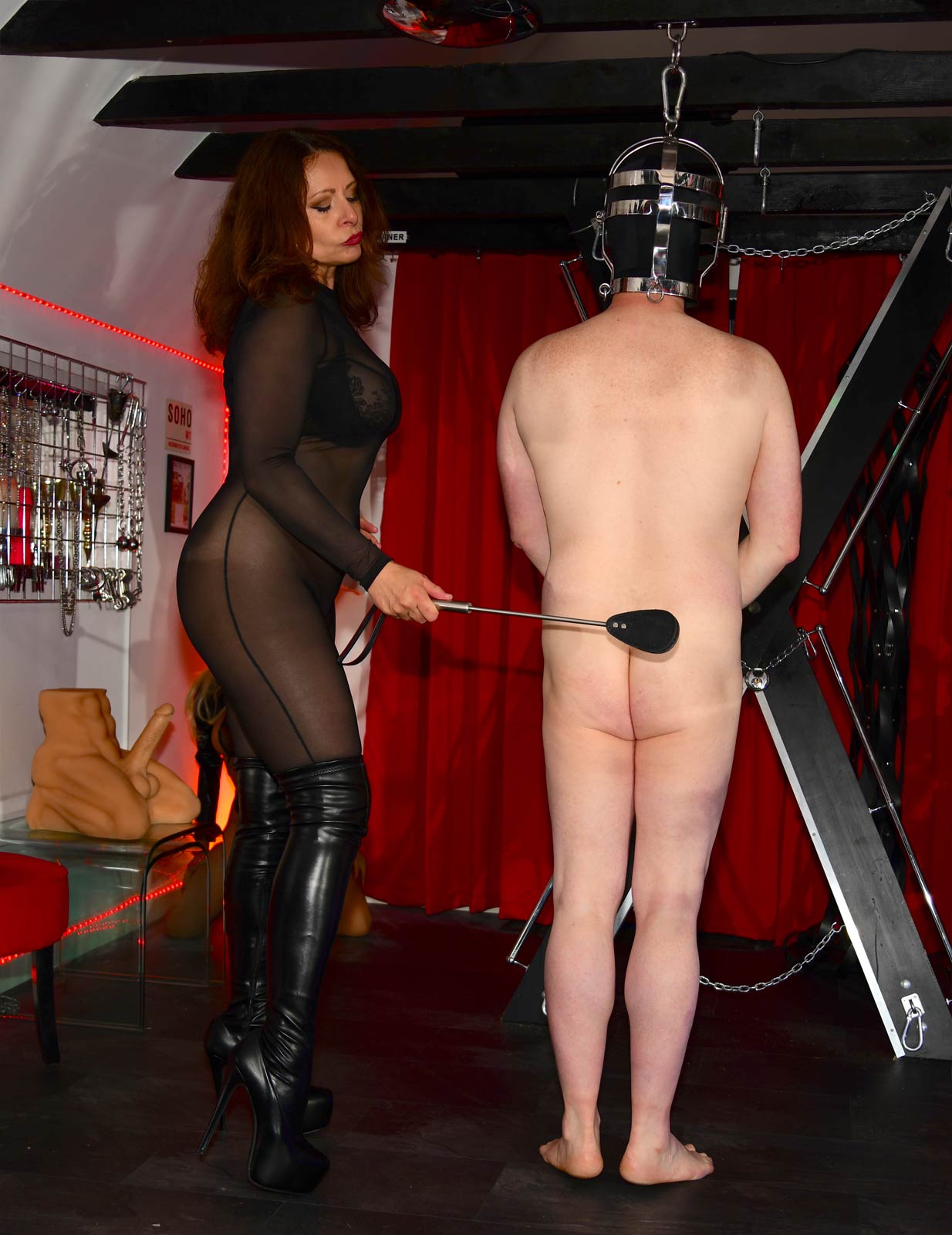 Of course, these scenarios are merely suggestions and can be adapted to suit any particular fantasy situation. However, it will always be Me who is fully in control and dictates proceedings – it would hardly be Female Domination otherwise, would it?! Such scenarios also lend themselves particularly well to CFNM situations.
My Facilities
In addition to My private study, I also have a fully-equipped. spacious, mirrored playroom (with secluded outdoor play-space) at My disposal, along with a sumptuous boudoir with red satin sheets on a super-king-size bed under a mirrored ceiling (and restraints fitted to the bed for 'Tie & Tease' scenarios).
My Wardrobe
Is extensive to cater for all tastes & occasions and includes everything from skin-tight latex & leather to uniforms, corsets & classy lingerie. I have a penchant for seamed stockings & suspenders teamed with spike-heeled stilettos or thigh-boots and of course I am always immaculately groomed & with an all-over tan.