Small Penis Humiliation With Miss DeLaVere
Can you handle having your small penis verbally and physically humiliated?
What Is Small Penis Humiliation?
Small Penis Humiliation (SPH) is the act of dominant person, which in this scenario is certainly Myself, verbally humiliating and degrading a submissive male's penis in a consensual and erotic way. This can include sexual acts between the pairing or simply verbal humiliation. It's yet another way that I can strip power away from your high flying life. You may be respected in the board room, with workers looking up to you for guidance and leadership, but I'll whip that away from you with one lash of my tongue.
Size Doesn't Matter, I Will Humiliate You
Not all submissive men that enjoy the act of Small Penis Humiliation actually have a small penis. They simply like the idea of having their penis treated as something that is useless and having their genitalia mocked, humiliating them in the process. It's sexual arousing for some women to wield that power over a man, being the ultimate judge of his manhood and able to utterly humiliate him with words. This is especially so in the financial district where men like you feel like they are untouchable and in control. The art off weakening the sense of someone's manhood that has been imposed by society can be very erotic for many people.
SPH often comes hand in hand with cuckoldry in which a submissive man is verbally and physically humiliated and rejected, being assured that his penis will not being able to pleasure anyone, especially his partner. The pin stripe trousers that you wear around the office will not hide your tiny surprise from Me. You can also relate SPH to feminization also, going as far as to compare the submissive's tiny penis to the size of the female clitoris. I can tell that you are already feeling uncomfortable now, with good reason.
I have an incredible fondness for incorporating SPH into the sessions that I hold in My playroom. I have developed an intelligent and extensive repertoire of cutting remarks and insults that I will direct at My submissive's sexual organs, degrading and ridiculing them as they stand naked in front of Me. I especially enjoy openly laughing in the face of My submissive as I let them know that their penis is completely inadequate to satisfy or please Me, or any other Woman, with his useless tool. Often I will choose to fit a latex sheath / extender over their poor excuse for an erection, enabling Myself to mount and ride them until I feel satisfied.
There are a number of benefits to adding the latex sheath / extender to my submissive, such as adding additional length and girth to his erection. While this addition to his otherwise disappointing penis has the advantage of adding significant girth and length to his otherwise useless cock but it also ensures that the submissive can feel almost nothing as I vigorously work myself up and down on it. I'm basically using My submissive as a human dildo (lol)!
Feel Shamed By My BIG Black Bull
For an additional level of humiliation, I will incorporate SPH into a cuckold scenario. The look on My slave's face as he is forced to watch My BIG black bull thrust has 'thick as your wrist', ebony shaft deep into My sex while his face is inches away. Meanwhile both of us will be hurling insults about his inability to pleasure a Woman and just how sexual inadequate he is, at the same time him seeing Me pleasured and brought to orgasm by a 'real' man! To further humiliate them, I will often instruct My slave to suck that big black dick, just so he can get a taste of what I'm about to enjoy in front of him. The slave will then, of course, be expected to clean up that thick, heavy load that My bull has left inside me – using his tongue!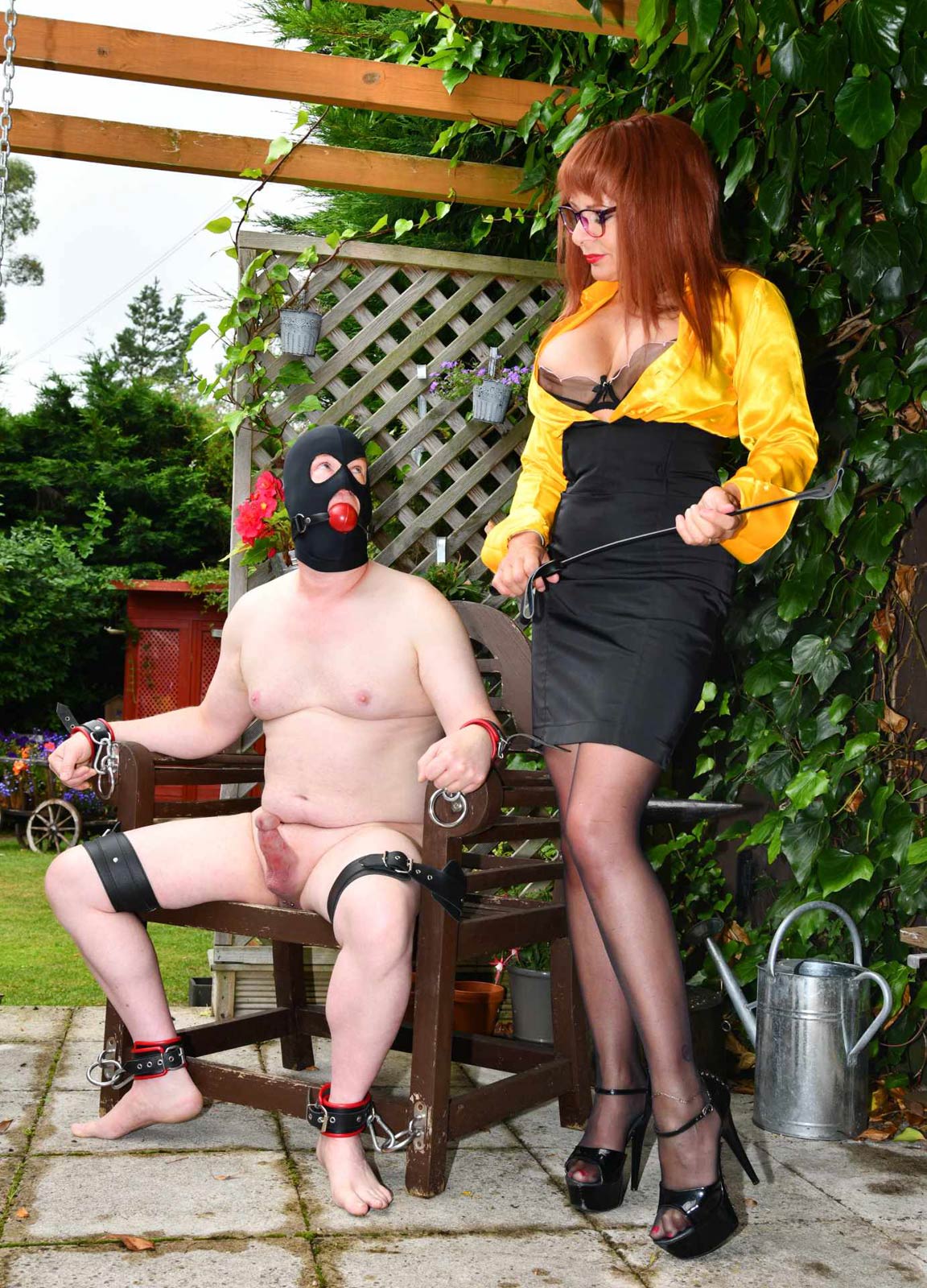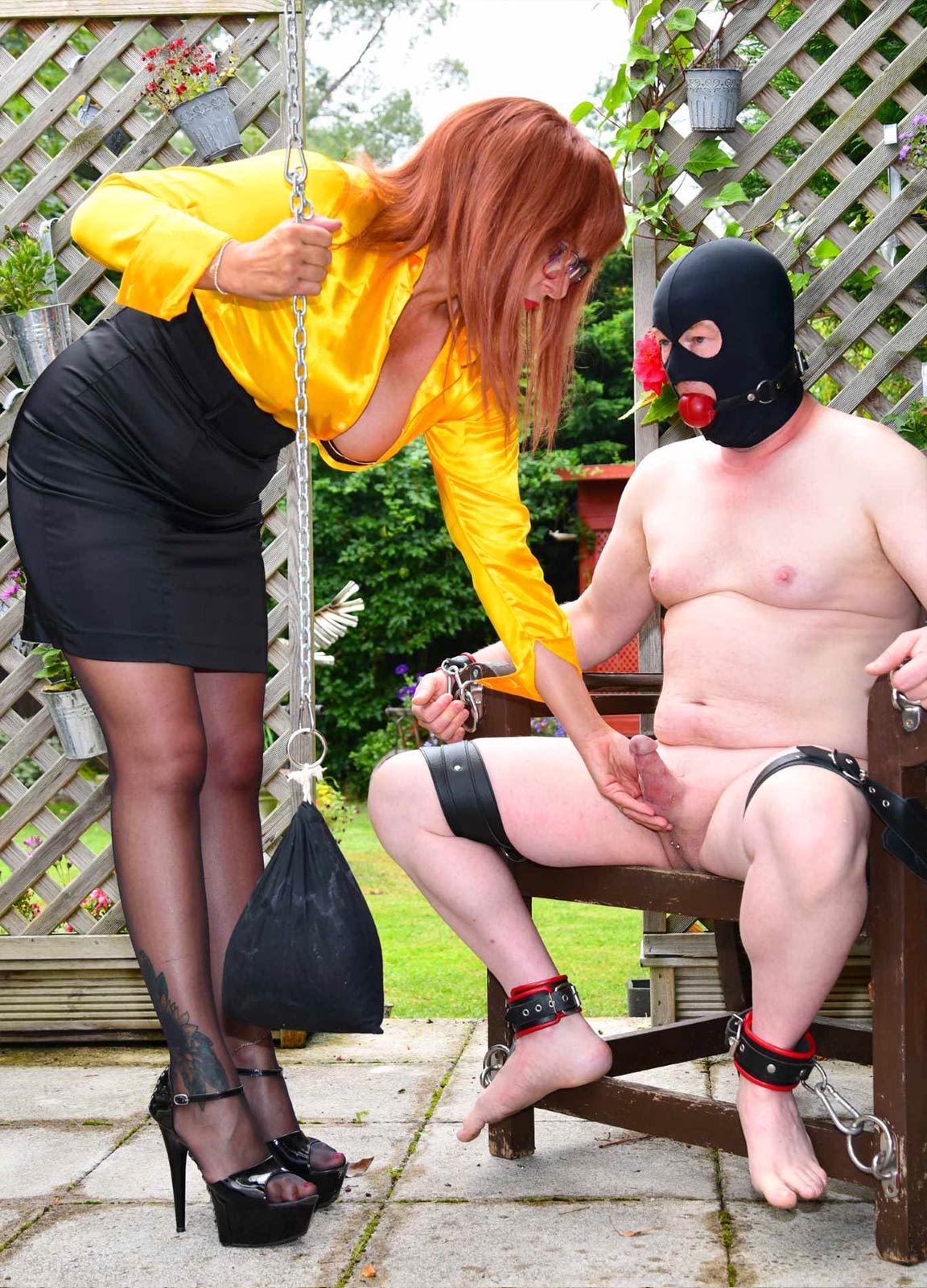 Of course, these scenarios are merely suggestions and can be adapted to suit any particular fantasy situation. However, it will always be Me who is fully in control and dictates proceedings – it would hardly be Female Domination otherwise, would it?! Such scenarios also lend themselves particularly well to CFNM situations.
My Facilities
In addition to My private study, I also have a fully-equipped. spacious, mirrored playroom (with secluded outdoor play-space) at My disposal, along with a sumptuous boudoir with red satin sheets on a super-king-size bed under a mirrored ceiling (and restraints fitted to the bed for 'Tie & Tease' scenarios).
My Wardrobe
Is extensive to cater for all tastes & occasions and includes everything from skin-tight latex & leather to uniforms, corsets & classy lingerie. I have a penchant for seamed stockings & suspenders teamed with spike-heeled stilettos or thigh-boots and of course I am always immaculately groomed & with an all-over tan.