Sissy Maid Training
Be trained in the arts of being a Sissy Maid by myself Miss DeLaVere, in my dungeon studio located in Ashford, Kent.
What Is Sissy Maid Training?
Sissy Maid Training is a particular favourite of mine and is available at my dungeon studio in Ashford, Kent UK. During the Sissy Maid training I get to enjoy a slightly softer side of domination and also turn you into a prancing sissy at the same time. For my first timers that want to explore this, sissy training is a part of full on feminization, where over a period of sessions I will train you to be a subservient Sissy. You will learn how to perform Ultra Feminine actions and behaviours when around myself, and also participate in more predominately feminine activities.
As a part of the Miss DelaVere Sissy Maid Training session, you will be dressed up as a sissy maid outfit, make up applied, your genitalia will be shaved and you will only be allowed to wear female underwear of my choosing.
Sissy Maid Training Example
Some of the duties you you will undertake as my sissy maid in training will include housework, servicing myself or my guests food or beverages, kitchen and cleaning duties, and so on. You will be dressed in a demeaning frilly maids outfit of my choosing at the time, and I shall decide whether or not I want your genitals on display for all to see and touch if they choose to.
As I oversee your sissy maid duties I will instruct, reward and punish as I see fit. This can include humiliation, spanking, BDSM and bondage. The infraction may be minor or a may simply just wish to punish you for my own enjoyment. If I find my new sissy maid is particularly pleasing, I may allow them to orgasm.
If you're located in London or Kent, or you are happy to travel to receive your Sissy Maid training, follow the rules on my contact page and fill out the form.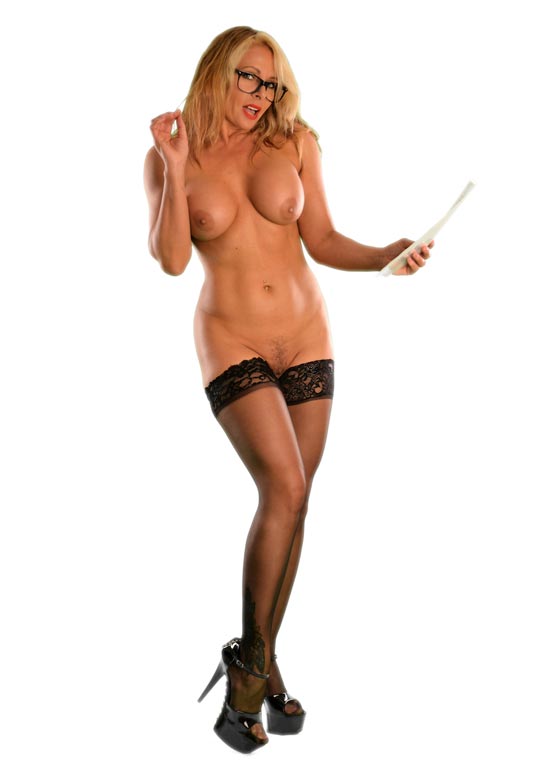 Of course, these scenarios are merely suggestions and can be adapted to suit any particular fantasy situation. However, it will always be Me who is fully in control and dictates proceedings – it would hardly be Female Domination otherwise, would it?! Such scenarios also lend themselves particularly well to CFNM situations.
My Facilities
In addition to My private study, I also have a fully-equipped. spacious, mirrored playroom (with secluded outdoor play-space) at My disposal, along with a sumptuous boudoir with red satin sheets on a super-king-size bed under a mirrored ceiling (and restraints fitted to the bed for 'Tie & Tease' scenarios).
My Wardrobe
Is extensive to cater for all tastes & occasions and includes everything from skin-tight latex & leather to uniforms, corsets & classy lingerie. I have a penchant for seamed stockings & suspenders teamed with spike-heeled stilettos or thigh-boots and of course I am always immaculately groomed & with an all-over tan.