Queening with Miss DeLaVere
Worship at the alter of Miss DeLaVere and experience what it is like to give her pleasure as she performs the act of Queening with you.
What is 'Queening'?
Queening It is an ancient art where a Woman will press and rub Her genitalia, and sometimes her anus, against someone's mouth and face, including the tongue, lips and even the nose of Her submissive. She will be in a sitting or straddling position over another's face. The act of Queening can be seen in images going as far back as the Ancient Egyptian era and is also widely known to be a historic part of Chinese, Medieval Europe, Indian, Japanese, Victorian and other cultures. It was originally a way for the Women of the Upper Class, including Royalty, to receive sexual gratification without having to resort to sexual intercourse. This is because it was usually the job of the male servants and slaves to submit to the desires of their Mistress. In Japan there were brothels with Women and Girls alike would come and pay male slaves that have been specially trained in the art of 'Queening'. Today though, 'Queening' is a very useful way for Women to feel empowerment, and at the same time enjoyment, from whoever they decide to sit or ride upon.
Miss DeLaVere's Fondness For Queening
The act of 'Queening' is a personal favourite of Mine and I particularly value a submissive that shows an energetic enthusiasm and a skilled tongue that can pleasure Me to the point where I orgasm all over their face. In My Playroom I have a purpose built 'Queening' that has been specially imported over from the USA. It has a convenient hole that is face-sized and is the perfect place to secure the slave's head, leaving just his mouth and nose visible and protruding upwards. It's made of a plush padded fabric making it incredibly comfortable… for Me.
A Typical Queening Scenario
After I lower Myself down onto My slave's upturned face, I will settle Myself into I find comfortable and enjoyable, and in a position that the slave's tongue is around the entrance to My sex, with his nose pressed up tightly against My puckered up little rose-bud (My anus). I will then begin to give My slave their orders, instructing them to begin working their tongue to give Myself pleasure and bring Me to the point of orgasm, depending on the skill of the slave, these may be numerous. With their tongue skillfully working My swollen clit and probing deep inside My sweet and succulent sex-hole, My juices will soon begin to soak their face. If however, the technique used is not too My liking, I will press My anus onto his nose. smothering him in the process and leaving him unable to breathe. They can use this time to refine their technique to something more pleasing.
A further extension of the act of 'Queening' is called 'Rimming'. During this I will adjust the seating position where I slide further forward and have My slave focus his attention with his tongue solely on My anus. The tongue will be pushed deep inside My tight little hole, allowing him to prove utter devotion to My anus, worshipping every part of the Mistress's body that they have been fortunate enough to be presented with. This is a very erotic act for Myself and something I thoroughly enjoy and will often be included in My Fem-Dom sessions.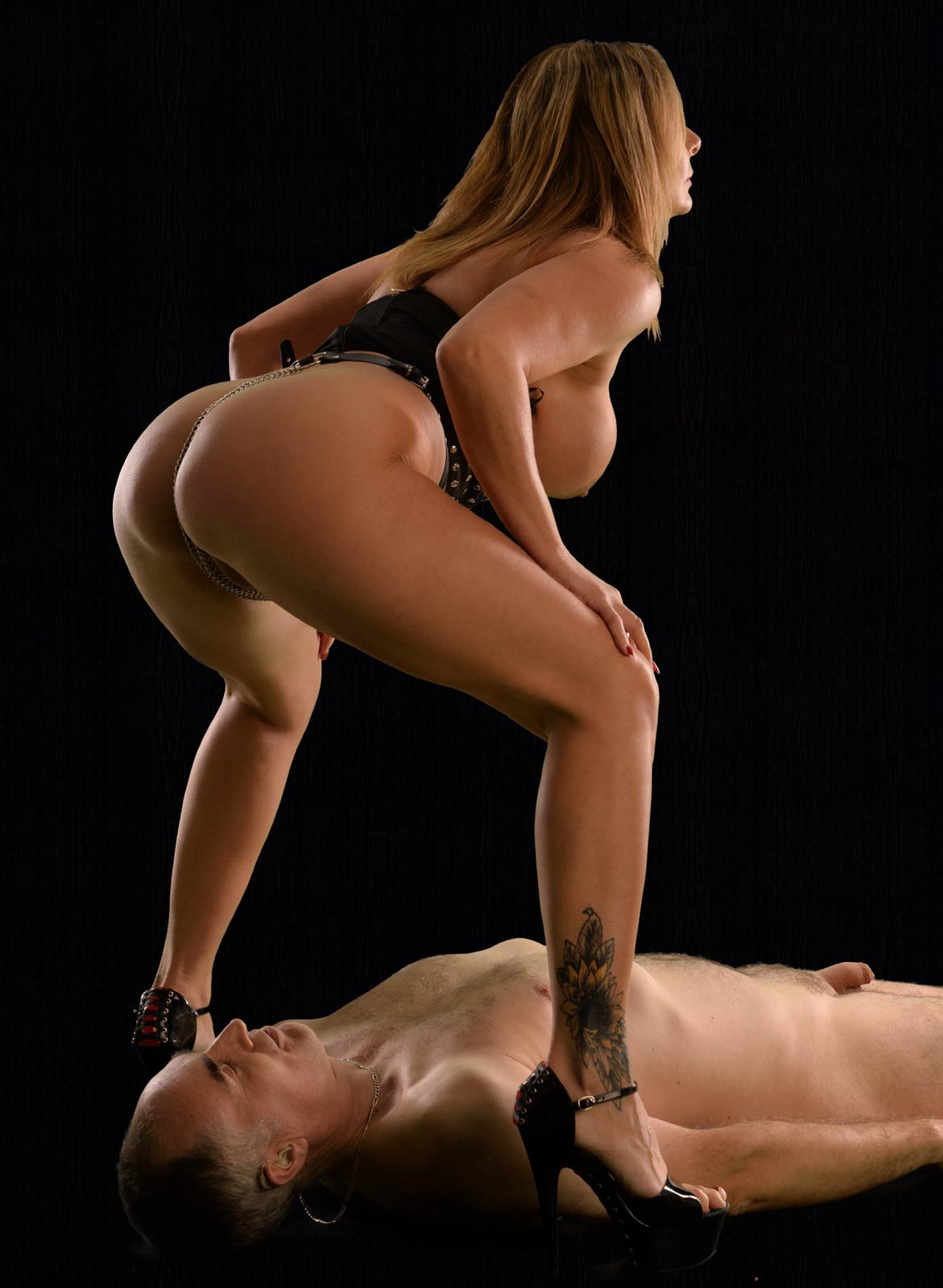 Of course, these scenarios are merely suggestions and can be adapted to suit any particular fantasy situation. However, it will always be Me who is fully in control and dictates proceedings – it would hardly be Female Domination otherwise, would it?! Such scenarios also lend themselves particularly well to CFNM situations.
My Facilities
In addition to My private study, I also have a fully-equipped. spacious, mirrored playroom (with secluded outdoor play-space) at My disposal, along with a sumptuous boudoir with red satin sheets on a super-king-size bed under a mirrored ceiling (and restraints fitted to the bed for 'Tie & Tease' scenarios).
My Wardrobe
Is extensive to cater for all tastes & occasions and includes everything from skin-tight latex & leather to uniforms, corsets & classy lingerie. I have a penchant for seamed stockings & suspenders teamed with spike-heeled stilettos or thigh-boots and of course I am always immaculately groomed & with an all-over tan.