Pussy Worship With Execu-Domme, Miss DeLaVere
I will have you on your knees, worshipping and adoring My pussy.
Pussy Worship refers to the act of worshipping your Mistress's Vagina, or 'Pussy'. It's a common belief that the pussy is the source of all life and a prominent symbol of the Mother Goddess. There is also the belief that the source of all pleasures begins at the pussy. This is reflected in many practises of BDSM such as Face Sitting, often referred to as 'Queening'.
I Will Show You How To Worship My Pussy
An experienced Dominatrix, such as Myself, will position Her body so that the submissive male is able to worship Her sex using his mouth tongue. The position will allow for the submissive to act out his desire of kissing, sucking and licking Her sex until she is satisfied and has achieved orgasm. As well as the Mistress satisfaction, it also demonstrates his utter devotion to his Mistress. The ideal position for this to happen is for the Domme to have her submissive lay prone while She straddles his head and lowers Herself slowly onto his face enabling him to effectively use his tongue to pay full attention to her pussy.
Pussy Worshipping Equipment Is Available
My playroom equipment includes a specially designed 'Queening' stool that enables me to secure My slave's head after stripping him naked and laying him down on floor of My playroom. It uses a variety of Leather Straps that run under the slave's arms that will prevent him from wriggling around and moving. I'm also able to adjust the amount that the slave's face can protrude by using a sling harness that his head will be resting on. After the slave is positioned correctly, I will be able to lower Myself onto his face and get into a position that is comfortable for Me. Instructions will then commence for him to begin worshipping My pussy. My positioning will also allow me to dictate the amount of pressure I put on My slave's face as I adjust the position of My buttocks.
My slave's mouth will obviously be positioned comfortably around my pussy with his nose firmly pressed against My anus, which will certainly heighten his experience. I will often and unexpectedly adjust my position mid-way through the worship so that my slave's tongue will have no choice other than too probe in and around my tight little rose-bud hole and quickly change the pussy worship session into an arse worship session! These two practises are very closely related though and in My opinion arse worship makes things even more horny as I just love that feeling of having My slave push his tongue deeply into My fragrant hole, demonstrating to Me his complete submissiveness by essentially just licking My arse!
You Will Be Taught To Worship My Pussy Correctly
For Me, the perfect session of Pussy Worship will incorporate certain elements from both arse and pussy worshipping and will ultimately lead to Myself reaching climax all over My slave's face (I prefer that this is more than once) as I rub My pussy across My slave's face vigorously, stimulating and maximising the effect that his tongue has on My pussy and arse alternatively.
Sometimes I may just wish to sit back on the plush Velvet Throne that I have available in My playroom, with My thighs spread wide open, and then order My slave to then kneel between My open legs and begin to use his mouth. I'll instruct him to kiss and caress My smooth, shaven pussy as I sit back and relax. It's not uncommon for My slave's to involuntarily and spontaneously ejaculate by simply being granted the pleasure and privilege of being permitted to be allowed into the Temple of My Sex and allowed to worship.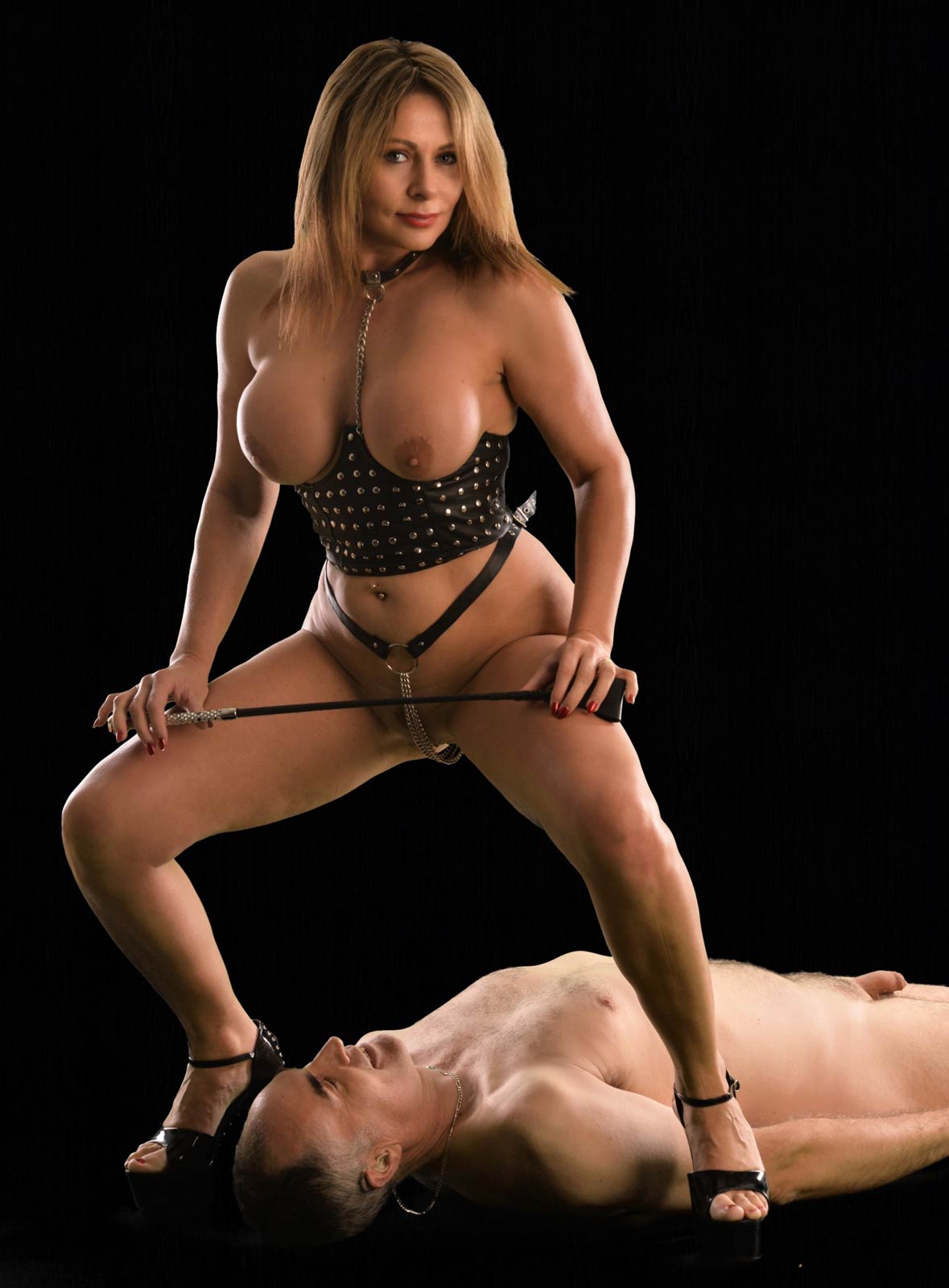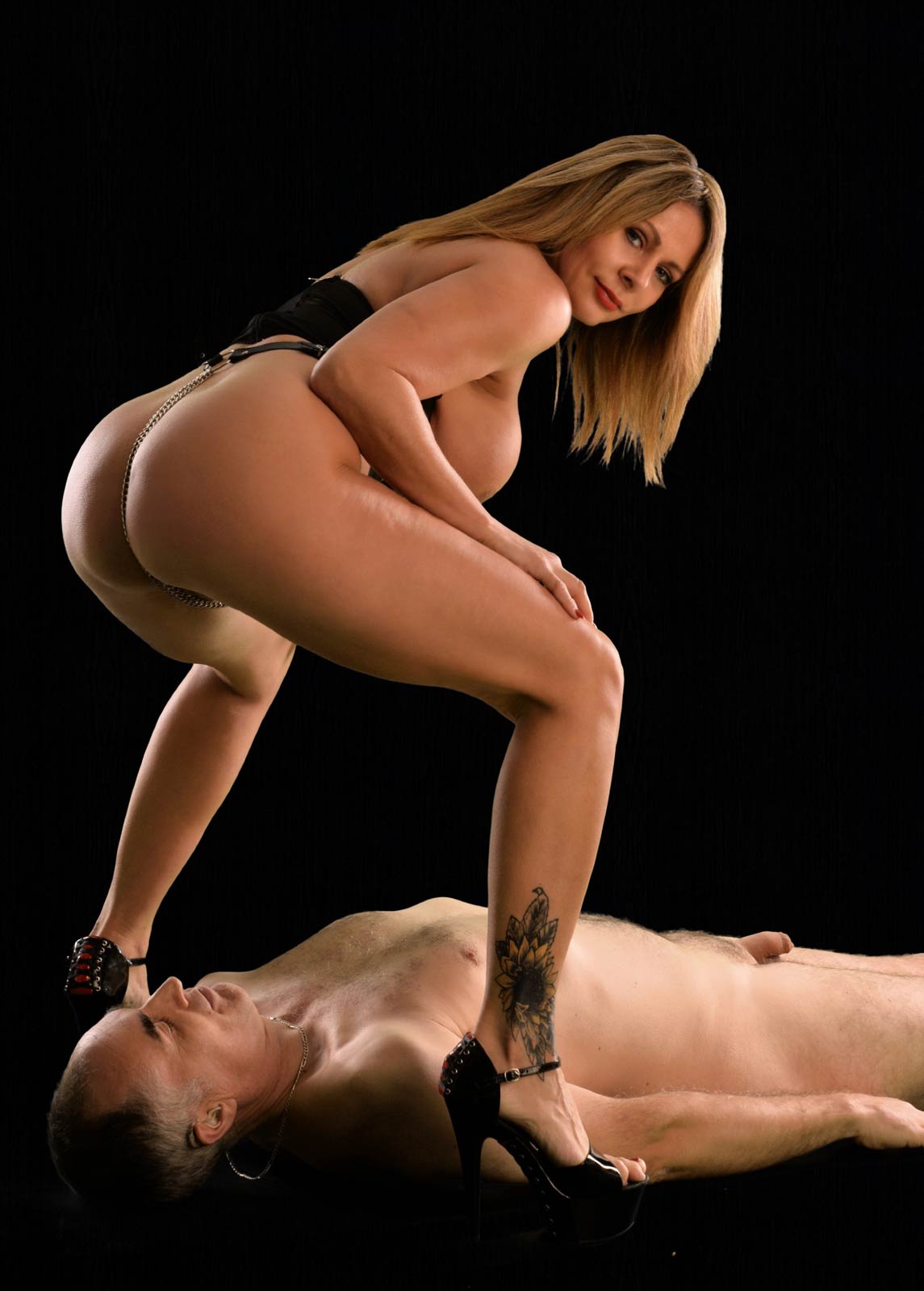 Of course, these scenarios are merely suggestions and can be adapted to suit any particular fantasy situation. However, it will always be Me who is fully in control and dictates proceedings – it would hardly be Female Domination otherwise, would it?! Such scenarios also lend themselves particularly well to CFNM situations.
My Facilities
In addition to My private study, I also have a fully-equipped. spacious, mirrored playroom (with secluded outdoor play-space) at My disposal, along with a sumptuous boudoir with red satin sheets on a super-king-size bed under a mirrored ceiling (and restraints fitted to the bed for 'Tie & Tease' scenarios).
My Wardrobe
Is extensive to cater for all tastes & occasions and includes everything from skin-tight latex & leather to uniforms, corsets & classy lingerie. I have a penchant for seamed stockings & suspenders teamed with spike-heeled stilettos or thigh-boots and of course I am always immaculately groomed & with an all-over tan.