Puppy & Pony Training with Miss DeLaVere
Be treated like My own personal animal, and thank me for it
You Can Be A Pony Or A Puppy
In a Fem-Dom scenario, puppy or pony training can be utilised. These two activities are closely connected in that the submissive takes on the character of the specific animal and is treated as such by their Mistress, which is Myself. The psyche of this facet of Fem-Dom is surely driven by the sub's awareness that he is only as valuable as the animal in issue – he is thus subhuman and will be treated as such by his Mistress.
I thoroughly enjoy each of these versions, and because I have private grounds at my property, I can participate in both puppy and pony training exercises during a Fem-Dom session.
I Will Teach You How To Be Obedient
I frequently use a leather 'dog' mask on My slave for puppy training, sometimes I opt to use a bushy 'tail' that is kept in tightly place by the stainless-steel butt-plug to which it is attached and looks quite realistic once placed into My dog's arse.
Of course, he'll expect to be nude, collared, and on their hands and knees at all times as we engage in doggy-themed activities like Me taking them on a stroll around my grounds on a tight leash — perhaps stopping by a suitable tree so he can smell it and urinate against it, just like a puppy would.
I'll Ride You Around My Grouds Like A Pony
For pony-training, I'd probably put a tailed butt-plug in the slave's arse and a leather hood on him, along with a reins and a bit, so he's ready to be ridden about My premises. I'd get onto his back and lift my booted feet off the floor, ordering him to carry Me about on all fours, tugging on the left or right rein to encourage him to go in the direction I wanted.
I have a set of savage spurs with spiked steel discs that I like attach to my leather thigh-boots so that I could 'encourage' him to move faster by digging them into his bare skin anytime I feel the need to, though I would also have a riding-crop on hand to use in a similar fashion on his naked bottom if I felt his efforts were falling short of what I demand.
It Is A Privilege To Carry Me Around
The pleasure  and privilege of being able to transport his Mistress everywhere like a pony – or entertain Her with his silliness as Her puppy – is more than a reward for a slave to carry out these kinds of activities, and of course, I would take pleasure in finding ways to dehumanize and belittle them by forcing them to perform acts that would greatly enhance their sense of embarrassment and degradation. 
Book a Puppy Training session with Miss DeLaVere today!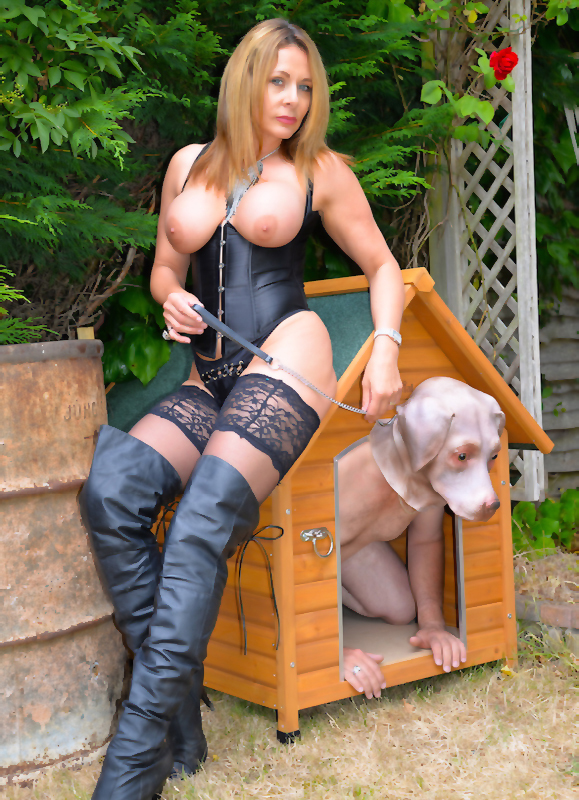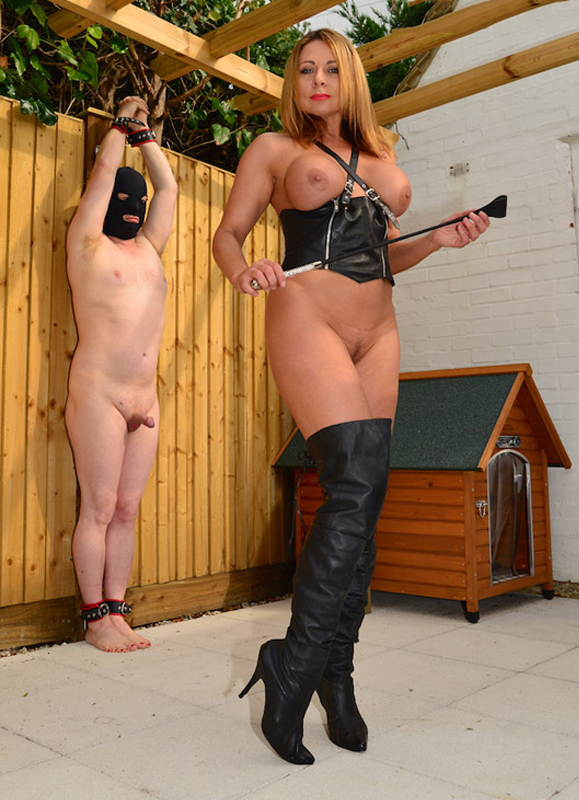 Of course, these scenarios are merely suggestions and can be adapted to suit any particular fantasy situation. However, it will always be Me who is fully in control and dictates proceedings – it would hardly be Female Domination otherwise, would it?! Such scenarios also lend themselves particularly well to CFNM situations.
My Facilities
In addition to My private study, I also have a fully-equipped. spacious, mirrored playroom (with secluded outdoor play-space) at My disposal, along with a sumptuous boudoir with red satin sheets on a super-king-size bed under a mirrored ceiling (and restraints fitted to the bed for 'Tie & Tease' scenarios).
My Wardrobe
Is extensive to cater for all tastes & occasions and includes everything from skin-tight latex & leather to uniforms, corsets & classy lingerie. I have a penchant for seamed stockings & suspenders teamed with spike-heeled stilettos or thigh-boots and of course I am always immaculately groomed & with an all-over tan.