Online Skype & Phone Sessions
For those who are not able to visit Me in person, I will consider offering on-line sessions via SKYPE and phone sessions. The cost for an initial thirty-minute on-line SKYPE session is £95 – which needs to be paid in advance via on-line bank transfer. Upon satisfactory completion of an initial thirty-minute session, I may then decide to allow extended future on-line sessions at My discretion.
On-Line sessions will be conducted by Me from My fully-equipped playroom and I will consider requests as to what attire you would like Me to wear for our liaison. You of course, will be naked. The sessions can be tailored to suit any of My role-play scenarios as detailed in My sessions tab. You will also need to download the (free) SKYPE app to your 'phone/tablet or computer if you do not already have it.
Phone sessions can also be arranged, the cost for a 30 minute phone session is £60, please use my Contact page to ascertain my availibility, make it clear you are requesting a phone session.
To arrange an on-line session you should first contact Me via e-mail using the General Enquiries Form on my Contact page, suggesting a time/date to ascertain My availability. Once I have confirmed My availability and we have agreed a time & date, I will furnish you with My bank details in order for you to make payment of your tribute. Upon receipt of your tribute I will invite you to submit details of your interests & any equipment that you may have available for our session. At the agreed time, I will then send you an invitation for a video call via SKYPE in order that we will both be able to see & hear one another.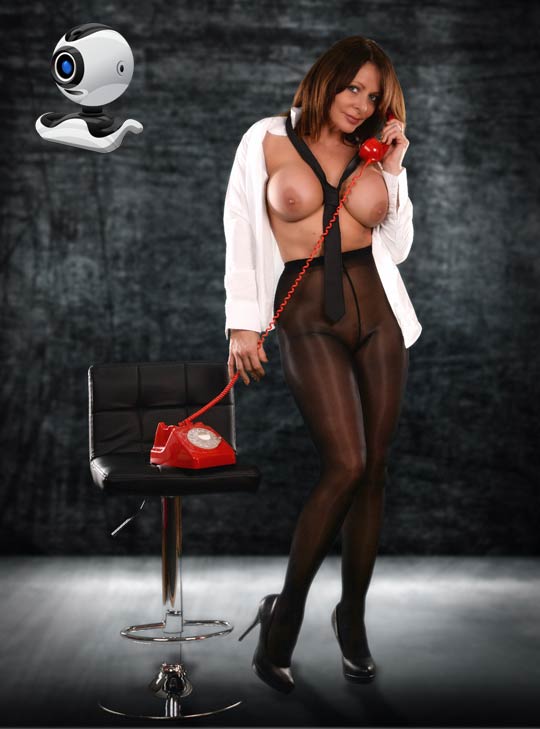 Online Skype Session Availability
I am generally available for private consultations most days (including weekends) between 11am & 11pm by prior arrangement only. Advance booking is required although sometimes (depending on My schedule) I may occasionally have same-day availability. YOU MUST first check my availability before booking your appointment.
My Online Session rates are as follows:
30 Minute Skype Session: £95
Longer Duration Skype Call: To Be Discussed After Initial Call
My Facilities
In addition to My private study, I also have a fully-equipped. spacious, mirrored playroom (with secluded outdoor play-space) at My disposal, along with a sumptuous boudoir with red satin sheets on a super-king-size bed under a mirrored ceiling (and restraints fitted to the bed for 'Tie & Tease' scenarios).
My Wardrobe
Is extensive to cater for all tastes & occasions and includes everything from skin-tight latex & leather to uniforms, corsets & classy lingerie. I have a penchant for seamed stockings & suspenders teamed with spike-heeled stilettos or thigh-boots and of course I am always immaculately groomed & with an all-over tan.
Fem-Dom Sessions
For details of my traditional Fem-Dom sessions visit: https://mistresscarly.co.uk/