Experience Nipple Torture With Miss DeLaVere
Have your nipples twisted and tormented by Execu-Domme Miss DeLaVere.
Nipple Torture is an act of BDSM where the dominant partner, in this scenario Myself, will intensely stimulate a submissive's nipples and often inflict pain. The art of Nipple torture can include a variety of fun toys for Me to use, including clothes pins, nipple clamps, 
Nipple torture is a BDSM activity where the dominant partner inflicts pain or intense stimulation on the breasts of the submissive partner. Nipple torture may include use of nipple clamps, clothes pins, caning, flagellation, piercing, or various forms of sensation play including electricity and temperature. Since the breasts are erogenous zones, the experience in nipple torture is said to be one of pain blended with pleasure.
My Nipple Torture Is A Form Of Art
I am highly skilled and well versed in all nipple torture aspects and I take great pleasure in administering my slave's oh so sensitive nipples all manor of pain. The St Andrews Cross that I have erected in My playroom comes in particularly handy for Nipple Torture and when combined with CBT, I have both his nipples and his genitalia completely exposed and at My mercy.
I own several nipple clamps of different designs and styles, some that come already fitted to chains which allow me to easily add to the pressure of the clamps that are attached to My slave's nipples as I add additional weights increasing in size each time. The squeals of agony coming out of My sub's mouth will undoubtedly get louder as the pain level increase so I may use a ball-gag to stifle those whimpers and squeals If I find them to be irritating.
Nipple Torture Will Shock Your Senses
The use of Electrics is a highly effective way for Me to administer my slave's nipple's with shocks of various intensity. I have a top of the range Electra-Stim power pack which has electrodes that are specifically designed for this purpose. Again, when this is coupled with CBT it is particularly effective and often My poor slave's don't quite know what has hit them. I have so much fun watching them try to guess where the next jolt will land! Will it be the nipples, the cock or the balls? Only I know, but they will find out!
Using hot wax or ice is a great way for Me to apply pain to My slave's nipples. I also have pin-wheels, spiked leather gloves with razor-sharp need tips at my disposal and they all have their part to play as they are introduced into My nipple torture session. The basics should never be overlooked though and it should be known that a sharp twist from My fingers on My slave's sensitive nipples will certainly bring his attention back to me if I feel that he is not performing for me on a level that I feel is adequate.
You Will Know Your Place During Nipple Torture
Last but not least, there is a quick and simple way to remind a disobedient slave exactly who is in charge – Me! This technique takes a considerable amount of skill and practise to master and it is a skill set that I like to keep well honed. I will strap a slave to My cross and begin to use his nipples as target practise by using a selection of whips, crops and switches. The longer the whip and the further the distance, the more skill and practise is required to land a clean blow direct to the nipples. The gratification I receive from landing these knowing the that longer the whip, the more pain the slave will feel, is exhilarating.
I certainly enjoy practising this, often measuring My levels of success by the cries of pain emanating from my strapped up slave as I swing harder each time (lol).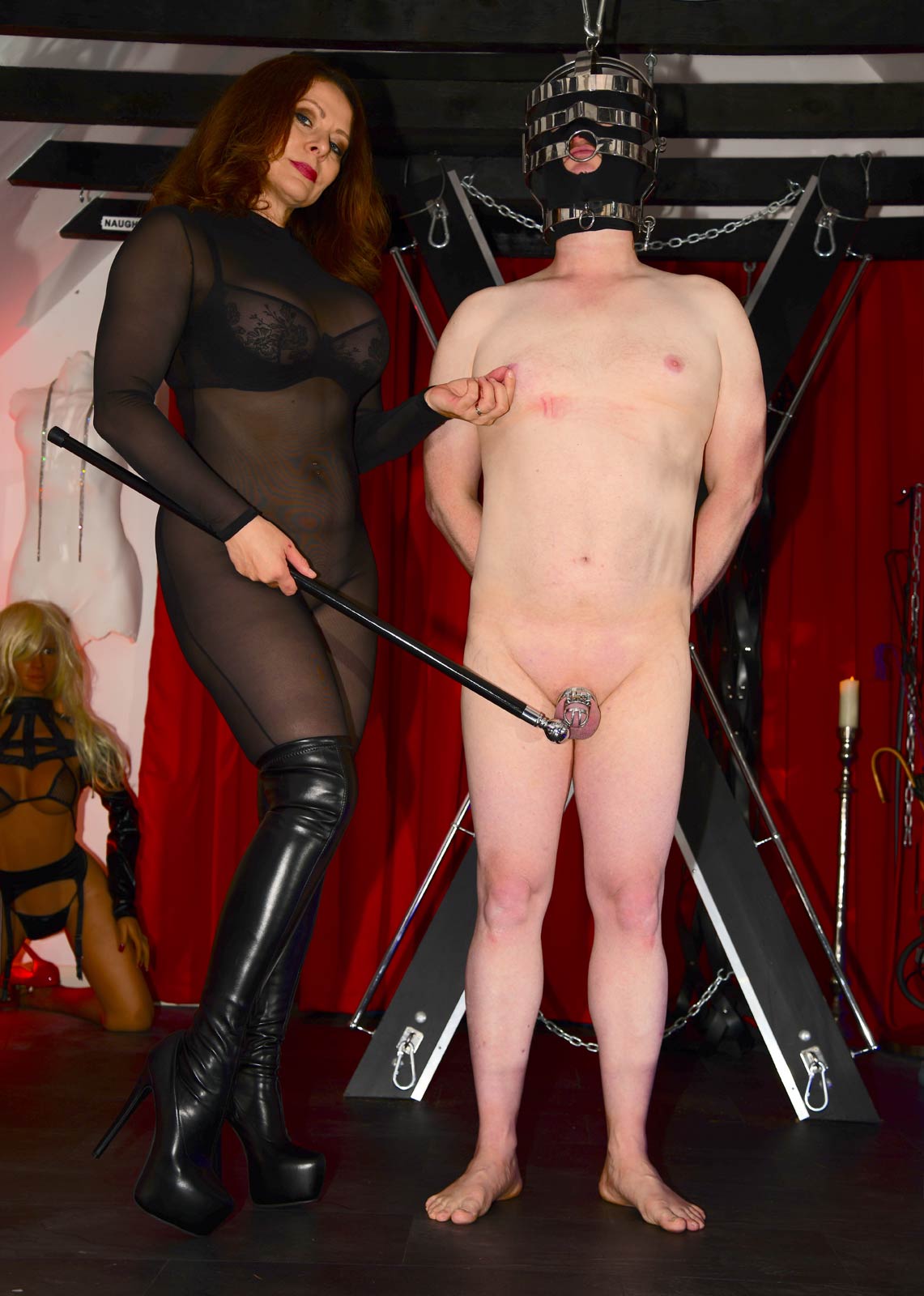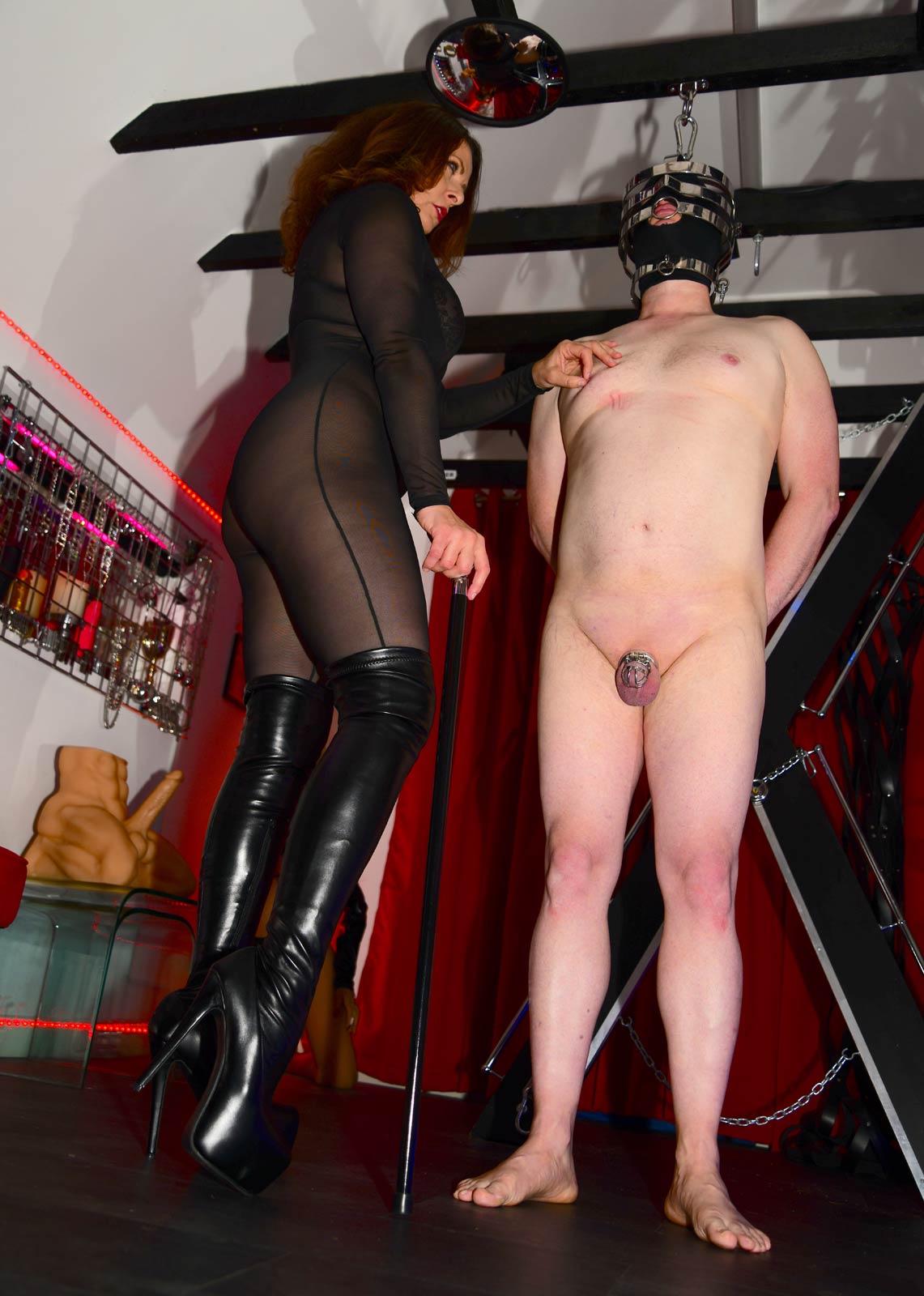 Of course, these scenarios are merely suggestions and can be adapted to suit any particular fantasy situation. However, it will always be Me who is fully in control and dictates proceedings – it would hardly be Female Domination otherwise, would it?! Such scenarios also lend themselves particularly well to CFNM situations.
My Facilities
In addition to My private study, I also have a fully-equipped. spacious, mirrored playroom (with secluded outdoor play-space) at My disposal, along with a sumptuous boudoir with red satin sheets on a super-king-size bed under a mirrored ceiling (and restraints fitted to the bed for 'Tie & Tease' scenarios).
My Wardrobe
Is extensive to cater for all tastes & occasions and includes everything from skin-tight latex & leather to uniforms, corsets & classy lingerie. I have a penchant for seamed stockings & suspenders teamed with spike-heeled stilettos or thigh-boots and of course I am always immaculately groomed & with an all-over tan.