'Milking' with Miss DeLaVere, UK Mistress
Have your prostate expertly Milked during a visit to Miss DeLaVere's playroom. Experience the ultimate pleasurable punishment.
What is male 'Milking'?
'Milking' is also sometimes commonly referred to by the term 'Prostate stimulation'. This involves the insertion of a finger or other device into the male's rectum to stimulate the Prostate gland. The effect of this is to trigger a release of any seminal fluid contained within the Prostate gland. Expert application of this technique can bring about extremely intense & powerful orgasms coupled with explosive orgasms. With so much semen being produced, the male is often left feeling totally drained and in effect 'milked'. Powerful suction devices can be introduced to further heighten the intensity of the orgasm and ejaculation, which often leads to spontaneous and even on occasion multiple orgasms.
Do You Have Any 'Milking' Machines?
I have acquired a Venus 2000 'Milking' Machine which was specially shipped over from the USA at a significant cost to Myself. Using this machine makes it easier than every to completely drain My slave's scrotums of every last drop of their sperm. The Milking Machine produces a highly powerful suction that attaches itself to the slave's erection. Once secured in the machine's receiving tube, the erection will be held in place with a strong vacuum. This will make the erect penis swell to a much larger size.
Once secure, I will begin to introduce you to the 'milking' effect. This is achieved by an oscillating effect inside the vacuum of the tube. I will gradually increase the intensity and power until I feel that My slave's genitals feel like they are being sucked inside out. At this point in time I often like to introduce an extra toy of mine in the form of a steel electro-probe. This will be inserted into My submissive's anus and it will deliver an electric shock right into his prostate, sending the prostate into overdrive and make the submissive feel like he is going to explode semen everywhere.
'Milking' Is The Ultimate Pleasurable Punishment
My subject will generally be secured onto a table, cross or other such device. They will be unable to move or speak as I often prefer to place a ball-gag into their mouths which helps stifle the cries as I work My magic with the 'Milking' machine, all while firing off electro shocks to his prostate, prompting it to spontaneously empty itself completely. Being able to watch My 'poor' sub jerk and thrash around helplessly as his balls empty in front of him is such a fun thing for Me, especially seeing that clear tube fill full of his semen. A very gratifying experience.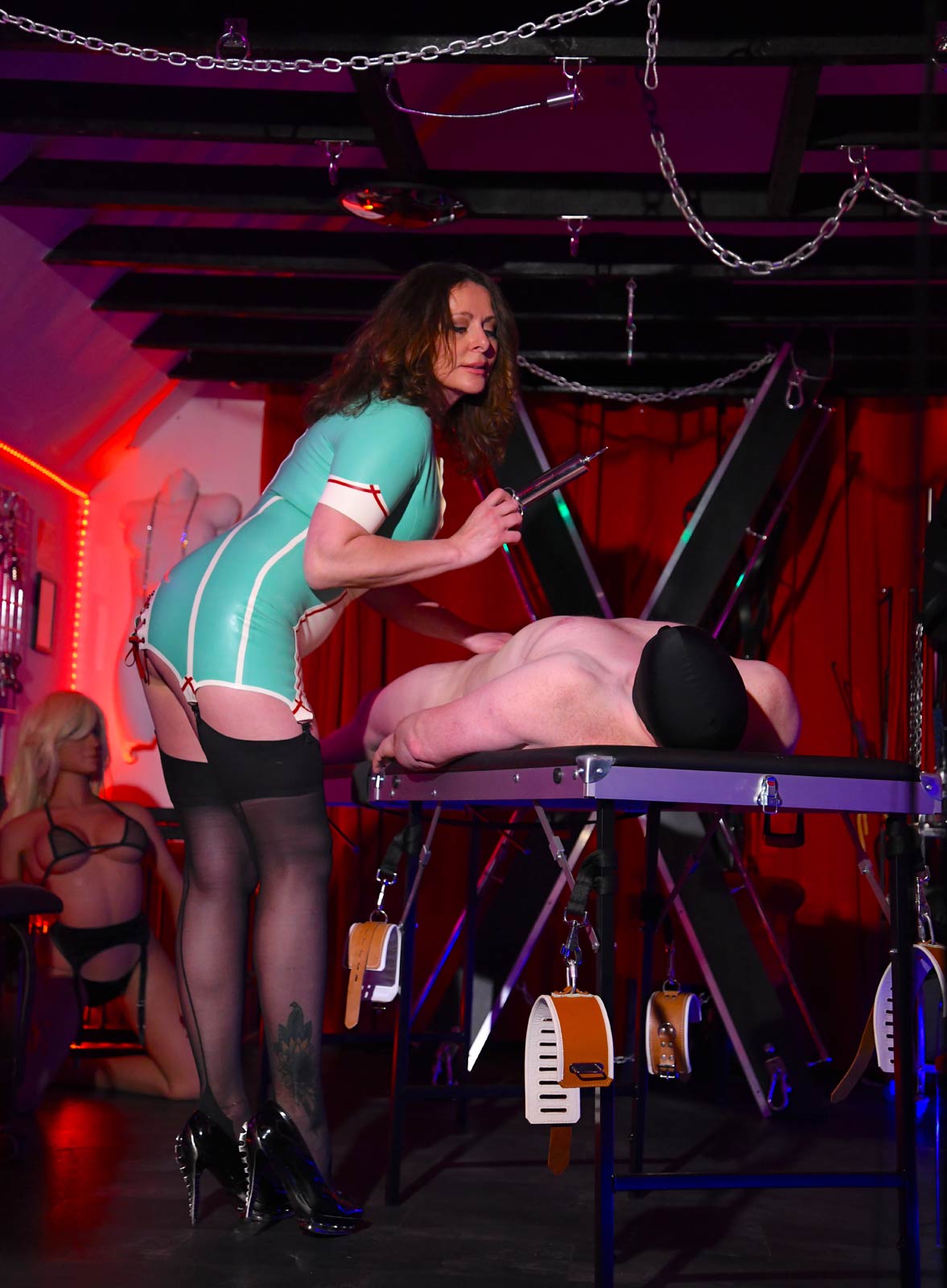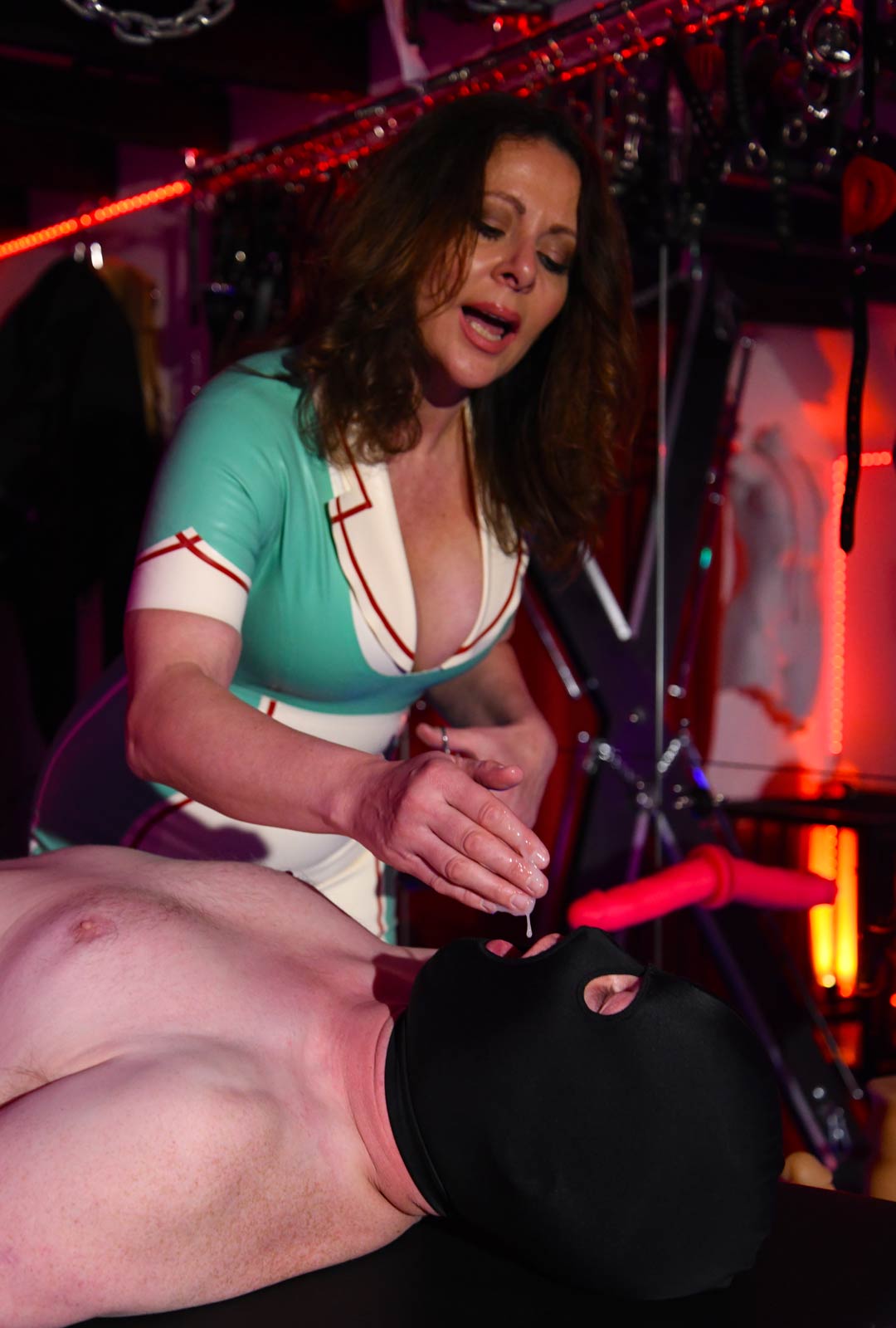 Of course, these scenarios are merely suggestions and can be adapted to suit any particular fantasy situation. However, it will always be Me who is fully in control and dictates proceedings – it would hardly be Female Domination otherwise, would it?! Such scenarios also lend themselves particularly well to CFNM situations.
My Facilities
In addition to My private study, I also have a fully-equipped. spacious, mirrored playroom (with secluded outdoor play-space) at My disposal, along with a sumptuous boudoir with red satin sheets on a super-king-size bed under a mirrored ceiling (and restraints fitted to the bed for 'Tie & Tease' scenarios).
My Wardrobe
Is extensive to cater for all tastes & occasions and includes everything from skin-tight latex & leather to uniforms, corsets & classy lingerie. I have a penchant for seamed stockings & suspenders teamed with spike-heeled stilettos or thigh-boots and of course I am always immaculately groomed & with an all-over tan.