Leg Worship with Miss DeLaVere
Be blessed by worshipping at the altar that is My legs
What Is Leg Worship?
Leg Worship, otherwise known as 'Crurophilia', is the admiration and worship of the Mistress' legs. Body worship is frequently an aspect of a Fem-Dom scenario, which includes Leg worship, where the submissive male takes enormous pleasure from adoring his Mistress's legs. Although foot worship is often recognized to be a different fetish with its own impulses and meanings, it may frequently extend to and involve the feet. Leg Worship with Miss DeLaVere is a unique and rewarding experience that you must try
Fortunately, I was born with long, slim legs that, if I do say so myself, look pretty damn beautiful when dressed in sheer seamed stockings with a six, eight, or even ten-strap suspender belt  and finished off with a pair spike-heeled Louboutins encasing my beautiful feet.
The Legs Are The First Thing You Should Worship
Worshipping My legs is often one of the first tasks I will set a naked slave in order to show his devotion to Me, whether I be standing or reclining in My throne as he toils away naked endeavouring to impress Me with his attentions in the hope of being granted some small favour for his efforts if they please Me adequately.
Most men appear to be awestruck by My long, graceful legs, and it takes little persuasion to go down on their knees and rub, kiss, and caress My legs for extended periods of time. The fact that I go to the gym on a daily basis to maintain in shape has the extra benefit of keeping My thighs in particular tight and firm, with smooth skin taut over my strong and powerful physique.
Of course, the twin riches of My peachy arse and… My delicious, succulent sex, both of which are the desirable destination of the tongue of every sub' man who is privileged enough to grovel nude before Me to serve & adore Me, are located towards the top of My legs.
Worship My Legs And Prove Your Worthiness
As a result, leg worship is the best approach for a slave to establish his readiness in order to be given the honor of being directed to worship either My arse or My sex, and I expect a slave to properly convey his enthusiasm to do so by first adoring My legs.
It may please Me to instruct a slave to rub his invariably erect cock across My stocking covered legs and even order him to ejaculate heavily onto the sheer black fabric of My stockings so that I can gauge just how sincere he is by the amount of thick white sperm he is able to deposit upon My command.
You Will Clean My Stockings With Your Tongue
Of course, after he's ruined My stockings in this manner, he'll be forced to clean up his own filthy waste with his tongue, swallowing whatever he licks up until my long legs are immaculate clean again – which, in my eyes, is all part of the pleasure of leg-worship!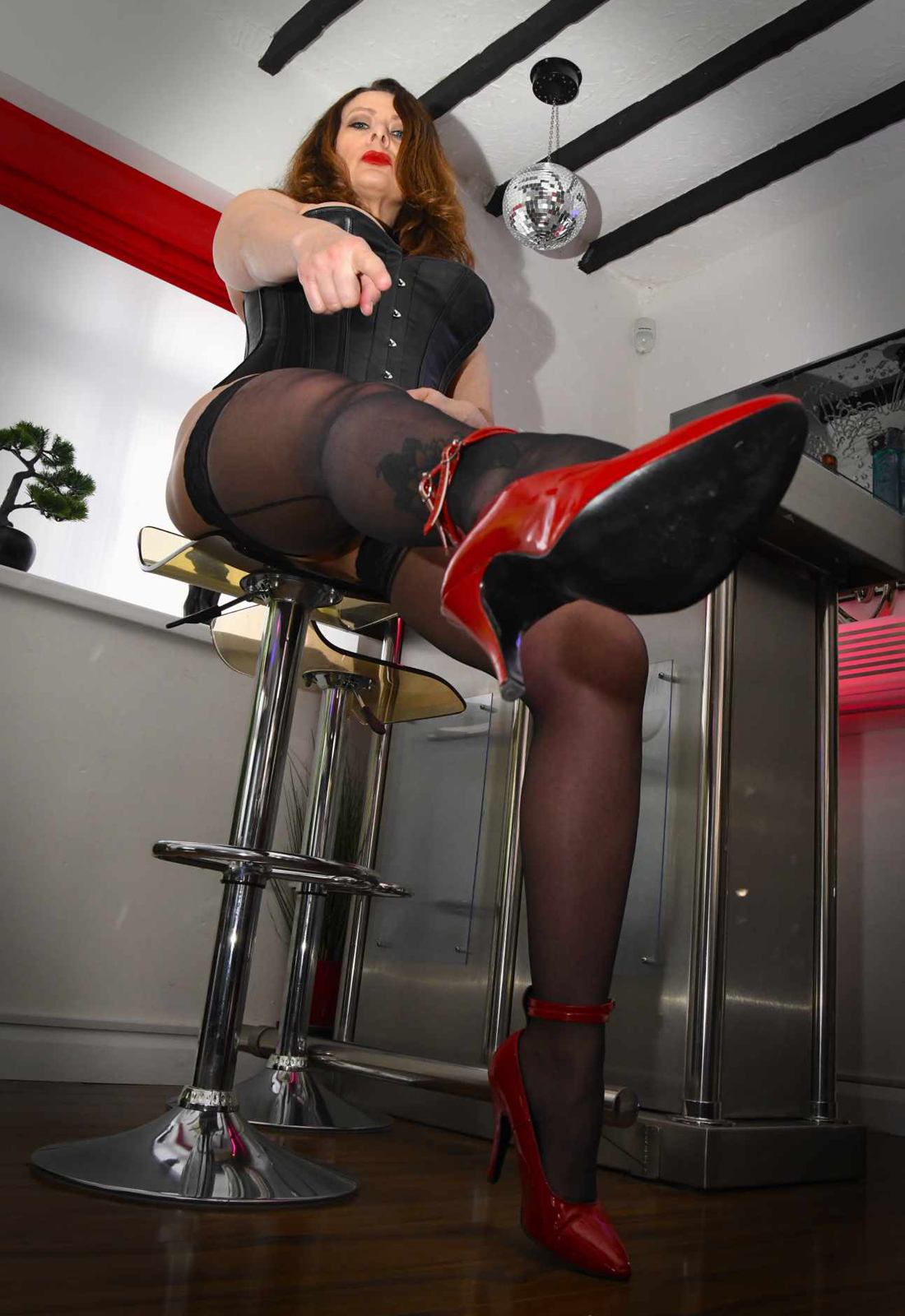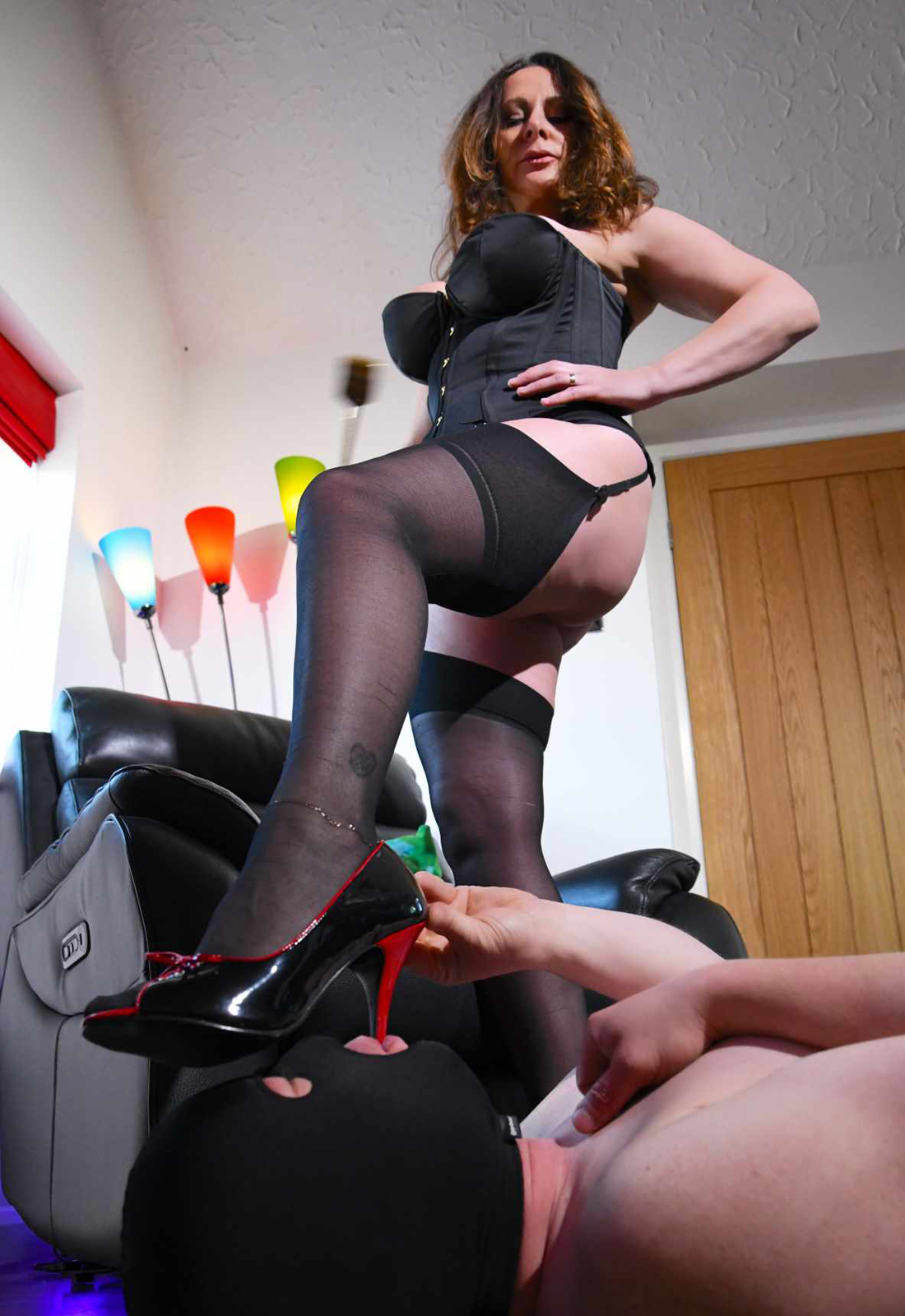 Of course, these scenarios are merely suggestions and can be adapted to suit any particular fantasy situation. However, it will always be Me who is fully in control and dictates proceedings – it would hardly be Female Domination otherwise, would it?! Such scenarios also lend themselves particularly well to CFNM situations.
My Facilities
In addition to My private study, I also have a fully-equipped. spacious, mirrored playroom (with secluded outdoor play-space) at My disposal, along with a sumptuous boudoir with red satin sheets on a super-king-size bed under a mirrored ceiling (and restraints fitted to the bed for 'Tie & Tease' scenarios).
My Wardrobe
Is extensive to cater for all tastes & occasions and includes everything from skin-tight latex & leather to uniforms, corsets & classy lingerie. I have a penchant for seamed stockings & suspenders teamed with spike-heeled stilettos or thigh-boots and of course I am always immaculately groomed & with an all-over tan.