Perform Foot And Shoe Worship For Your Execu-Domme, Miss DeLaVere
Worship my expensive collection of executive footwear and stockings.
Having a foot fetish means that you have a sexual interest in feet, and more specifically My perfect feet. This interest in feet can be related to the size, shape or even the smell of the foot and may also include how the feet are presented, such as with foot jewellery or expensive heels. Many foot fetishist will enjoy and get off on kissing and touching feet. It's mainly males that enjoy foot fetish and it's also known as foot worship, podophilia or foot partialism.
Shoe And Boot Fetishes Explained
Shoe and Boot worship is a when someone has an extreme love of shoes and/or boots and incorporates their lust for shoes and boots in a BDSM practise. This is a common fetish for a submissive partner who will generally perform that art of Boot Worship for their dominant partner as they tease and torment them with their footwear. Shoe and Boot worship are both closely related to a more general foot fetish.
The act of kissing or licking someone's feet is often considered an extreme form of humiliation as the feet are regarded in stature as one of the bodies lowest parts. Shoe and Boot worship further plays with this idea and turns the act into a sexually humiliating place. The submissive partner will willingly adore and worship their Mistress shoe or boot of choice, in my case a pair of red bottomed Louis Vuitton heels, by cleaning, kissing and licking them. Make no mistake, it is an honour to even by close to my expensive collection of shoes.
'Boot Blacking' is the act of ritually cleaning a dominant partners boots. A submissive partner will use their garments to spit-shine and polish the boots making sure to leave a glossy finish of face the consequences. Doing this is a common part of the boot worshipping experience but it also may open up the opportunity to turn the scenario into a sort of BDSM or military role-playing session. Sometimes a boot worshipper will even suck the leather boots or shoes of their Mistress, mimicking an oral sex act at the same time. The sub may even be ordered to lay on the floor so their Mistress can walk over their naked body in their footwear of choice. I have a tendency to use spikey high heels in this scenario.
I Will Allow You To Express Your Fetish With Foot And Shoe Worship
It's considered an expression of utter devotion to perform Foot, Shoe or Boot worship to a dominant partner, seen as an admission of the submissive partners inferiority to their Mistress, or both. Foot, Shoe and Booth worship is something I often incorporate into my sessions as My extensive collection of expensive, attractive and often painful high heels, deserve to be adored. It presents the perfect opportunity for My slaves and submissives to demonstrate their inferiority and total submission to Me as they worship at my feet. I find it rather arousing to watch My slave work his tongue eagerly and lovingly around My toes or see them perform oral sex on My spike-heeled shoes.
I may even escalate the session by purposefully dirtying My feet or My footwear by walking around My grounds and staining them with mud and then having My lucky(?) slave lick and suck them clean, and of course swallowing their dirty saliva, simply for My enjoyment. Failure to do as tasked, My slave can expect to be punished thoroughly. If however My slave does his duties to an acceptable level, and My Feet or Heels are cleaned to my satisfaction, I may reward him with a foot-wank. This does also mean that once he has spilled his copious amounts of hot semen over My newly cleaned Feet or Shoes, he will then be expected to fully clean them again in similar fashion to before.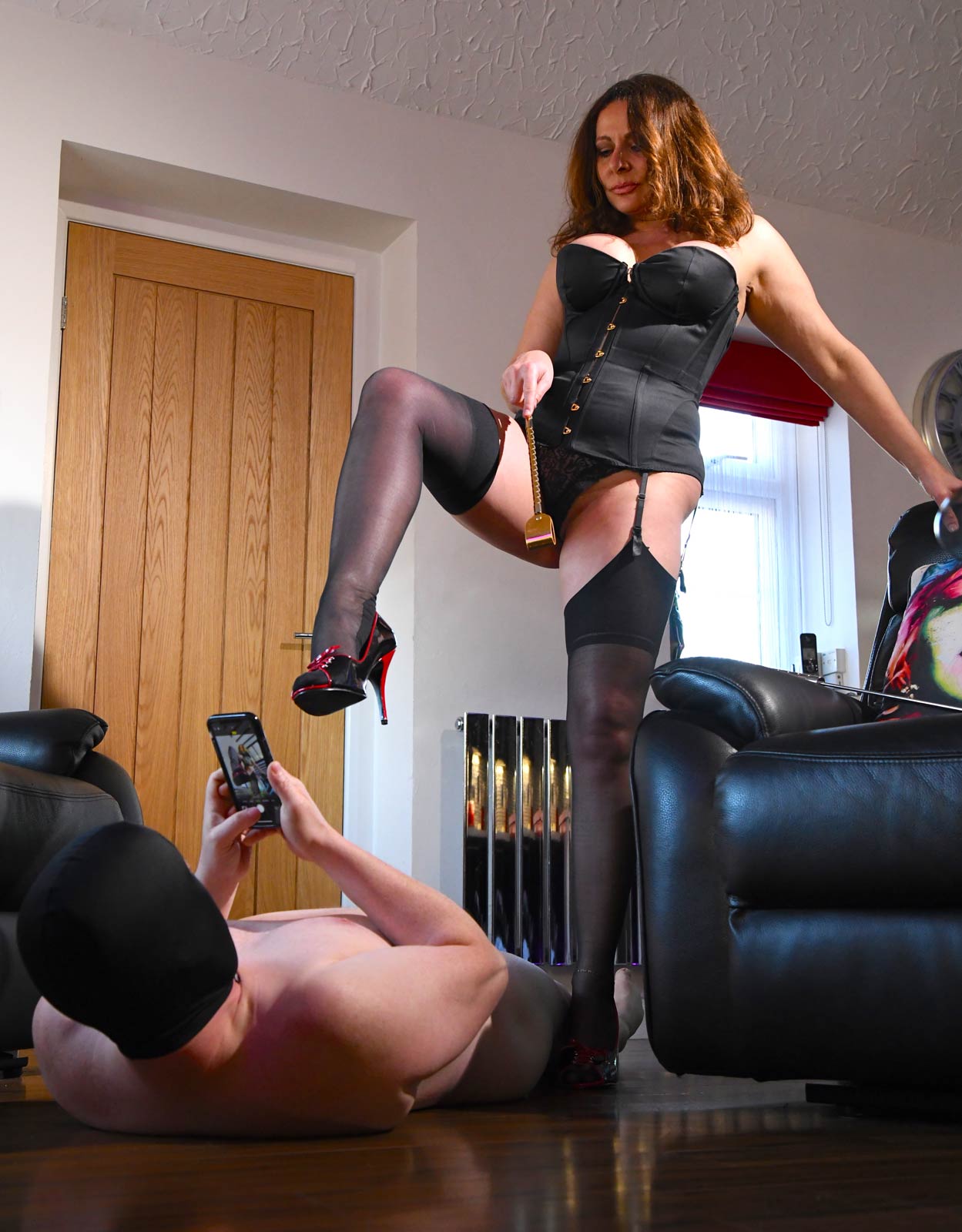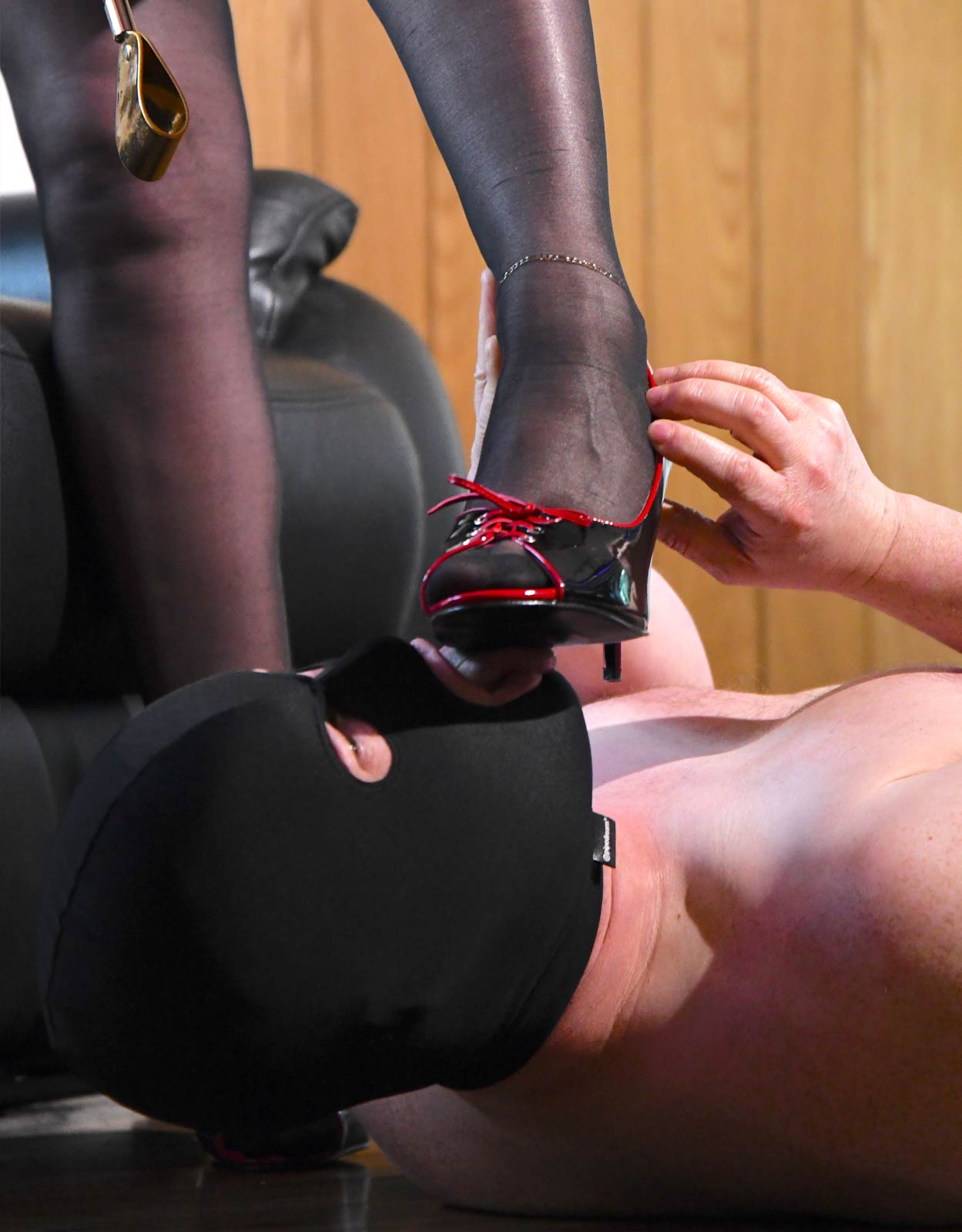 Of course, these scenarios are merely suggestions and can be adapted to suit any particular fantasy situation. However, it will always be Me who is fully in control and dictates proceedings – it would hardly be Female Domination otherwise, would it?! Such scenarios also lend themselves particularly well to CFNM situations.
My Facilities
In addition to My private study, I also have a fully-equipped. spacious, mirrored playroom (with secluded outdoor play-space) at My disposal, along with a sumptuous boudoir with red satin sheets on a super-king-size bed under a mirrored ceiling (and restraints fitted to the bed for 'Tie & Tease' scenarios).
My Wardrobe
Is extensive to cater for all tastes & occasions and includes everything from skin-tight latex & leather to uniforms, corsets & classy lingerie. I have a penchant for seamed stockings & suspenders teamed with spike-heeled stilettos or thigh-boots and of course I am always immaculately groomed & with an all-over tan.