Face-Sitting With Miss DeLaVere
Be blessed with Miss DeLaVere's sex pressed onto your mouth with a Face-Sitting Session.
What Is Face-Sitting / Queening?
The act of Face-Sitting (otherwise know as 'Queening') is using a male's face, nose, tongue and mouth as a masturbation and sexual intercourse substitute, by a Powerful Woman that is completely in control. It's the kind of act that you would be forced to do if you upset the new Female SEO when you don't hit the financial targets that you are required to do.
The act itself places the man in a subservient and slavish position, directly under the Woman's crotch and buttocks as She sits down onto his face, or if She has his head clamped between her powerful thighs.
Face-Sitting Is For The Boss To Enjoy…. That's Me!
The whole purpose if the event is only for the pleasure of the Female in charge, such is the Female Boss and peon role. The Woman's clitoris, labia, vulva and vagina demand to be serviced until She feels that She has been pleasured enough. The man's satisfaction, pleasure, pain and frustration are of no importance during this act.
It still remains a deliciously thrilling, sexual practice to this day, one that has been performed throughout history going as far back as Medieval times. It was not unheard of for the Lady of the house to have pages, their sole job being to provide the Lady with lip, tongue and mouth service while being covered by their skirt, during the times that their husband was absent. This meant that they remained faithful yet satisfied.
Many young boys first sexual experience in those times was to have their head buried up his Mistress backside with her quim being brushed vigorously over his face and mouth. Even virgin girls were able to enjoy being brought to orgasm by their male servants mouths while still keeping their modesty in tact.
It's About Please And Dominance
Providing tongue and mouth sexual service to a Female genitalia is know as 'cunnilingues' or 'cunnilinctus', which literally translates to c*nt licking or c*nt sucking. The act of Queening begins by properly having the Woman placed on top of the male's face, as that is the position of power and authority. The face is used selfishly and ruthlessly by the female. As the Lady commands, the man shall obey. You will be erect, unsatisfied and frustrated as we enter this Face-Sitting arrangement and I will enjoy the sadistic pleasures of it.
Face-sitting remains one of My own personal favourite experiences to enjoy with My slaves as I love the power dynamic. I AM THE BOSS, and you will realise it. Face-sitting always brings Me to climax repeatedly and having My slaves helpless face secured to My 'Queening' stool, fixed in a 'ready position', for Me to use as I please as often as I desire is something I enjoy thoroughly.
I Will Enjoy Face-Sitting, It Doesn't Matter If You Do
It's certainly if no consequence to me whether or not My slave even enjoys the Face-Sitting experience. Obviously, each and every one of them display a throbbing erection throughout the session, which indicates they are enjoying it a lot more than they should be, and many of them seem to spontaneously ejaculate a heavy load as I their faces until I reach a shuddering climax.
Sometimes it may be hard for them to breath as My firm round arse-cheeks envelope their face, and it's inevitable that maybe one or two of the weaker ones may lose consciousness, but this does not deter Me from attaining My orgasm – after all, as your Mistress and Boss, I will always cum first!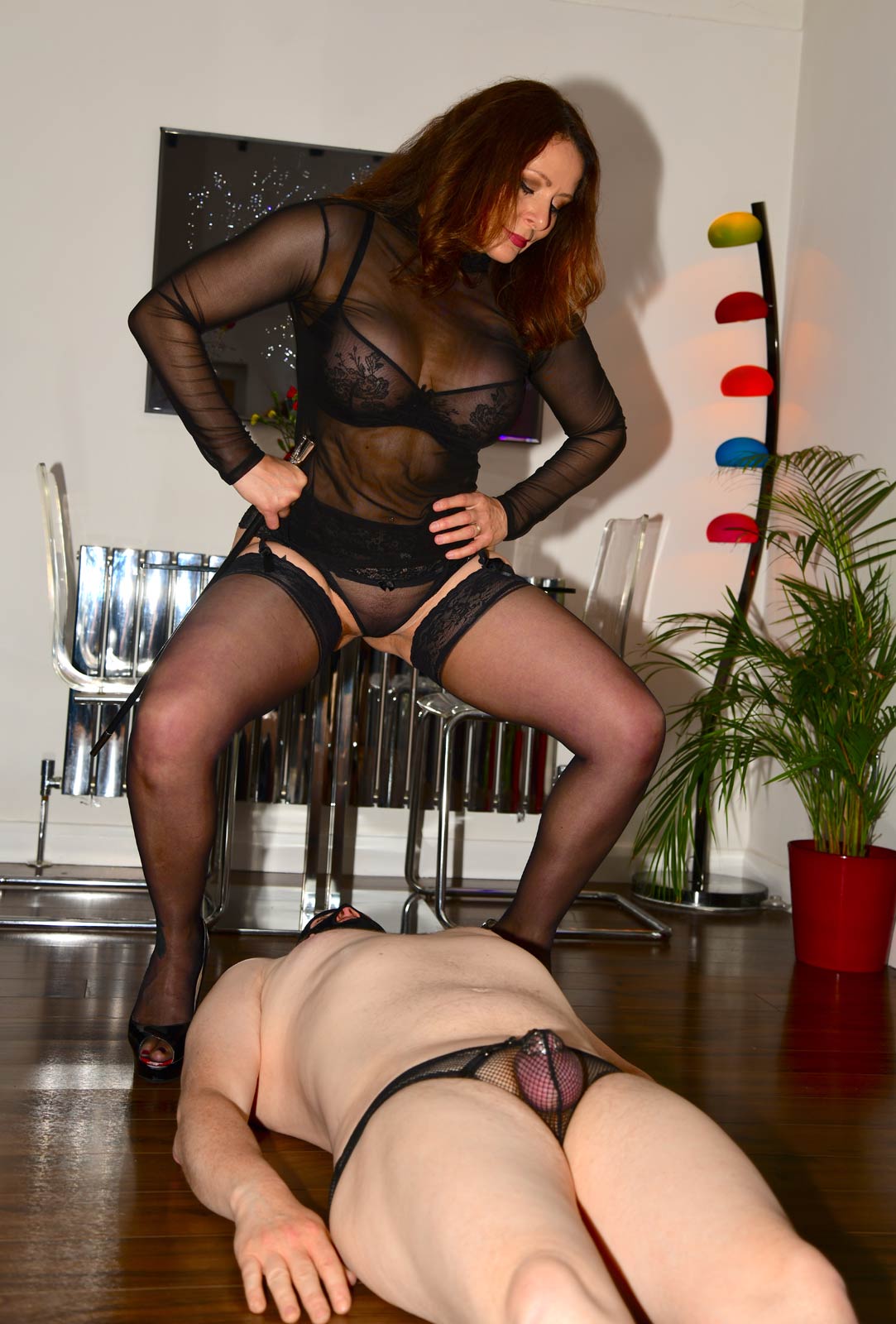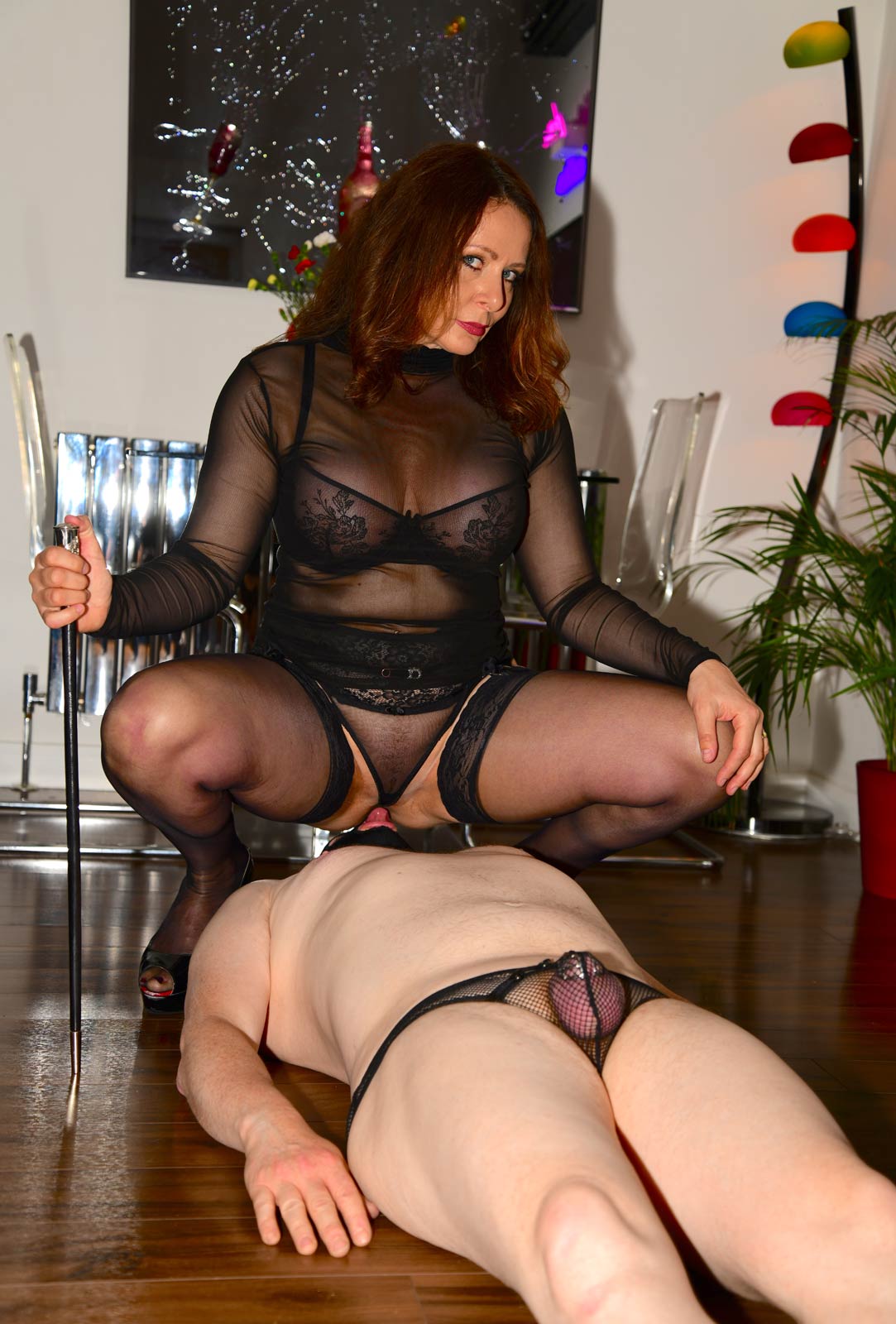 Of course, these scenarios are merely suggestions and can be adapted to suit any particular fantasy situation. However, it will always be Me who is fully in control and dictates proceedings – it would hardly be Female Domination otherwise, would it?! Such scenarios also lend themselves particularly well to CFNM situations.
My Facilities
In addition to My private study, I also have a fully-equipped. spacious, mirrored playroom (with secluded outdoor play-space) at My disposal, along with a sumptuous boudoir with red satin sheets on a super-king-size bed under a mirrored ceiling (and restraints fitted to the bed for 'Tie & Tease' scenarios).
My Wardrobe
Is extensive to cater for all tastes & occasions and includes everything from skin-tight latex & leather to uniforms, corsets & classy lingerie. I have a penchant for seamed stockings & suspenders teamed with spike-heeled stilettos or thigh-boots and of course I am always immaculately groomed & with an all-over tan.