Erotic Humiliation With Miss DeLaVere
I'll verbally destroy you as you play with your pathetic, little cock.
Let's Talk About Sex
Erotic Humiliation is a consensual yet psychological form of humiliation that is performed by the Mistress to produce sexual arousal and erotic excitement. This submissive act often falls under sexual roleplay in a BDSM scenario. Humiliation is subjective though and is always dependant on the parties involved. Normally though it will consist of a dominant Female and a pathetic, submissive male who will be on the receiving end of the domination.
Erotic Humiliation can be a combination of verbal and physical humiliation or be done separately. Some people enjoy acting out the role physically while others will be aroused from just being spoken to in a degrading way. A classic scenario of Erotic Humiliation is to make the submissive experience a 'bottom' space of mind and then verbally humiliate them while also giving them sexual stimulation.
My Experienced Tongue Lashing Technique Will Sting
Through my years of being an Execu-Domme and dealing with high powered execs and bosses, Humiliation has become a prevalent part of my BDSM practises, one that I have become highly adept at. I do relish the opportunity to talk down to and humiliate someone that has a high powered job and is used to being the 'boss'.
The moment they enter my grounds, they become My slave, and as they get stripped of their clothing and dignity and are kneeling in front of me, they will see the menace in my face as I spit verbal insults about their pathetic, weak frame and their displeasing genitals, laughing as I do so.
Introducing Small Penis Humiliation (SPH) into an Erotic Humiliation session is something that comes hand in hand, and often during a Clothed Female, Naked male (CFNm) scenario also. The first instruction you will receive as My slave will be to strip naked in front of Me. You will feel my eyes burning as I glare coldly at you with a look of disgust on My perfect face.
Erotic Humiliation Begins As You Enter The Door
Once you are naked your clothes will be disposed of and you will begin to suffer a form of humiliation that you are not used to. I am the boss, I am in control, you work for Me. Once I feel that I have reprimanded you enough you will have your clothes returned. Over the years I have amassed quite an extensive collection of quips and insults to hurl at your naked, pathetic body. I'll often instruct My slaves to masturbate their pathetic tool in front of me, giving Me more ammunition as I hurl abuse at them.
Erotic Humiliation is also something that can be done over an online video call or phone call session, equally as effective as in person, but without me having to be anywhere near you. Perfect.
I Am Dominant And You Will Listen
The practice of humiliation also blends well into other activities. For example; slapping, cum-eating, enforced masturbation and so on. It is certainly an essential aspect of a cuckold or an enforced-bi situation. Slipping Myself into a strap-on and ramming my hard rubber 'cock' into My slaves from behind also lends itself well to Erotic Humiliation and calling My victims a 'whore' or a 'slut' as I fuck them does make Me laugh.
Any of you high flying power execs that are granted the opportunity of becoming My slave shall be expected to endure some level of humiliation as I am a Dominant Woman and they are an inferior male, a fact that I will make very clear throughout the session. Some of you out there may feel that you enjoy being sexually humiliated and even get off on it, but I assure you, the only ones receiving pleasure from My tongue lashing will be Me, Myself and I.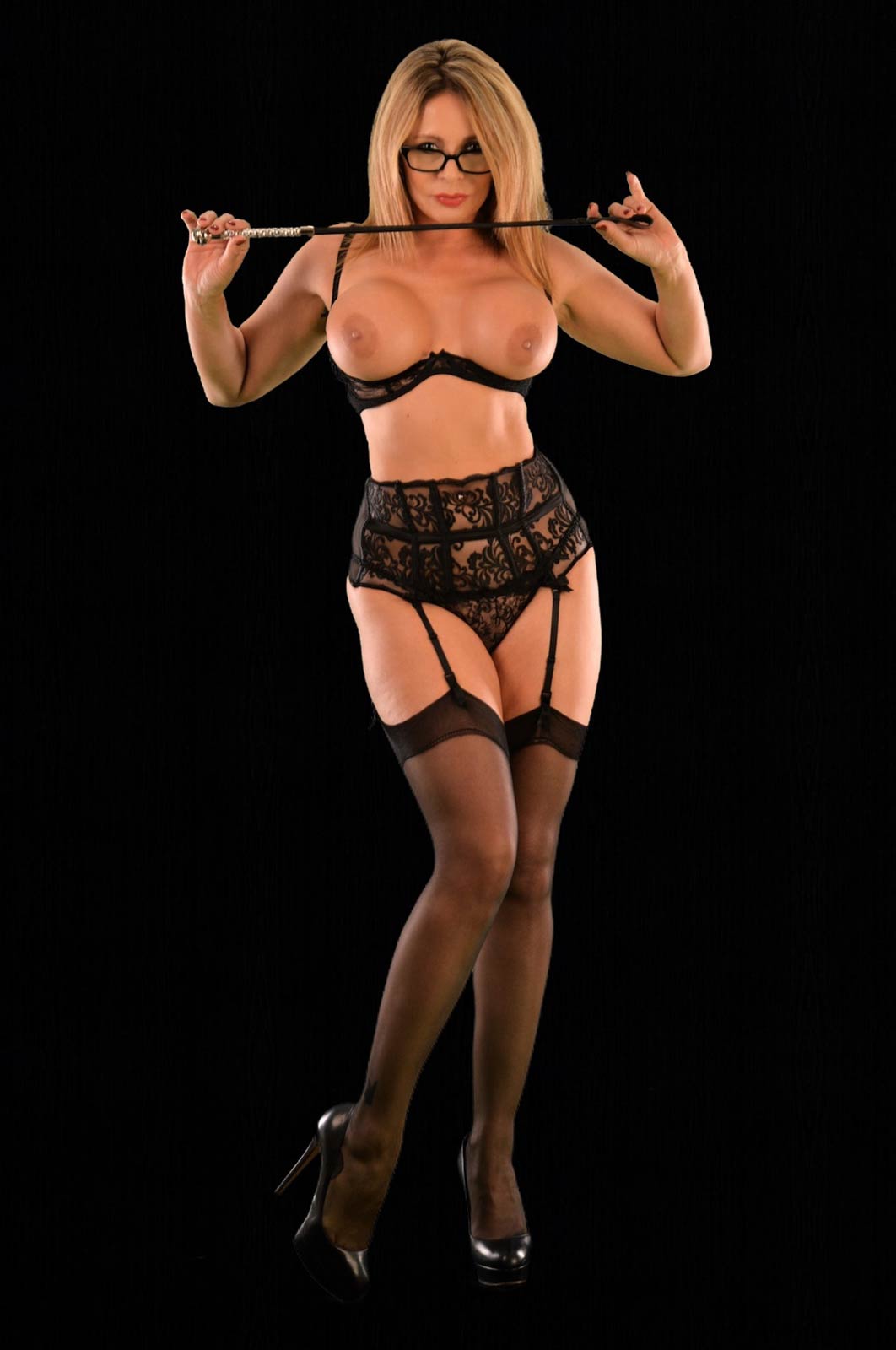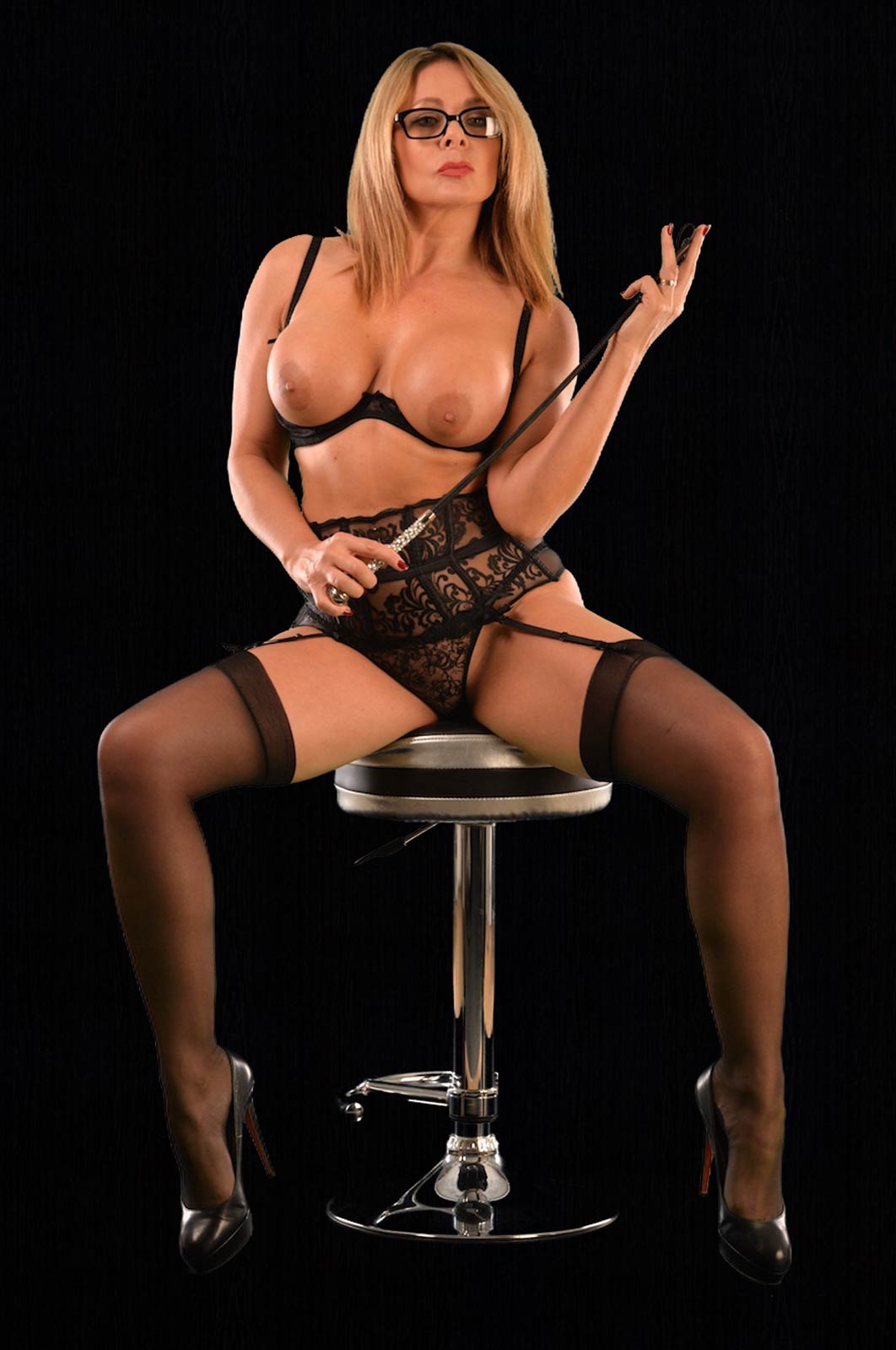 Of course, these scenarios are merely suggestions and can be adapted to suit any particular fantasy situation. However, it will always be Me who is fully in control and dictates proceedings – it would hardly be Female Domination otherwise, would it?! Such scenarios also lend themselves particularly well to CFNM situations.
My Facilities
In addition to My private study, I also have a fully-equipped. spacious, mirrored playroom (with secluded outdoor play-space) at My disposal, along with a sumptuous boudoir with red satin sheets on a super-king-size bed under a mirrored ceiling (and restraints fitted to the bed for 'Tie & Tease' scenarios).
My Wardrobe
Is extensive to cater for all tastes & occasions and includes everything from skin-tight latex & leather to uniforms, corsets & classy lingerie. I have a penchant for seamed stockings & suspenders teamed with spike-heeled stilettos or thigh-boots and of course I am always immaculately groomed & with an all-over tan.