Enforced Feminisation with Miss DeLaVere, Execu-Domme & Mistress
I Will Force You To Be 'In Touch' With Your Feminine Side
What Is Enforced Feminisation With Miss DeLaVere?
Enforced Feminisation, also called as sissification, is a kind of domination and submission that involves reversing gender norms and forcing a submissive man to take on a feminine role, which may entail cross-dressing. Sissy training and variants on the practice are subsets of the technique in which the submissive man is instructed to become feminine.
Feminisation is a sexual fetish in which the submissive partners are usually heterosexual males. The fetish is said to have its origins in cultural pressures on males to appear traditionally masculine.
In dominance and submission, femininization is inverting gender roles, causing a submitting partner – often a male – to assume a feminine role, frequently for the purpose of humiliation-based sexual pleasure. Cross-dressing in feminine apparel, such as lingerie, acting in a feminine manner, being addressed by a feminine name, having anal intercourse as the receptive partner, and wearing prosthetic breasts or genitals to create the illusion are all examples of this.
I'll Make You Get In Touch With Your Feminine Side
I have a number of sissy-slut slaves who I enjoy dressing up as part of a forced-fem session, and I've invested in high-quality accessories to help Me achieve very convincing results, such as a silicon vest with sizable realistic breasts, a silicon 'cunt' that is incredibly lifelike and can be worn like a G-string (it also has a pouch for the slave's penis to be tucked away from view inside), and a full-face silicon mask that, when worn with one of My wigs, transforms the user into a believable (albeit very whorish-looking) female.
I usually keep a range of apparel on hand, such as stockings and mini-skirts, to complete the appearance, and once a lucky slave has been 'feminized,' I want them to act like a woman and obey all and any commands I may give them.
You Will Be Dressed Like My Slutty Office Bitch
This may be completing domestic tasks as a maid around My house, or simply having Me use and fuck them with one of my many strapon-on cock's as they act out their fantasies as My submissive female toy. Maybe I'll even get them to suck off an anonymous cock until hot cum drips out of their mouth when I place them in front of My glory hole. Performing oral on another pathetic slave in front of Me is also enjoyable.
Of course, after I've dressed them up as a slut, I'm going to expect them to act like one, so I could even order them to let another slave fuck them in front of Me, or even be cuckolded by Myself and My massively well-endowed black 'bull'!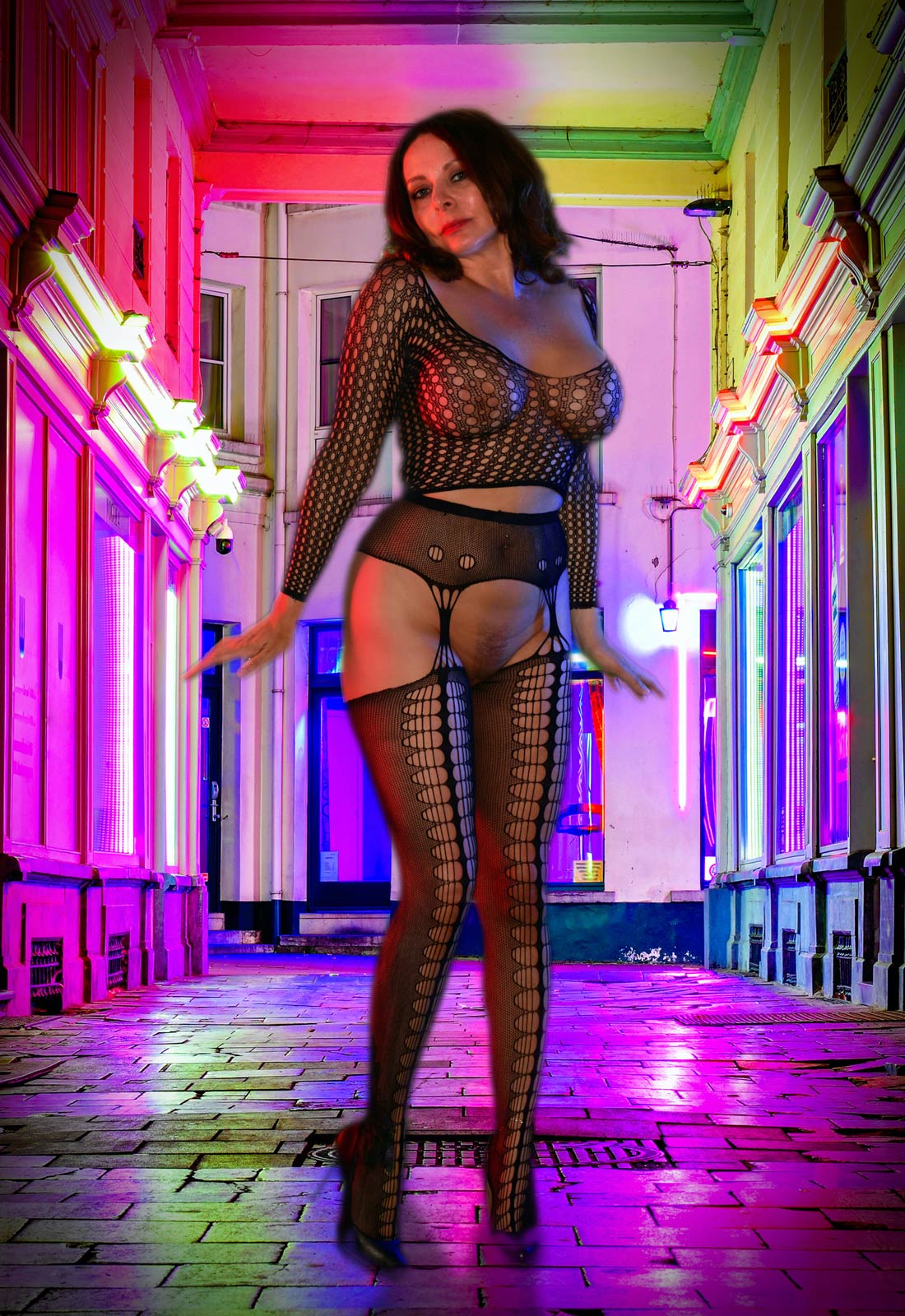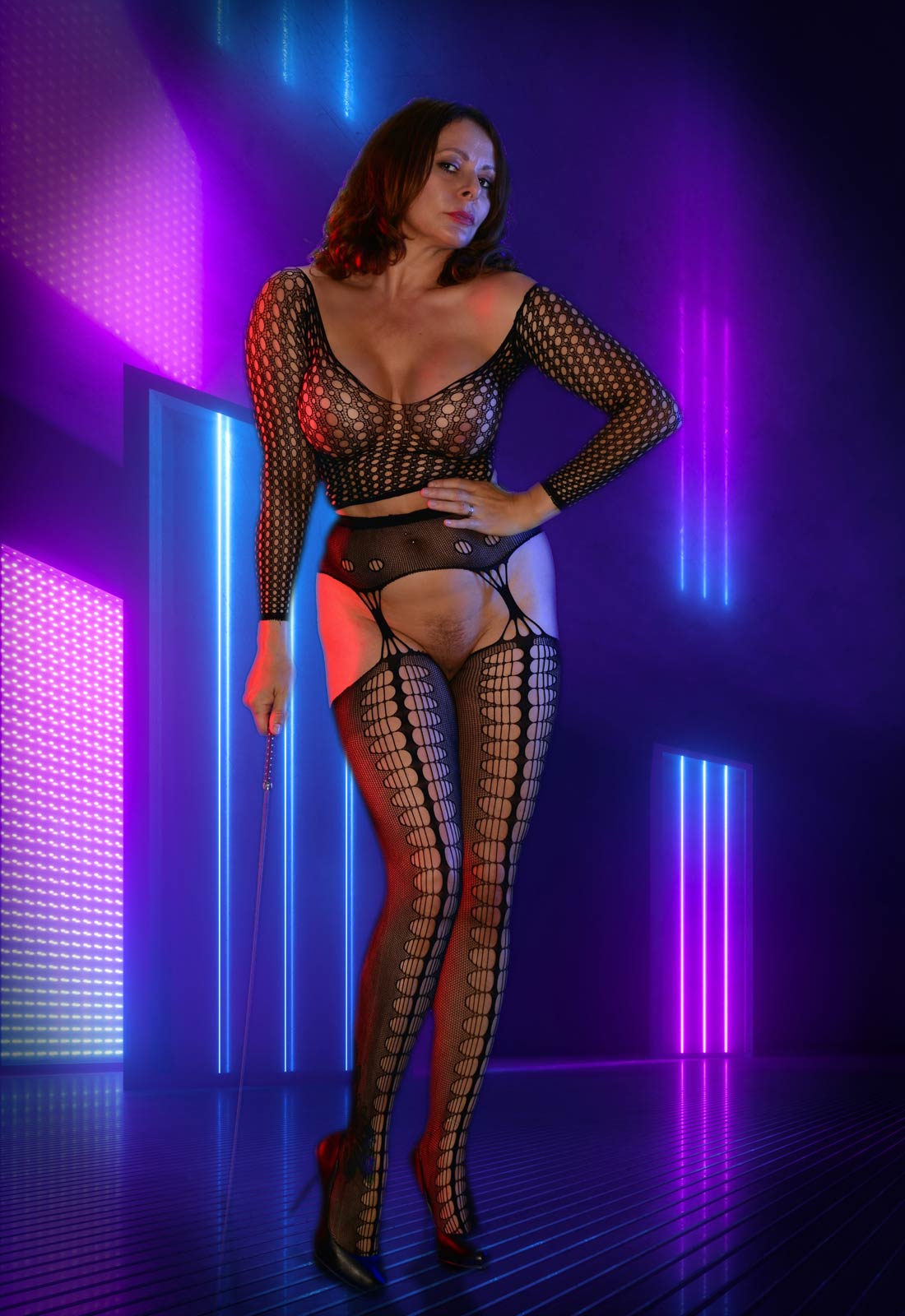 Of course, these scenarios are merely suggestions and can be adapted to suit any particular fantasy situation. However, it will always be Me who is fully in control and dictates proceedings – it would hardly be Female Domination otherwise, would it?! Such scenarios also lend themselves particularly well to CFNM situations.
My Facilities
In addition to My private study, I also have a fully-equipped. spacious, mirrored playroom (with secluded outdoor play-space) at My disposal, along with a sumptuous boudoir with red satin sheets on a super-king-size bed under a mirrored ceiling (and restraints fitted to the bed for 'Tie & Tease' scenarios).
My Wardrobe
Is extensive to cater for all tastes & occasions and includes everything from skin-tight latex & leather to uniforms, corsets & classy lingerie. I have a penchant for seamed stockings & suspenders teamed with spike-heeled stilettos or thigh-boots and of course I am always immaculately groomed & with an all-over tan.