Enforced Bi / Cuckold session with Miss DeLaVere
Do you have the fantasy of being forced to perform a same sex act and dominated by a Black Stallion at the same time?
Enforced Bi / Cuckold Session
Enforced-bi and/or cuckold scenarios are something that I thoroughly enjoy during Role Play or Fem-Dom sessions in My UK based playroom. Another hooded slave can be arranged to join in the session in situations where I decide that you should perform an oral sex on him until I allow him to ejaculate inside your mouth. You will of course be instructed to swallow every last drop. I may well also instruct him to perform oral sex on you if I feel the urge. You will be ordered to cum in his mouth on demand and I expect you to follow orders.
A Typical Enforced Bi / Cuckold Session
Scenarios like these tend to lend themselves very well to My 'Glory-Hole'. This is a place set up where you will not be able to see My slave, but you will be able to receive his hard member as it will be inserted through a hole place on a dirty tiled wall. You will be instructed to kneel in front of the hole and take whatever comes through it into your mouth, where you will suck it until cum explodes into your mouth. Alternately I may decide to grab his member with My latex covered hand and manually jerk his penis until completion and spray the semen all over your face and open mouth.
If agreed beforehand, I can have you strapped securely to My steel bondage-bench. Your arse will be positioned to be facing up in the air and then I shall put My thick Strap-On to good use in your puckered, tight hole. You may or may not be ordered to suck My other slave's hard cock at the same time, purely for My enjoyment.
Clothing For Enforced Bi / Cuckold Session
I have a wide selection of attire that will be used to dress up My sissy-sluts that include false silicon breasts, false silicon vagina pants, wigs & masks / hoods to turn slaves into pathetic little sluts – perfectly suited to arranging for My VWE male slave to use them and become a total whore right in front of Me!
Be Cuckolded By My Black Stallion
If you enjoy the act of being cuckolded I can have a VVWE Dominant black stallion arranged to join us so. We will then both Dominate and humiliate you by ridiculing your pathetic excuse of a tiny, little cock and even force you to suck his enormous black penis so that it is nice and hard for Me when I choose to fuck him right in front of you, reminding you that you will never get that opportunity.
You will have to watch Me enjoy his monster ebony bone as I use him as My own personal dildo, right in front of you eyes (at VERY close quarters). Perhaps I'll also make you lick and suck his huge black balls and / or My clit as he thrusts his cock in and out of Me.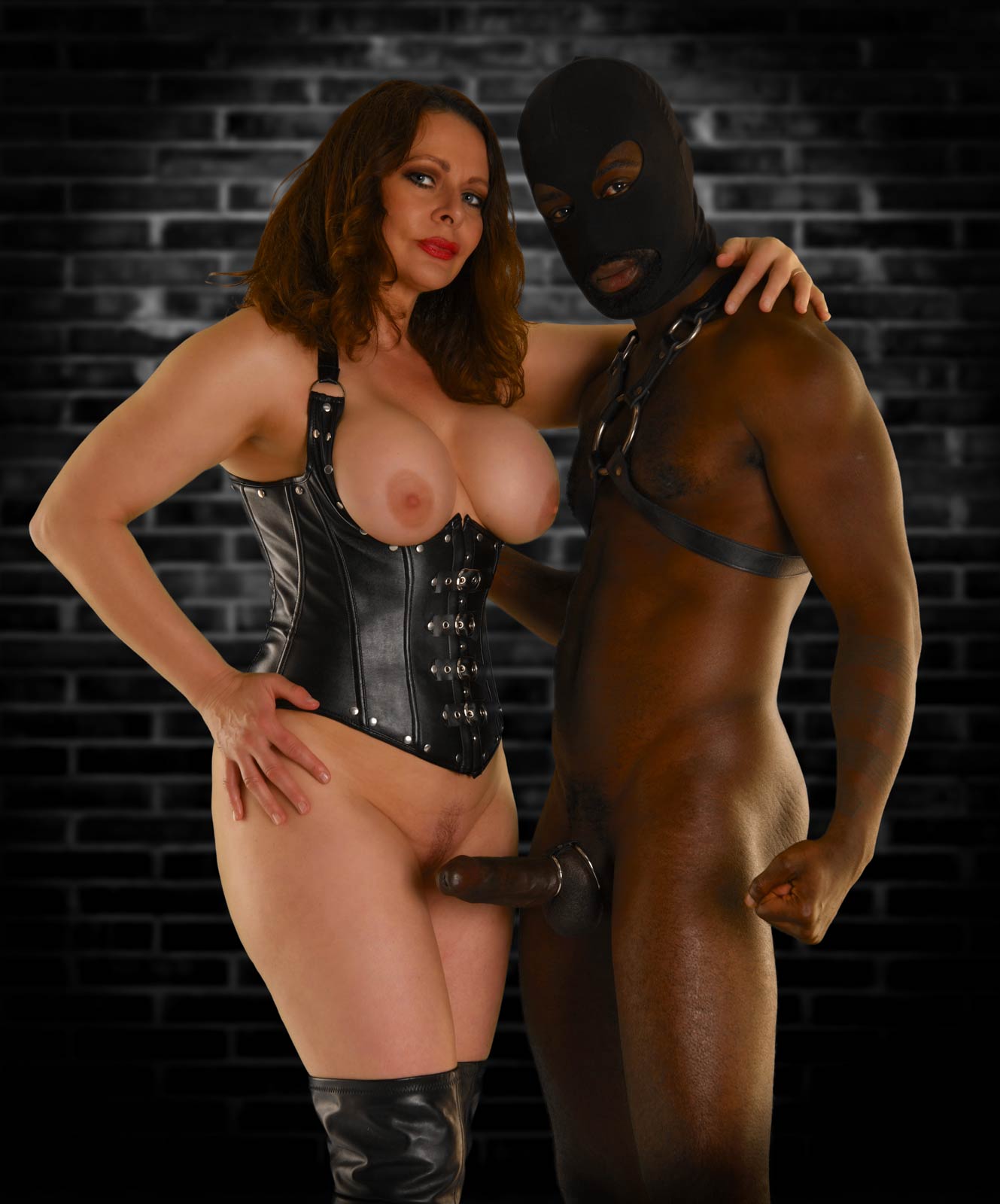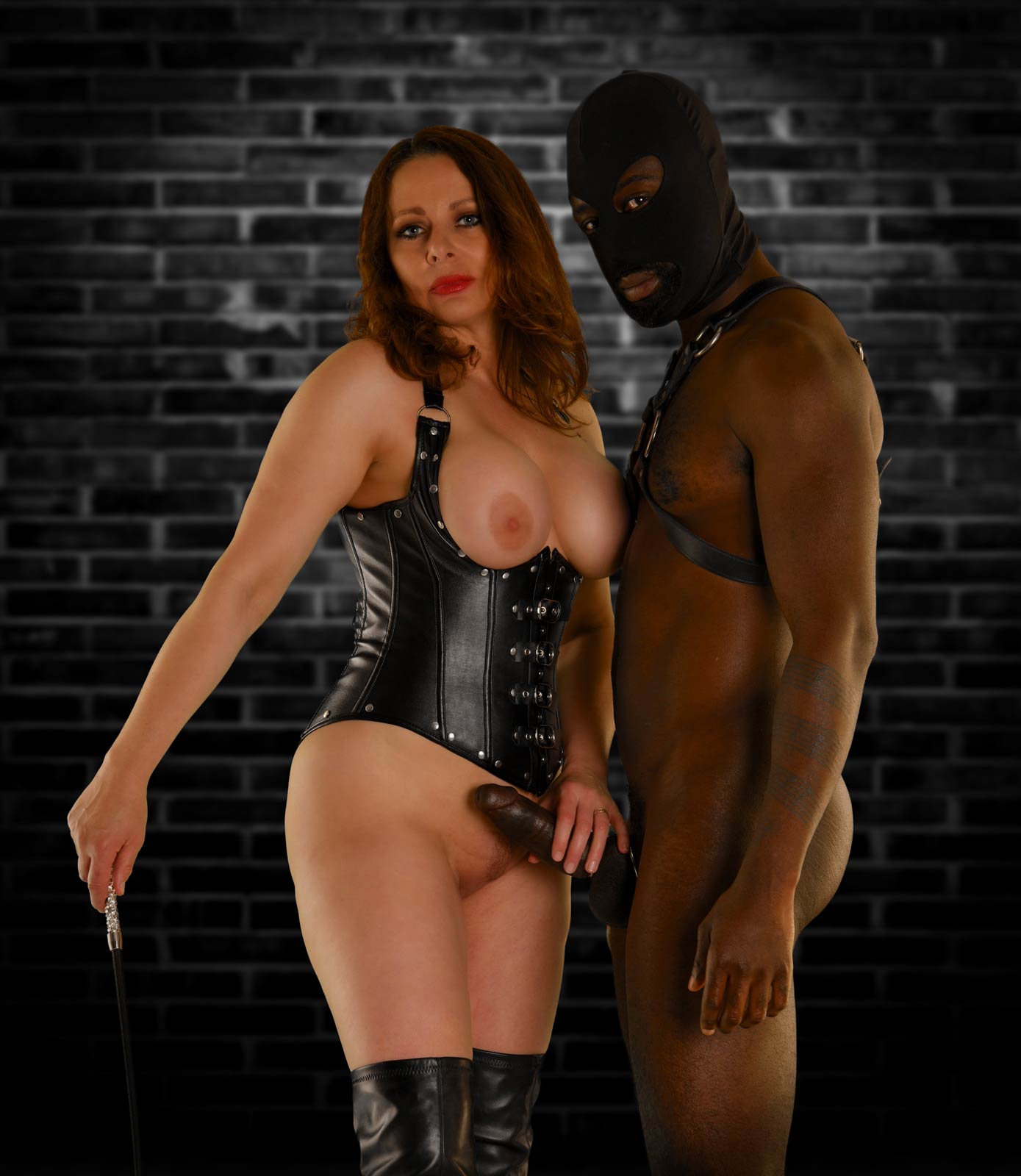 Of course, these scenarios are merely suggestions and can be adapted to suit any particular fantasy situation. However, it will always be Me who is fully in control and dictates proceedings – it would hardly be Female Domination otherwise, would it?! Such scenarios also lend themselves particularly well to CFNM situations.
My Facilities
In addition to My private study, I also have a fully-equipped. spacious, mirrored playroom (with secluded outdoor play-space) at My disposal, along with a sumptuous boudoir with red satin sheets on a super-king-size bed under a mirrored ceiling (and restraints fitted to the bed for 'Tie & Tease' scenarios).
My Wardrobe
Is extensive to cater for all tastes & occasions and includes everything from skin-tight latex & leather to uniforms, corsets & classy lingerie. I have a penchant for seamed stockings & suspenders teamed with spike-heeled stilettos or thigh-boots and of course I am always immaculately groomed & with an all-over tan.