Electrical Play with Miss DeLaVere, UK Domme
Feel the spark as Miss DeLaVere puts your body through some Electrical Play!
What Is Electrical Play?
When electricity is used on the body during BDSM, it is known as Electrical Play. This causes the body to feel many different kinds of sensations. The more common kind of electrical toys are the violet and neon wands. These are specialists units comprising a power pack, control box and various other types of electrodes. These permit the Domme, Myself, to send shocks throughout your body as you lay in front of me. These shocks will vary in intensity and will be delivered by the press of a button.
Both of the different kinds of wands use static electricity that creates a "shocking" sensation on your naked skin. There are specialist toys like the Electra-Stim range too, which is a more powerful toy that can send electrical shocks through specifically designed accessories. These include Cock Rings, Sounds, Probes, Butt Plugs and Dildos.
Electrical play is a common fetish among the BDSM scene as it's used in a variety of different scenarios and is a very versatile form of punishment.  A skilled professional Domme, such as Myself, will have already developed the skills to be able to slowly increase the intensity of the shocks delivered to their sub's body. A simple press of the button bringing delight to your Mistresses face as the deliver a painful jolt to your body.
Miss DeLaVere's Electrical Play Toys
My playroom comes equipped with the highest quality electrical play equipment and when it comes to electrical play, I do consider this one of My favourite pastimes. There is a full range of electrical play accessories available in My playroom and I like to casually slip them into many of my sessions. I get such a thrill seeing the look of horror on a sub's face as they here the spark and crackle of an electrical toy, but they are already strapped to the bench and unable to move and avoid the electrodes that get swiftly attached to their balls as I settle Myself comfortably into My plush red throne, taunting them with the control box.
Both of us know that with a simple press of My finger on the little red button in front of me, an electric shock will be sent down the cables and the electrodes attached to his body will deliver his punishment. The tension is palpable as I, as always, am in complete control and the sub is as helpless as ever.
Ready For My Electrical Strap-On
A preferred toy of Mine is My Stainless steel strap-on cock. You may have all the power you desire in the boardroom, but when you are in My playroom, I am the boss. Fitting this little beauty into its soft leather harness then feeling it secured to My hips gets my blood pumping. Seeing it protrude from My groin is very empowering. As attach the control box onto the leather harness, giving Me easy access, I can then delight as a pierce a prone slave's puckered up little hole as he is strapped with his arse in the air on My steel bondage bench, ready to be used like the slut he is.
Once I have pushed my stainless steel dildo deep inside, I will begin to thrust My metal cock into his arse, vigorously building up the momentum. When the time is right and I can see that the poor little wretch is at his limits, I will reach down to my control box and press down on the little red button, delivering a powerful electric shock deep inside his puckered hole. The more than protest, the more they scream, the longer I will laugh and crack up the power. I'll continue to jab at the 'shock' button as I see fit, enjoying every jerk and spasm My little slave has as I fuck him with my electric strap-on cock. Strangely enough, only a few of my subs have managed to stay in a state of consciousness when I go past the setting of '8' on the power box.
Do you feel that you can last all the way up to 10? Well take that suit off, get on the bench and get ready to receive your corporate punishment.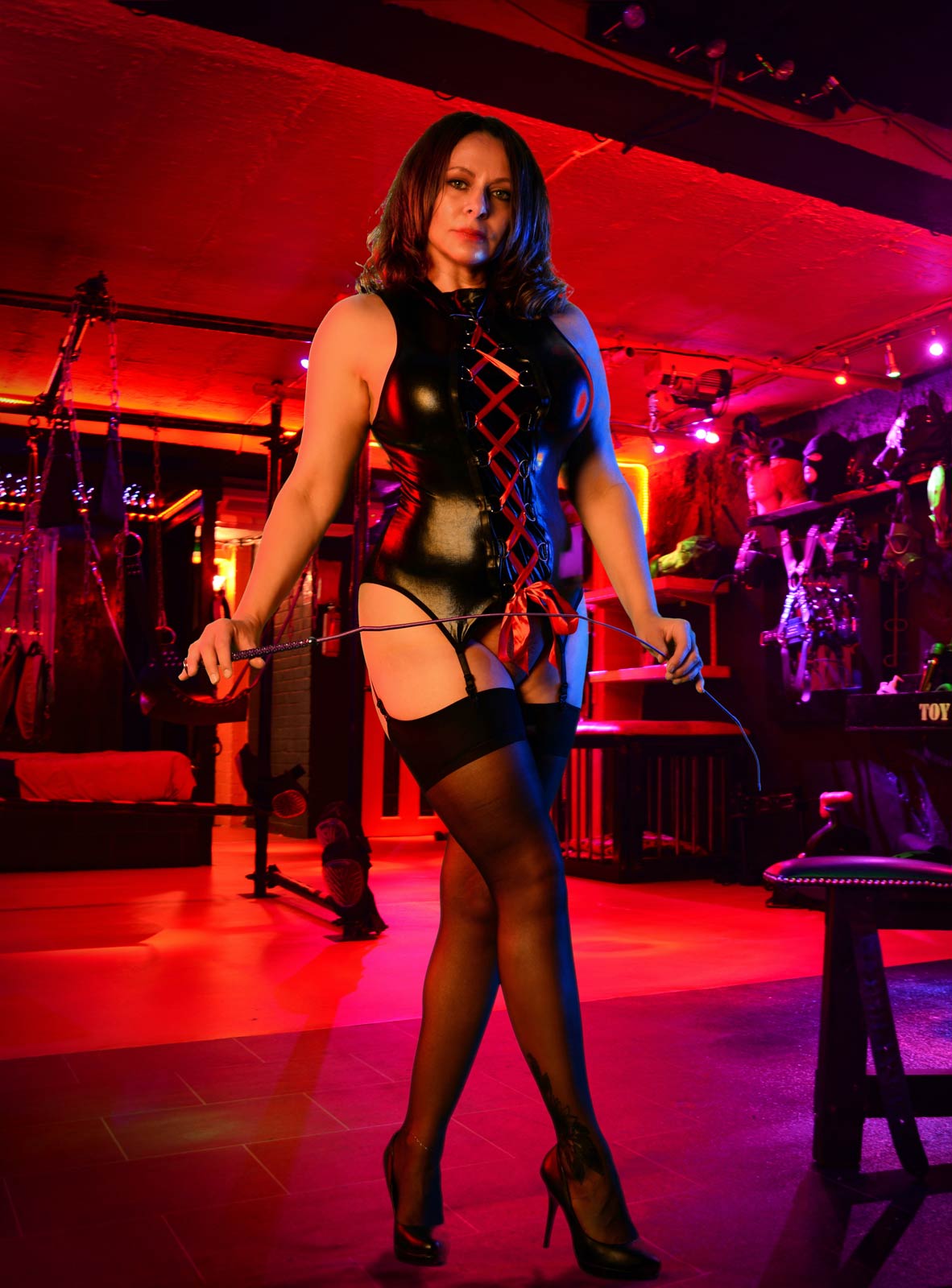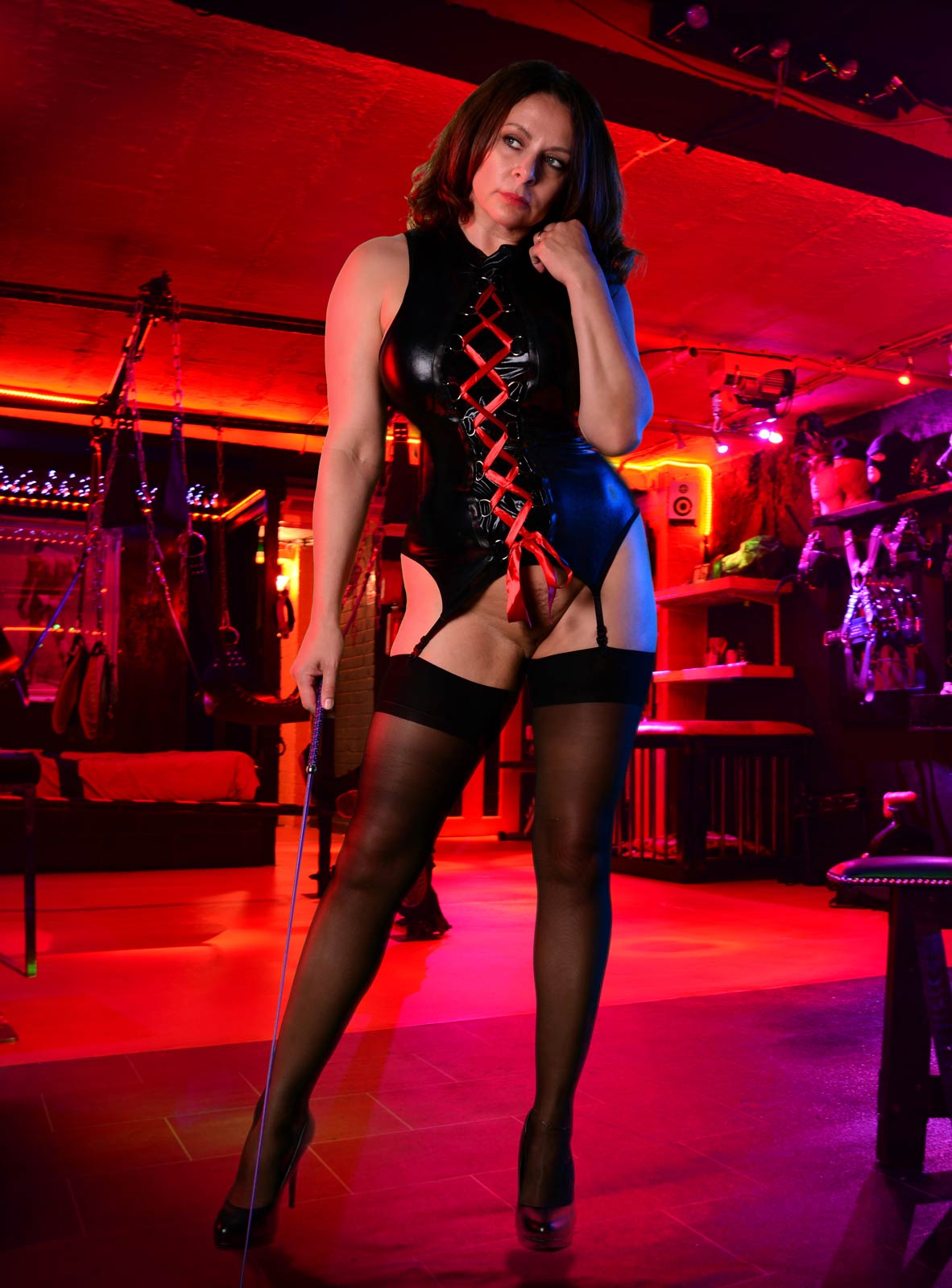 Of course, these scenarios are merely suggestions and can be adapted to suit any particular fantasy situation. However, it will always be Me who is fully in control and dictates proceedings – it would hardly be Female Domination otherwise, would it?! Such scenarios also lend themselves particularly well to CFNM situations.
My Facilities
In addition to My private study, I also have a fully-equipped. spacious, mirrored playroom (with secluded outdoor play-space) at My disposal, along with a sumptuous boudoir with red satin sheets on a super-king-size bed under a mirrored ceiling (and restraints fitted to the bed for 'Tie & Tease' scenarios).
My Wardrobe
Is extensive to cater for all tastes & occasions and includes everything from skin-tight latex & leather to uniforms, corsets & classy lingerie. I have a penchant for seamed stockings & suspenders teamed with spike-heeled stilettos or thigh-boots and of course I am always immaculately groomed & with an all-over tan.