Domestic Duties With Miss DeLaVere, Execu-Domme
Be turned into My sissy slave for the day and endure humiliation as you perform cleaning and servitude tasks for Myself and My friends.
What Is Involved With Domestic Duties?
This is a self-explanatory practice as it simply involves my slave's and sub's to carry out a number of domestic duties around my grounds such as gardening, cleaning and so on. This will certainly take you out of your comfort zone as I'm sure someone that requires an Execu-Domme in their life is in a position of power that they have others to do these duties for them. Will this power will be stripped from you under my servitude and you will do as your told.
You will essentially become an un-paid maid and will be expected to carry out any tasks that are bestowed on you – no matter how dirty and untasteful they may be. My grounds and playroom are very secluded and that affords Me the option to send my slave's out to perform their duties naked, much to my amusement, as I will be watching from the comfort and warmth of My window. This is particularly amusing for me during the winter months when its cold, raining and even snowing.
Become A Maid For Your Mistress
Essentially, you will be My very own unpaid maid and your new job will will require a uniform with it. This could mean a full maid uniform, a little 'pinny' – perhaps teamed with a pair of stockings, stilettos & suspenders, purely for My amusement. Domestic Duties can be seen as an extension of Enforced-Feminisation which includes My slave or sub to be dressed up as a pathetic slut complete with wig, female clothing and make up. I also have a wonderful collection of realistic body-prosthetics including silicon breasts and vagina. These can be worn to enhance the sub's new feminine look for My enjoyment.
Be Dressed Up In A Maid's Outfit With Accessories
I have imported specially made equipment from the USA. It incorporates a selection of various attachments that are then clipped onto a secure mouth-gag harness. Once I have had this fitted securely to your head, I can easily switch out a variety of devices to use, including a toilet roll holder, an ashtray, a toilet brush, a scrubbing brush and so on. All of these devices will permit MY slave or sub to perform their duties. You should be aware that I have incredibly high standards and if you fail to perform your duties to My complete satisfaction, you can expect to be punished thoroughly.
I will often check on My slave's work while 'she' is working and if I feel that you are in need of some additional encouragement as I stride past you in my stiletto heels and pinstripe skirt, you will feel the bite of My crop lapping at your bare buttocks or perhaps the point of My heel tightly pressed against your scrotum.
You Will Be My Bath Time Servant
If I feel that you have earned the privilege the domestic duties may involve waiting on Me as I enjoy a warm bath or fine dining, perhaps even being allowed to make and serve Myself and My lady friends some refreshments if they choose to pay Me a visit. This will generally lead to you being humiliated in front of a larger audience as we would certainly ridicule you physically, especially your genitalia, and also order you to amuse us with some sort of performance – perhaps being told to carry out some demeaning tasks for our amusement as we watch and laugh at your pathetic efforts.
I already have a selection of maids waiting at My beck and call when I desire some Domestic Duties to be carried out. I will often extend a Playroom session by allowing my slave to stay longer in my grounds and act as My maid after the session has finished, at no additional cost to them – a true privilege that I expect to be savoured greatly.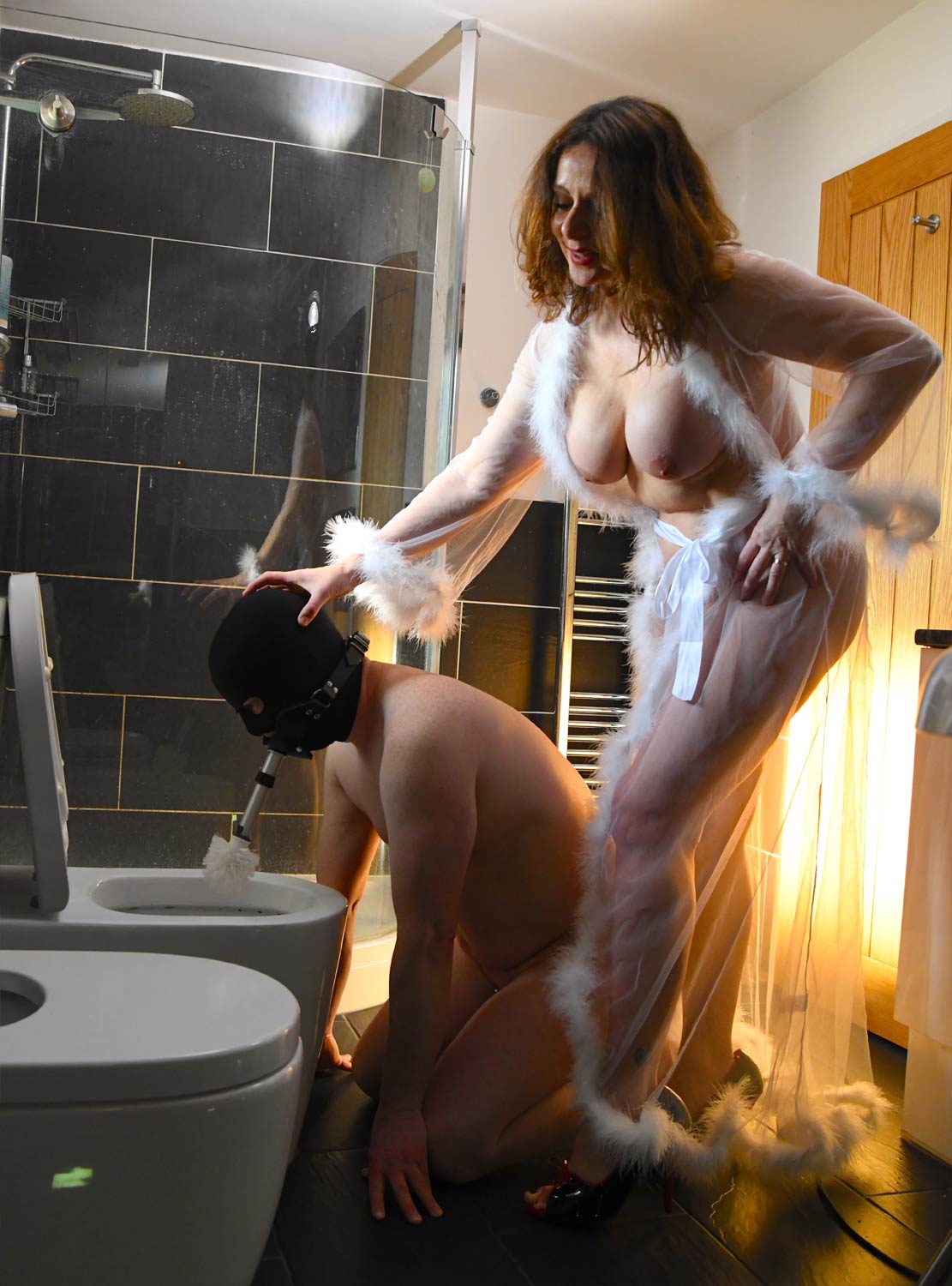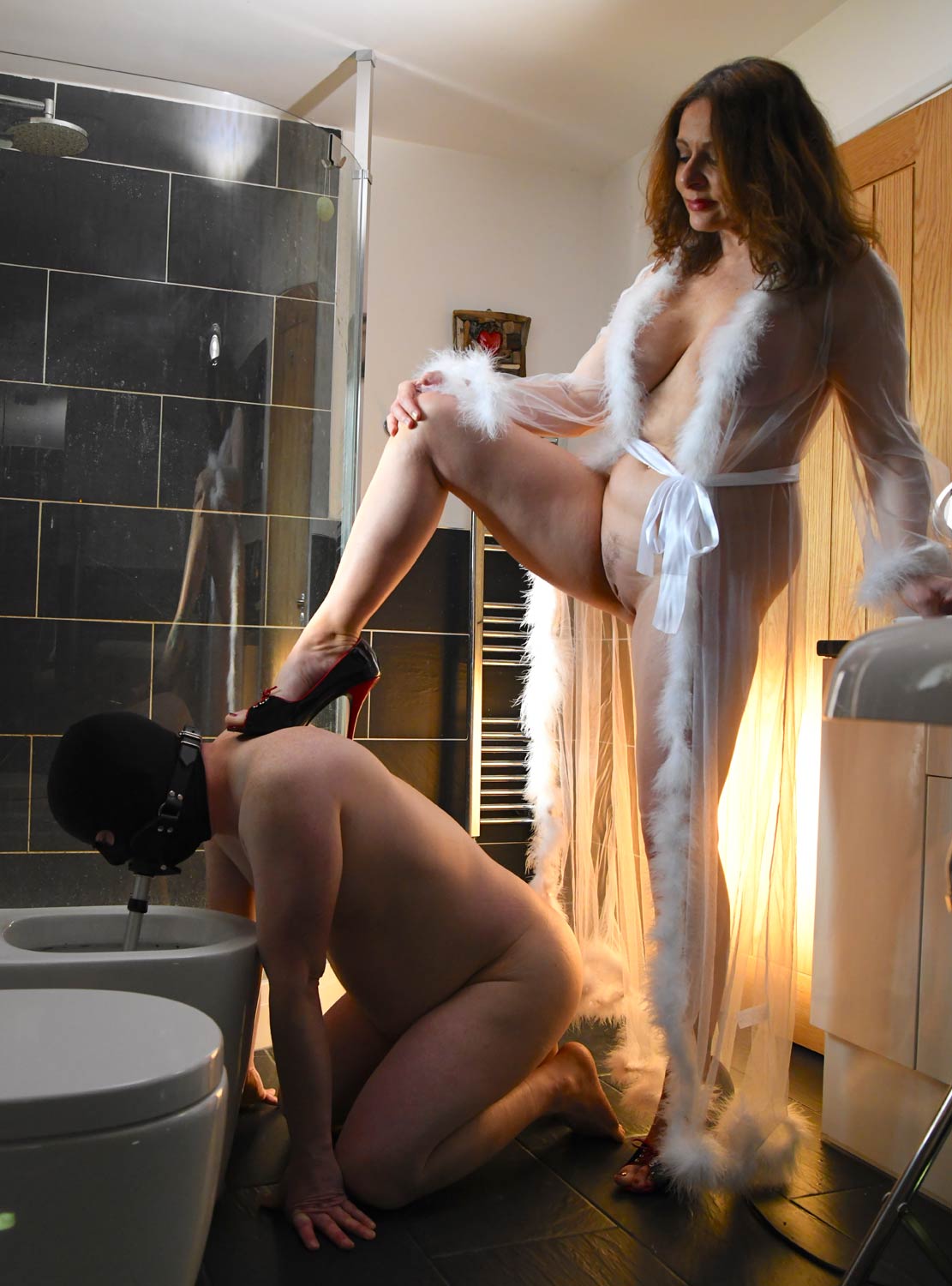 Of course, these scenarios are merely suggestions and can be adapted to suit any particular fantasy situation. However, it will always be Me who is fully in control and dictates proceedings – it would hardly be Female Domination otherwise, would it?! Such scenarios also lend themselves particularly well to CFNM situations.
My Facilities
In addition to My private study, I also have a fully-equipped. spacious, mirrored playroom (with secluded outdoor play-space) at My disposal, along with a sumptuous boudoir with red satin sheets on a super-king-size bed under a mirrored ceiling (and restraints fitted to the bed for 'Tie & Tease' scenarios).
My Wardrobe
Is extensive to cater for all tastes & occasions and includes everything from skin-tight latex & leather to uniforms, corsets & classy lingerie. I have a penchant for seamed stockings & suspenders teamed with spike-heeled stilettos or thigh-boots and of course I am always immaculately groomed & with an all-over tan.