Corporal Punsihment With Miss DeLaVere
You are My toy and I will punish you as I see fit, for as long as I want.
My Business Is Punishment
The application of physical pain on a person's body as a punishment for a crime or offense is known as corporal punishment. Flogging, beatings, branding, and the use of the stock and pillory are examples of corporal punishments. The phrase also refers to the physical discipline of children in schools and at home in a wide sense.
The use of corporal punishment has long been justified on the grounds that the pain, damage, humiliation, and degradation it inflicts will discourage the offender from repeating similar crimes in the future. In your case though, it will be simply justified because I will give Me pleasure to punish you.
Corporal Punishment & BDSM Sessions
Corporal Punishment, of course, is an important aspect of most BDSM sessions, as the Mistress will employ pain infliction, such as whipping or other ways, to show Her power and authority over Her submissive and punish him when he fails to please or serve Her enough. During a Fem-Dom session in My playroom, I've honed My skills in all elements of giving punishment. Although, of course, according on the individual's experience and pain sensitivity, I may vary the degree and amount of Corporal Punishment.
Indeed, if a slave's experience or pain tolerance is extremely low, I can give more sensuous Domination with less administration of pain throughout the session, but I like to use a heady mix of punishment and the potential of being allowed sexual favors to show My control over a slave.
What You Call Pain, I Call Pleasure
I will frequently inflict agony on a slave using My favored manner at the time to test how much he can (or would) take before rewarding him – for example, by allowing him to enjoy My sex with his tongue while strapped in My 'Queening' stool. I'll even combine the two elements by flogging a slave's erect penis as he pleasures Me in My 'Queening' stool to 'urge' him to do his duties to a more acceptable level.
I've discovered that combining pleasure and pain for the slave allows Me to push his discomfort threshold higher, as the idea of losing the pleasure of 'being 'Queened' encourages him to endure a higher degree of suffering than he would otherwise be able to handle.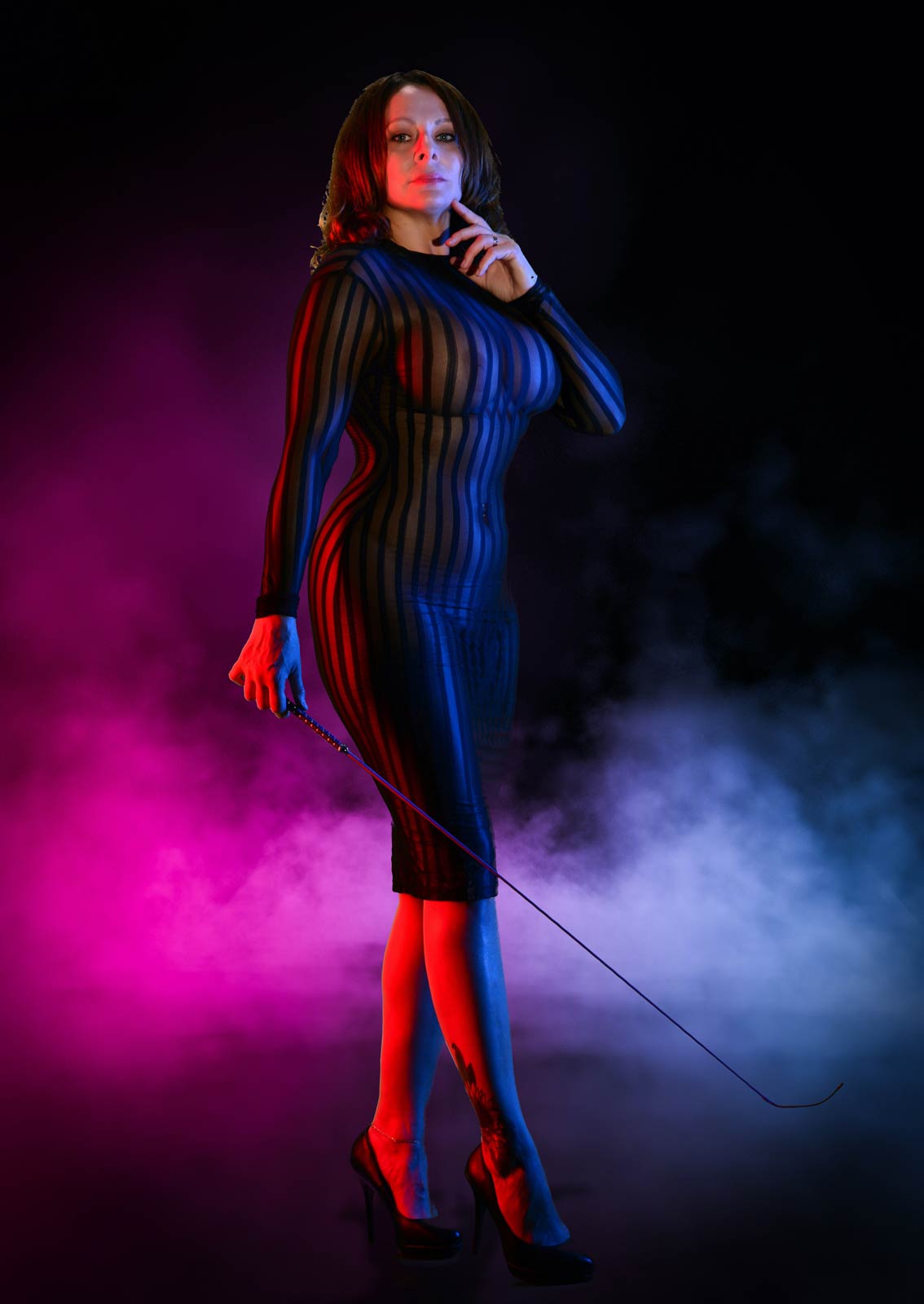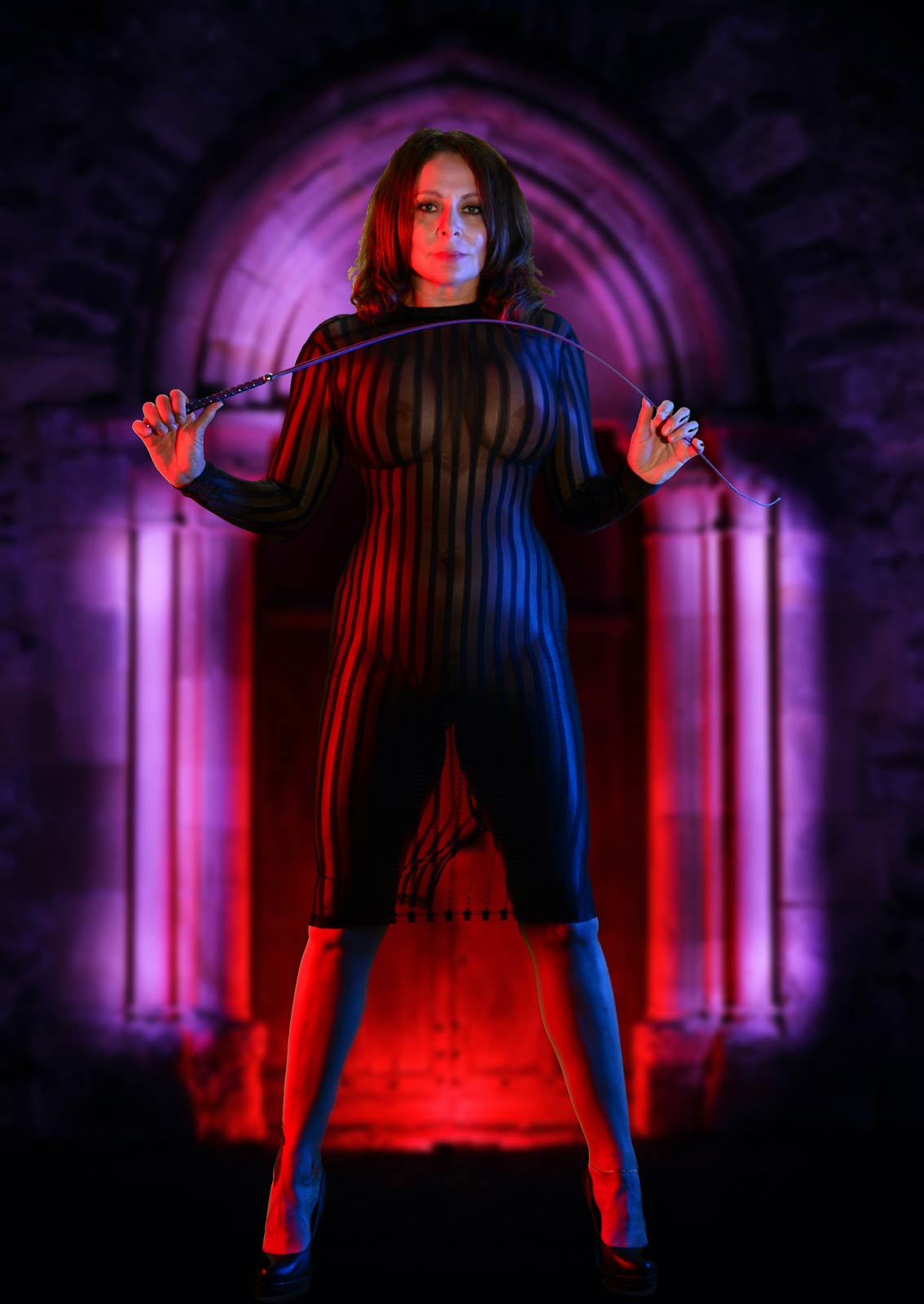 Of course, these scenarios are merely suggestions and can be adapted to suit any particular fantasy situation. However, it will always be Me who is fully in control and dictates proceedings – it would hardly be Female Domination otherwise, would it?! Such scenarios also lend themselves particularly well to CFNM situations.
My Facilities
In addition to My private study, I also have a fully-equipped. spacious, mirrored playroom (with secluded outdoor play-space) at My disposal, along with a sumptuous boudoir with red satin sheets on a super-king-size bed under a mirrored ceiling (and restraints fitted to the bed for 'Tie & Tease' scenarios).
My Wardrobe
Is extensive to cater for all tastes & occasions and includes everything from skin-tight latex & leather to uniforms, corsets & classy lingerie. I have a penchant for seamed stockings & suspenders teamed with spike-heeled stilettos or thigh-boots and of course I am always immaculately groomed & with an all-over tan.