Cock and Ball Torture with Miss DeLaVere, UK Mistress
You can be in control of the boardroom, but I'm in complete control of your cock and balls.
What Is Cock And Ball Torture?
The act of CBT (Cock and Ball Torture) refers to inflicting paint and / or discomfort to a male's penis and testicles during a sexual practice. For this BDSM scenario, there will be a Dominant Female and a submissive male present. Due to the amount of nerve endings in the in the penis and scrotum, they are extremely sensitive when being handled, even if delicately.
The majority of men are unable to stand the mere thought of having their cock and balls tortured, but for some, the practise of CBT is pleasurable and highly erotic. A variety of different techniques, methods and toys are deployed during the cock and ball torture such as squeezing, stepping on, slapping and even kicking the penis and testicles. These acts all count as cock and ball torture, as you will find out. There are a lot of fun toys that can also be used during the act. These include ball stretchers, cock cages and floggers.
My Personal Enjoyment With Cock And Ball Torture
CBT is certainly a fetish that I particularly enjoy practising the art of and is something I'm very seasoned at. I have an arsenal of varied techniques and ways to inflict pain on a male's genitals and have thoroughly enjoyed perfecting the art. This has also lead to a rather impressive and eclectic collection of wicked apparatus that will be used to bring even the most hardened sub to their knees, quivering in a heap in front of Me as I hold his most prized possession complete at My mercy! (lol)
As the majority of my slave's penises are erect in my presence, that does give me somewhat of an advantage – that may very well have something to do with My revealing attire and the voluptuous curves of My body on show as I showcase My CBT techniques. The temptation is simply irresistible as I am presented with a slave's engorged penis, with it being so easy to inflict pain by simply grasping it and squeezing it hard in My glove covered hand.
You Are Privileged To Receive Cock And Ball Torture
I adore seeing just how much pain My slave's cock and/or balls can endure, as they hope to be blessed with the reward of pleasuring My sex with their tongue. I have an entire cabinet filled to the brim with all manner of cock and ball torture toys. These include ball-crushers, stretchers, weights, spiked clamps and such. The list is extensive and in My trained hands each of these tools can cause your penis and testicles the maximum amount of pain, and you don't even want Me to mention my electrical tools. 
Sometimes the art of CBT can just be a well aimed, unexpected and powerful kick from my leather boots or even something as simple as Me grinding my razor sharp stiletto heels into your oh-so-sensitive scrotum – Ha Ha HA!
Cock And Ball Torture In Kent, UK
If you are to attend and present your most treasured and delicate parts for Me, I do promise that they will be played and toyed with in the most wicked of ways. I have absolutely no doubt in My mind that I will have you on the floor, squealing and begging for mercy. I will wreak havoc on your tiny, worthless penis and balls and the torment will only end when I've had My fun!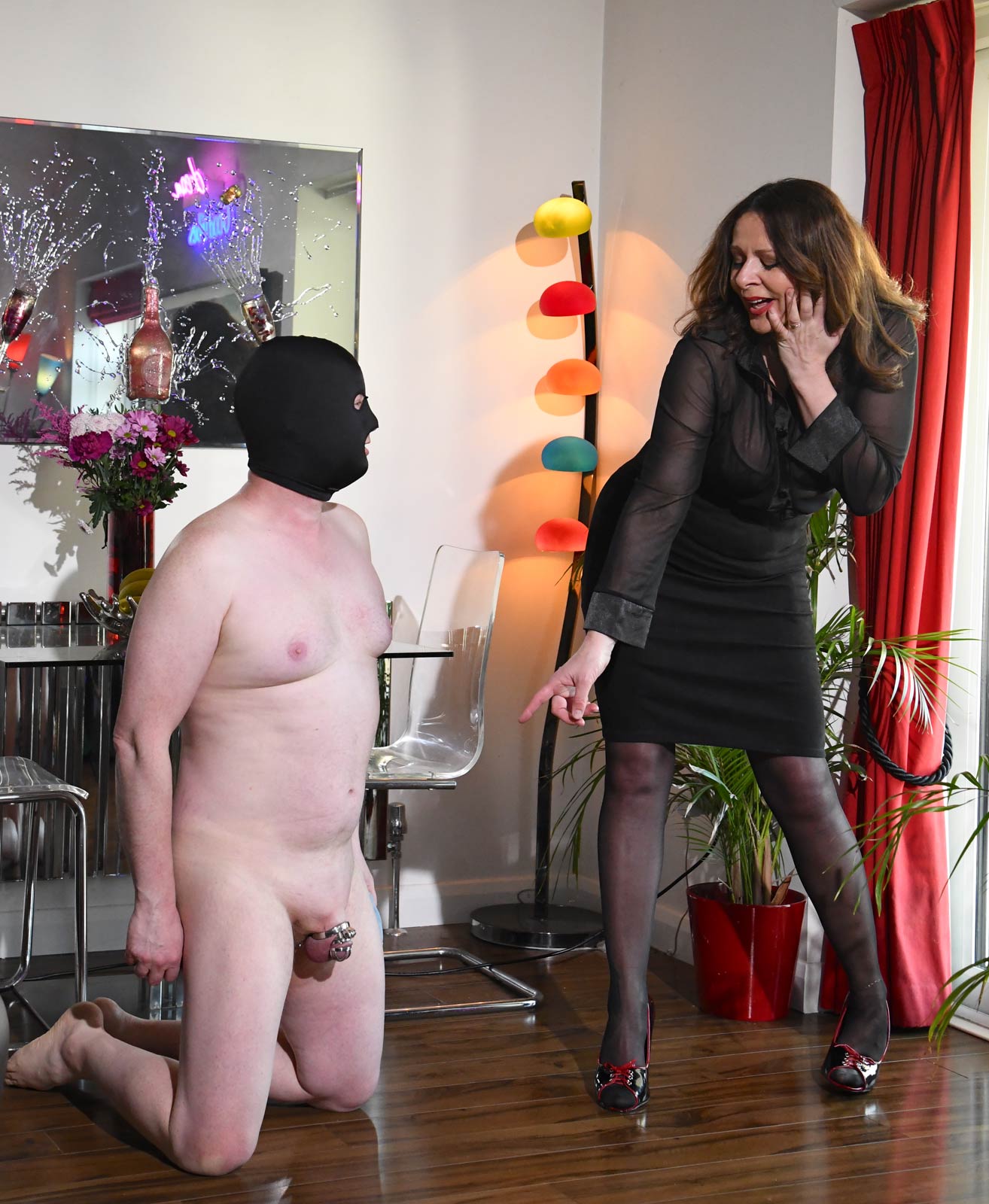 Of course, these scenarios are merely suggestions and can be adapted to suit any particular fantasy situation. However, it will always be Me who is fully in control and dictates proceedings – it would hardly be Female Domination otherwise, would it?! Such scenarios also lend themselves particularly well to CFNM situations.
My Facilities
In addition to My private study, I also have a fully-equipped. spacious, mirrored playroom (with secluded outdoor play-space) at My disposal, along with a sumptuous boudoir with red satin sheets on a super-king-size bed under a mirrored ceiling (and restraints fitted to the bed for 'Tie & Tease' scenarios).
My Wardrobe
Is extensive to cater for all tastes & occasions and includes everything from skin-tight latex & leather to uniforms, corsets & classy lingerie. I have a penchant for seamed stockings & suspenders teamed with spike-heeled stilettos or thigh-boots and of course I am always immaculately groomed & with an all-over tan.