Arse Worshipping with Miss DeLaVere, Kent, UK
Learn how to perform the submissive duties of an Arse Worshipper with myself, Miss DeLaVere, in my dungeon studio located in Ashford, Kent.
What is Arse Worshipping?
A lot of my submissive's are heavily attracted to my Arse and often want to perform Arse Worship on me when they visit my dungeon studio in Ashford, Kent UK. Arse Worshipping with Miss DeLaVere itself is a form of Body Worship where you will revere my Arse in a position of my choosing, worshipping, adoring and begging to touch and caress my buttocks. This is a softer form of worship and one I very much enjoy.
What are the basics of Arse Worship?
The most popular position for you to be in when we begin the Arse Worship will be you laying prostrate and myself giving you orders. You will lay face down with your body stretched out, ready to receive my bidding. I will then give you instructions on what I want you to do and how you do it. This will include a variety of different things including licking, kissing and sucking my behind. You may find yourself enjoying this a little too much and If I think you are getting ideas above your station, you will be punished.
During the Arse Worshipping process I will usually remain passive as you worship and adore my buttocks, giving me compliments and praise for allowing you the honour to do so. If I feel that you need to be tutored into worshipping my rear end correctly, I will verbally or physically choose to instruct you exactly what I want, you are their to worship and fulfil my needs, not the other way around.
The Different Kinds Of Arse Worship
Positioning is an important part of Arse Worship and for those that have never had the opportunity of a dominant woman allowing you to adore her Arse, I shall let you know the positions I choose to enjoy the most.
Arse Worship From Behind: I will instruct you into a prone position for this act of worship and then I will place myself in front of you with my arse facing upwards. When I'm ready and I feel like you've earned it, I will bury your face deep into my buttocks and let you begin to truly worship the experience I have just blessed you with.
Worshipping With Your Back To The Wall: For this I will place on you the floor with your back to the wall and I will slowly back towards you and present my beautiful Arse for you to begin worshipping. Your face will be smothered with nowhere to move, and you will love it.
Squatting Arse Worship: For this position you will be on your back ready and waiting for me to squat over you with my arse hovering close to your face. I will lower myself down, soft and slow or hard and fast depending on my mood. Your mouth and nose will be covered and I will rub my arse all over them both.
Sitting And Worshipping My Arse: I shall sit down on a chair in a position that is comfortable for me, usually in a riding or side saddle position. You will then, on my command prowl towards me on your hands and knees and begin worshipping my Arse as you listen to my instructions. A simple way for you to be able to fully worship my Arse is for myself to be sitting on a chair, either sideways or in a riding position. You will then be ordered to get on your knees behind me and then begin to worship my Arse in that position.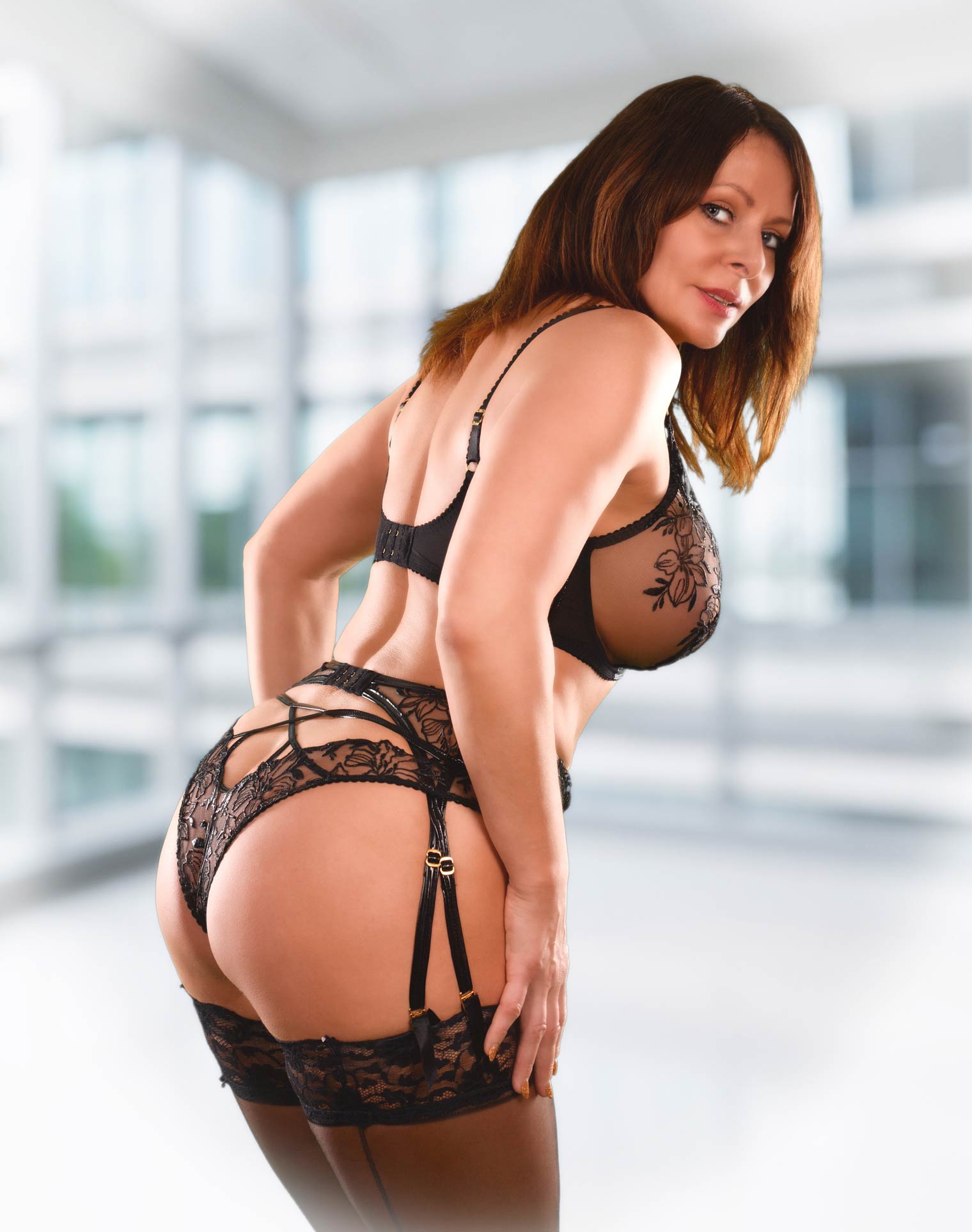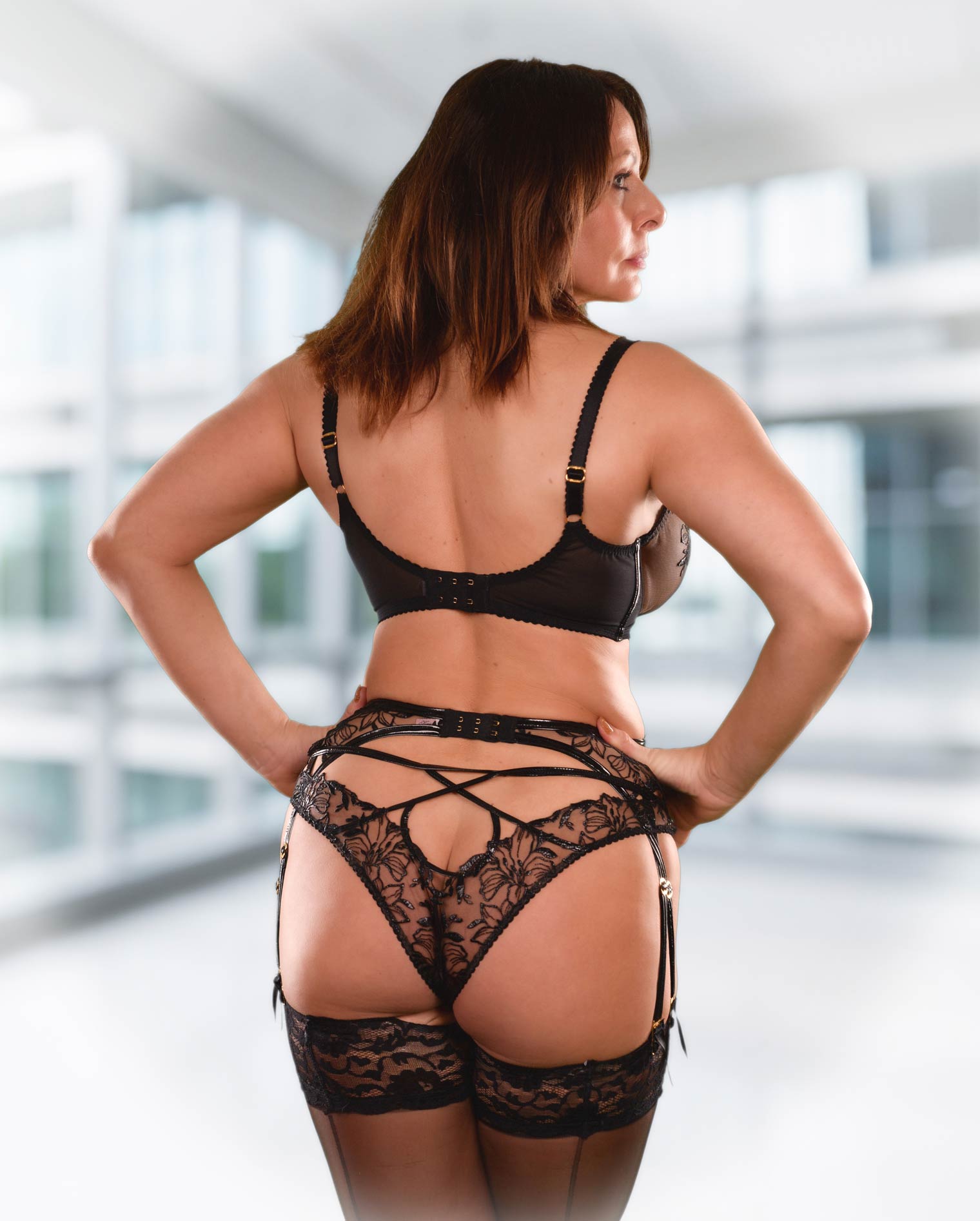 Of course, these scenarios are merely suggestions and can be adapted to suit any particular fantasy situation. However, it will always be Me who is fully in control and dictates proceedings – it would hardly be Female Domination otherwise, would it?! Such scenarios also lend themselves particularly well to CFNM situations.
My Facilities
In addition to My private study, I also have a fully-equipped. spacious, mirrored playroom (with secluded outdoor play-space) at My disposal, along with a sumptuous boudoir with red satin sheets on a super-king-size bed under a mirrored ceiling (and restraints fitted to the bed for 'Tie & Tease' scenarios).
My Wardrobe
Is extensive to cater for all tastes & occasions and includes everything from skin-tight latex & leather to uniforms, corsets & classy lingerie. I have a penchant for seamed stockings & suspenders teamed with spike-heeled stilettos or thigh-boots and of course I am always immaculately groomed & with an all-over tan.